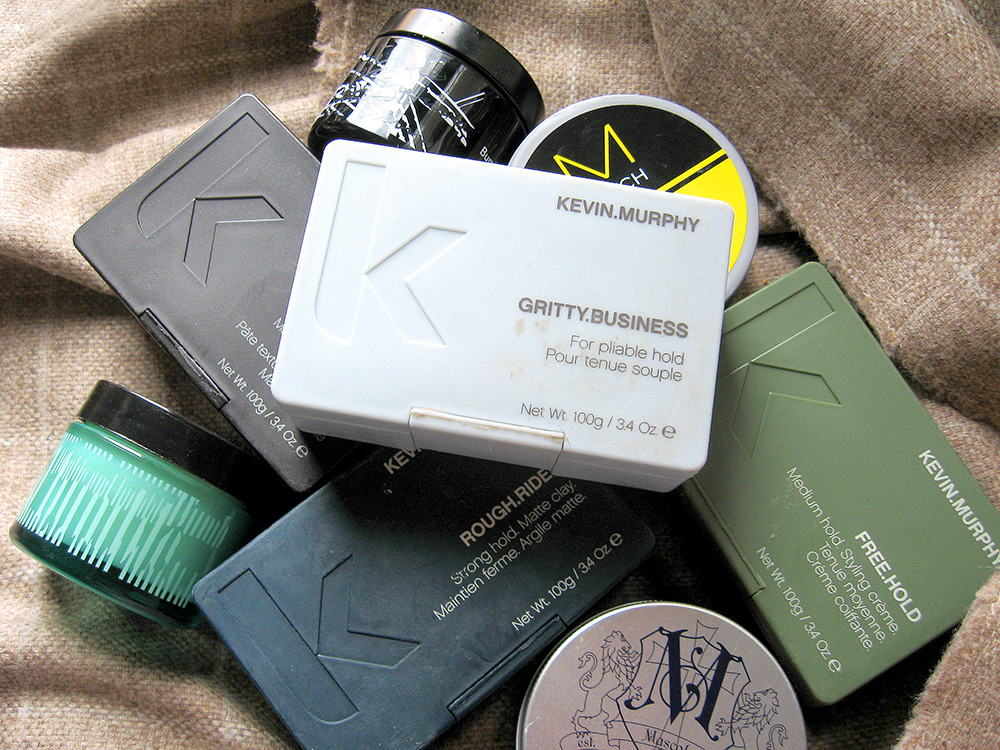 Finding the right hair care product is very personal. A lot depends on your hairstyle, hair type, and even the other products you use. If you haven't settled on a routine that you love, however, let me recommend Kevin Murphy – an Australian company that makes a wide range of sprays, waxes, creams, and almost anything else you'd ever need to make your head look good. For all the brands I've tried over the years, no one has been better.
First, a quick primer on hairstyling products. It's easier to go through these in broad categories, so you know what you might want to buy, whether it's from Kevin Murphy or somewhere else.
Gels and Hairsprays
Gels and hairsprays are usually a guy's first hairstyling products (terribly so if you, like me, grew up in the '80s and '90s). Broadly speaking, these will give you a strong hold and high shine, although things can vary on the market. Gels today can be used for a light hold or as a pre-styling product, while hairsprays are nice as a finishing touch if you want to set things in.
Pomades
If you're not familiar with the pomades, you're definitely familiar with the associated hairstyles. Pomades are good for clean, professional looks, such as a hard side part, pompadour, or something slicked back. Use these when you want something that looks crisp and clean. Water based pomades are easier to wash out, while oil based ones can be easier to re-adjust throughout the day (there are also combination pomades that use both oil and water bases for the best of both worlds). Murrays is a popular choice for oil-based pomades, although our own Pete and Dan favor other brands.
Everything Else
Then you have what I'd call "everything else." These are your waxes, creams, putties, fibers, clays, pastes, etc. I clump these together because, on the market, the terms can often be so fluid. Generally speaking, these are good for slightly messier and more natural hairstyles than what you'd get out of the products mentioned above. When buying something, you'll want to pay attention to three dimensions:
Hold: Easy and straightforward. This is how hard the product sets in your hair. Don't be shy about stronger holds. They can give you more volume and shape, if that's what you're after.
Texture: Some of these products, particularly the thick, grittier pastes, will add more texture to your hair. Good for people like me, who have thick hair, and want to add a bit of definition (otherwise, your hair can look like a helmet).
Shine: Lastly, there's shine. You can get a finish that looks as matte or "wet" as you want.
Kevin Murphy makes almost every kind of hairstyling product under the sun, but they're best at things in the last category – products that will give you a more natural-looking hairstyle. That can either be a low hold with just slightly more control, or it can be a stronger hold for a textured, slightly tussled look. The products I use:
Free Hold: A coconut scented styling cream that will give you a medium hold. This is the product that first drew me into the line, although I've since moved on to thicker, harder pastes. Use Free Hold if you want to have some control over your hair without seeming you use any products.
Night Rider: A citrus scented paste. Slightly thicker than a cream and will give you a matte, slightly textured hairstyle with a firm hold. I sometimes use this as a pre-styling product. Since it's water based, not oil based, it's easier to wash out of your hair.
Gritty Business: My favorite from the line. Gives a firm, but pliable hold, as well as a ton of texture. Ideal for a slightly messy look. Like all oil-based products, this sticks to your hair, which means it takes a bit of effort to wash out. I've learned to embrace the build up, as it just makes it easier to style my hair for the next day. Unfortunately, Gritty Business is being discontinued from the line, but you can still find it here and there if you search.
Rough Rider: A really hard, matte clay that gives the strongest of holds. I use this sparingly at the end of my routine to just touch up any areas I may need (usually the sides to keep the hair down).
The bad news: Kevin Murphy's products aren't as easy to find as, say, American Crew or Baxter. They're also on the slightly expensive side. If you can find a local salon that carries the tins above, expect to pay about $25 per box. Otherwise, a fair price online is around $30 to $40 (on the upside, they last about three months). You can try the salon locater tool on Kevin Murphy's website, although I found some of the stores listed aren't up-to-date.
The other bad news is that, like all hair styling products, it takes a bit of trial and error to figure out what's right for you. And once you get the product, it takes a bit of experience to learn how to use it. Always emulsify the product as much as you can by rubbing it between your palms, then start at the back of your head and work your way forward (run it through your hair with just your fingers, no comb is necessary). You may want to also try using your products on slightly damp and dry hair to see which outcome you like better. With a bit of practice, you'd be surprised at how much better you can look with the right routine.
---