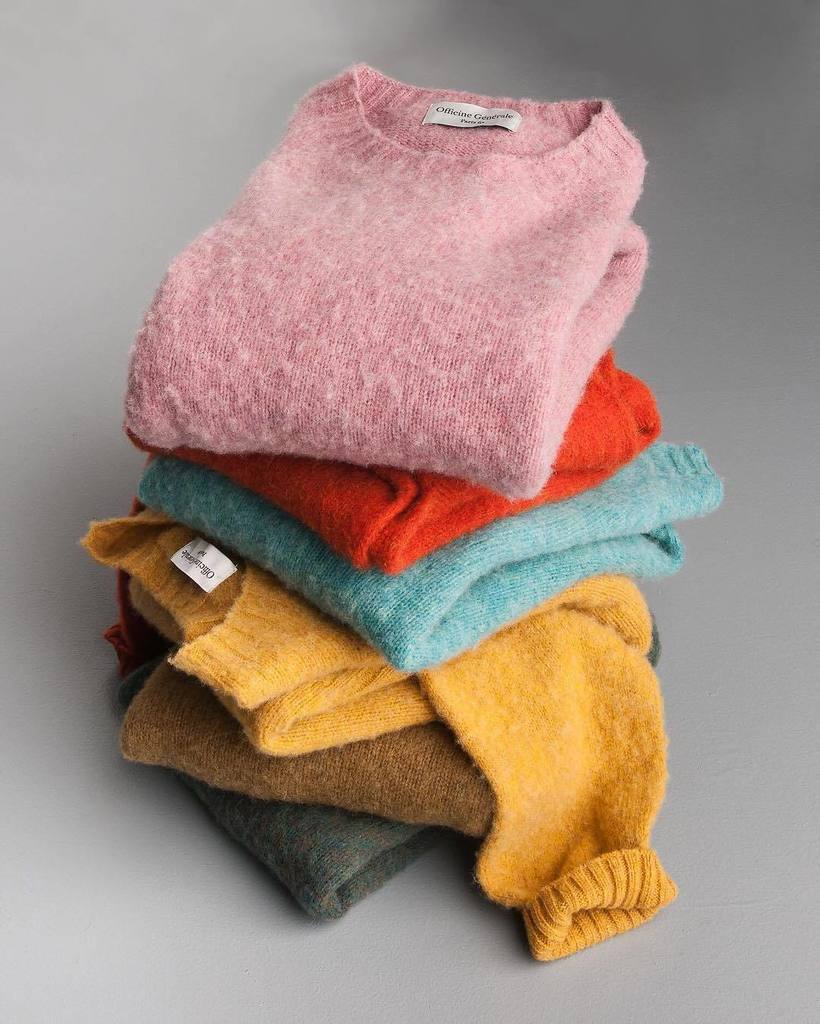 I have a sweater for almost every season and occasion: linen knits for spring/ summer, cashmere for fall/ winter, chunky knits to layer under oversized outerwear, and patterned knits for holiday parties. Like anyone obsessed with clothes, I've invented completely fantastical scenarios in my head to justify new purchases. "This would be perfect for a dinner party with aliens on the moon!"
Yet, year after year, I find myself mostly relying on the same ones: Shetlands, sweatshirts, and occasionally a patterned knit or turtleneck for specific ensembles. Building a good knitwear wardrobe requires a little about knowing how quality is determined. Sometimes there are telltale signs, such as the lack of side seams, which will suggest that the manufacturer put in a bit more time and effort into making the garment (which, in turn, may also suggest that the materials are higher quality and less likely to pill). But the quality of knitwear is mostly read off the brand's reputation. Cheap knits from Zara will be obviously bad; higher-end Scottish knits are almost always good. The rest will be about the design and how well something works for your wardrobe. Like a lot of things regarding clothes, there's a bit of wisdom about relying on basics, but then also some wisdom about finding unique things that simply work for you and your wardrobe.
If you're shopping around for some knits this season, here are some that I've found useful, going in descending order of importance. For more basic sweater shopping tips, see our five tips on how to buy better knitwear and our post on how to spot quality.
The Very Versatile Shetland
In the far north, off the coast of Scotland, lie the Shetland Islands. These thinly populated islands have plenty of pasture, which farmers use to raise short-tailed sheep. This is where we get Shetland wool, a sturdy, lightweight, slightly prickly fiber that's typically plucked, not shorn, and then firmly spun into yarn before being transformed into garments. Shetland tweed is known for its insulating qualities. Shetland sweaters are famous for their durability. In the old days, women here used to knit sweaters in the home, which is why Shetland sweaters often came with the strong smell of smoked fish.
Sometime around the early 1900s, Brooks Brothers imported these sweaters and sold them through their New York City store. This is how they eventually made it into the American dress canon. Classically, Shetland sweaters are paired with flat-front chinos and tweed sport coats, but in the 1970s, university students started pairing them with five-pocket cords and mountain parkas. Today, they can be worn with almost anything, so long as your outfit calls for a sweater. The only downside is that they're quite scratchy, which is why you'll need to layer it over a long-sleeved shirt (preferably a collared shirt).
Shetland sweaters are a great starting place for building a quality knitwear wardrobe. For one, they're harder wearing and more affordable than cashmere. Being that they're so lofty and textured, they're visually more interesting than plain merinos. Most importantly, a Shetland sweater can stay in your wardrobe even as your taste evolves in unexpected directions. You can wear one with waxed cotton Barbours, heavy topcoats, French chore coats, milsurp field jackets, and offbeat workwear. That's partly why they've shown up everywhere — from Brooks Brothers to Dries Van Noten, everyone can use a textured sweater. Get one in a color that contrasts with most of your trousers: blue or brown if you wear grey flannel trousers, or grey if you prefer blue jeans.
Options: Harley's, O'Connell's, Anglo Italian, Junior's, J. Press, Drake's, Jaimeson's, Wythe, Trunk Clothiers, Anderson & Sheppard, Kingsman, Aspesi, Howlin, William Lockie, Laurence J. Smith, and Genuine Scottish Knits
A Reliable Sweatshirt
The internet is full of stylish and inspirational photos of well-dressed men walking around various fashion weeks, clothing showrooms, and far away places. Many of these men are dressed in impeccably tailored suits, avant-garde casualwear, and hard-to-find vintage. But when I think of more relatable style heroes, I think of guys like Andrew Chen, the co-founder of 3sixteen. Andrew has been in the clothing business forever. Still, he has always relied on a fairly simple uniform: heavy denim, plaid flannel shirts, white t-shirts, boots, sneakers, and sturdy cotton sweatshirts.
Andrew tells me that he likes cotton sweatshirts and hoodies partly because he finds wool knitwear too itchy against bare skin. Additionally, as a father of two young boys, cotton sweats are easy to care for, machine washable, and suit a busy lifestyle. "Except for outerwear, my clothes are things that can be thrown into the wash," says Andrew. "The boots you see here, I don't think I've wiped them down even once. The only time they've gotten any care was when they went in for a resoling. I don't like babying my stuff." This is the kind of practical clothing that our writer Pete has recommended for fathers.
When I'm in jeans, chinos, or fatigues, I often reach for something sturdy and dependable: a grey cotton sweatshirt that I know I can easily machine wash. Last year, when I found that my J. Crew sweatshirt had a small hole near the collar, I just patched it up. As Andrew notes, the key is finding clothes that fit well (having a bit of good outerwear helps, as well). If you wear jeans at all, I recommend at least getting one good cotton sweatshirt. The first one should be grey, the most versatile color, although I find collegiate colors such as pine, burgundy, navy, and black also to be useful.
Naturally, many people may be wondering what's the difference between a ~$150 sweatshirt and something that you can find for ~$50. Some of this will be in the detailing, such as some having a loopwheeled construction (which is an older way of making these garments). Some of this will be in the quality of the materials. My Buzz Rickson sweatshirt, for example, is nice and dense, and doesn't stretch out as easily as the one I bought from J. Crew. It also has a "vintage" fit that I like, which is slightly boxy and short. I think it goes well with the kind of boots, jeans, and jackets I like to wear. In the end, however, you just need to find something that fits you well and works for your budget. If you find that your sweatshirt stretches out easily, throw it in the wash and put it in the dryer to shrink it back to shape. The color might dull from being in the dryer so much, but … it's a sweatshirt. These look better beat up.
Options: 3sixteen, J. Crew, Buzz Rickson, Unrecorded, Blank Expression, Levi's Vintage Clothing, Sunspel, Reigning Champ, National Athletic Goods, RRL, Velva Sheen, Camber, Camoshita, Ikiji, The Real McCoys, Strike Gold, Todd Snyder x Champion, Lady White, Uniqlo, Ebbets Field Flannels, Aime Leon Dore, and Wythe. Also, don't forget to check-in with vintage shops, such as Wooden Sleepers, Velour, and Raggedy Threads. They often have very cool, beat-up vintage pieces that have a lot more character (all three of those stores can take phone orders).
A Second or Third Textured Knit
To the degree there's still a male uniform in the United States, it's the dress shirt with a pair of dark jeans and a smooth merino knit. It's the final outfit for men who don't wear tailored jackets – the thing they can use to go to churches, offices, and other conservative settings without fear of drawing unwanted attention. It's the thing your mother wanted you to wear when it came time to have your yearbook portrait taken. And likely what many men will wear next month to Thanksgiving dinner.
The uniform persists for a reason. Shallow v-necks with dress collars underneath frame the face in a way that t-shirts can't, and the combination gives a vague sense of formality without actually being formal. The look is nearly failsafe, but it's also devoid of personality. A finely knit sweater in plain navy or gray is about as good of a candidate as any for a menswear staple, but I find I rarely wear mine.
Instead, I think knitwear looks better when it's textured. Along with the Shetlands mentioned earlier, there are countless options: cream-colored Arans, beautifully twisted cables, flecked Donegals, lower-gauge knits, and various designer options. You can pair these with a Barbour jacket, field coat, leather bomber, chore coat, or parka. They look great sitting above a pair of grey flannels, five-pocket cords, or jeans. And much like how a solid-colored grenadine can be worn with almost anything, I find textured sweaters to be easier to wear than patterned ones (although, those are great too). Textured sweaters lend visual interest to plain colored jackets, but help tone down the look of more complicated designs.
After you have a Shetland sweater, consider getting one or two other textured knits. The Armoury and SNS Herning offer unique basketweave and moss-stitched sweaters. Inis Meain, Colhay's, Drake's, and our sponsor Proper Cloth have luxurious Arans. Vintage stores and trad boutiques, such as Wooden Sleepers, Velour, and O'Connell's, often have vintage or deadstock Arans that are a bit more textured than machine-knit varities (call to inquire). This Blurhms has a beautiful, hairy surface. One of my favorite sweaters is a cream-colored A Kind of Guise knit with a chunky zig-zag pattern. That design has been long sold out, but don't be afraid of going a little outside the box. In staple colors such as cream, navy, and grey, a solid-colored knit should be reasonably versatile if it's textured.
Options: Proper Cloth, Colhay's, Genuine Scottish Knits, The Armoury, Scott & Charters, William Lockie, SNS Herning, O'Connell's, Blurhms, Inis Meain, Glad Hand, Christian Kimber, Andersen-Andersen, 3sixteen, RRL, Inverallan, Howlin, LL Bean, Aime Leon Dore, and John Smedley
Possibly a Patterned Knit
Here's where we get specialized. Patterned sweaters can be as classic or trendy as you desire, depending on their motifs. Certain patterns are completely unassailable and can be worn with nearly any classic ensemble. I love LL Bean's Norweigan knit, for example, with five-pocket cords and oxford cloth button-downs. They add a bit of visual interest when layered underneath a waxed cotton Barbour. Others, such as Nordic and Fair Isles, can look great during the holiday season, whether worn with jeans or flannel trousers. Jaimeson's makes handsome, traditional Fair Isles. J. Crew is also a good source for these sorts of things if you want something that rides the thin line between classic and contemporary.
Take a look at the photo of Jonathan Edwards above, which Jamie Ferguson shot for his wonderful book This Guy (a great holiday gift, by the way). Although Edwards has a suede cafe racer draped over his arm, you can see how much the sweater adds to his outfit. It's a chunky Ralph Lauren turtleneck with a Southwestern pattern, which can be worn with something as simple as a baseball cap and some jeans. A plain merino crewneck just wouldn't have the same effect. Ralph Lauren is great for these sorts of things. They have everything from Fair Isles to Polo bear knits to various iterations of their iconic flag sweater. Shortly after the attacks on September 11th, the company released a special edition sweater as a tribute to first responders and this country's resilience.
For something a little more offbeat, our sponsor Rowing Blazers recently re-released two sweaters that Princess Diana made famous in the 1980s: a black sheep sweater and her kitschy "I'm a Luxury." Both were made in collaboration with the knitwear designers who originally made them, Gyles & George and Warm & Wonderful's Joanna Osborne and Sally Mui. I have a black version of this Chamula flag knit, which I wear every Fourth of July and every chance I get during an election year. And I still covet this Palace x Ralph Lauren Polo bear sweater, although the resale price is prohibitive.
Patterned knits can be dicey, and the right motif will depend on the rest of your wardrobe. These aren't the first knits I would buy, but they can make for a fun addition down the road.
Options: Rowing Blazers, Jaimeson's, J. Crew, Chamula, Bryceland's, LL Bean, Drake's, Ralph Lauren, Isabel Marant, and Aime Leon Dore
Maybe a Turtleneck
In 1996, Tom Junod wrote a piece for GQ Magazine, which was nominated for a National Magazine Award. Simply titled "My Father's Fashion Tips," it was about his father's impeccable style, as well as the opinions of a man who felt strongly about clothes. The article is a wonderful read, but the best part is his father's unwavering confidence that a turtleneck is the most flattering thing a man can wear – an inflexible and enduring axiom that, Tom writes, his father believed in more than the existence of God. "The turtleneck is the most flattering thing a man can wear because it strips a man down to himself – because it forces a man to project himself," he wrote. "The turtleneck does not decorate, like a tie, or augment, like a sport coat, or in any way distract from what my father calls a man's 'presentation;' rather, it fits a man in sharp relief and puts his face on a pedestal – first literally, then figuratively. It is about isolation, the turtleneck is; it is about essences and first causes; it is about the body and the face, and that's all it's about; and when worn by Lou Junod, it is about Lou Junod."
I'm not as pro-turt as Lou Junod, but I'm a cautious fan of the style. If you want to know how the turtleneck is commonly viewed today, don't turn to the trimly militant one Steve McQueen wore as a sleuth in the 1968 thriller Bulliet. Or ones Richard Roundtree paired with long leather coats in Shaft. Instead, look to more modern references. The turtleneck is at the center of countless comedy scenes, including ones from SNL, Seinfeld, Dinner for Smucks, and Will Ferrell's parody of the 1970s. When hip hop star Drake danced to the beat of his own drum machine in "Hotline Bling," he was mocked not only for his awkward dad-moves, but also the slouchy gray lambswool knit that came up to his beard.
Still, turtlenecks can be a great way to dress down a sport coat, as the raised neckline helps make up for the lack of a necktie. I also think that chunky turtlenecks look great with any outerwear that has a contrasting collar — a Lee's Storm Rider, a bomber with a sherpa-lined collar, or even a mountain parka that shows a contrasting color on the reverse. See Peter Zottolo, George Wang, and Tony Sylvester for some great turt-inspiration. "A turtleneck is the sweater equivalent of a collared shirt; it frames your face," says Peter. "Once you think of it that way, it's easy to see ways to pair one. Bulky Arans or other thick knits go naturally with stout outerwear, such as a Melton topcoat or plaid Ulster. Smaller-gauge ones look fantastic with casual suits, and you can't beat a beefy navy or grey turtleneck with a pair of jeans. I like the practicality of turtlenecks. When it's cold, you could pop on a crewneck and scarf, but a turtleneck is both."
The key is getting the right weight. Not only do chunky turtlenecks wear much warmer, but they have a vaguely rugged, Maine Guy attitude. By contrast, thinner turtlenecks are better for when you're indoors and around central heating, but they also exude a certain bohemian, intelligentsia energy. Get one that suits your lifestyle, personality, and wardrobe. Mark Cho of The Armoury recommends that you can always wear a shorter turtleneck if you're unsure of the style. "I like to roll mine as far as I can, to the point where I'm doubling over the turtleneck, and it almost looks like a mock neck," he says. "I wear them with a shirt, such that the collar is peeking out a bit, but not so much that the collar points are popping out." Heimat's rollnecks work well, too.
Options: Proper Cloth, Colhay's, Heimat, Caruso, Anglo Italian, Bryceland's, Inis Meain, Doppiaa, Drake's, Berg & Berg, Rubato, William Lockie, John Smedley, Full Count, Orvis, and Orgueil
A Shawl Collar Cardigan (Mostly for Home)
OK. You have a Shetland, a sweatshirt, and one or two more textured knits in staple colors such as navy, brown, or grey. You may also have a patterned knit that you wear on occasion, and a turtleneck you're not sure about, but like to wear anyway. For a subsequent purchase, consider a chunky shawl collar cardigan.
Shawl collar cardigans can be found in almost any mall or clothing boutique nowadays. But the best ones often have a thicker collar that drapes like a wrap-around neck pillow or a doughy roll. In cashmere, they're wildly expensive — often over $1,000. In lambswool, they hover between $250 and $500. These tend to be costly, but you'd be hard-pressed to find something so insulating and comfortable to wear around the home. You can wear one over an oxford cloth button-down, a t-shirt, or even a thin turtleneck (layering knitwear is a great move). They can be paired with everything from jeans to chinos to grey flannel trousers. You can also get slightly contemporary with it. In some of the photos above, you can see how Greg Lellouche of No Man Walks Alone pairs a dark brown Scott & Charters cardigan with brown trousers and a brown scarf. A similar NMWA lookbook photo shows a man lounging at home in a black cardigan, charcoal trousers, and a mid-gray shirt.
Chunky shawl collar cardigans are especially useful this time of year for holiday parties (at least during those years when such gatherings are safe). If you're hosting an at-home party or going to one, you can wear a chunky shawl collar knit instead of a tailored jacket. It will look more inviting and friendly; less dressed up. At the same time, the chunky collar helps frame your face better than a standalone crewneck or v-neck sweater. I mostly wear mine at home, although Dehnen 1920, RRL, Kanata, and Chamula have hardier, denser cardigans that can be worn outside like a jacket.
Options: Rowing Blazers, The Armoury, Drake's, Todd Snyder x Drake's, Scott & Charters, Colhay's, Spier & Mackay, Kent Wang, Cordings, Orgueil, Campbell's of Beauly, Winston & Company, O'Connell's, Dehen 1920, Chamula, Kanata, RRL, Todd Snyder, and Zanone.
The Surprisingly Useful Solid Black Sweater
In the 1959 book Try for Elegance, which centers around a men's clothing shop based on Brooks Brothers, a man asks for a black sweater and is given a disapproving glare by the protagonist. Among Ivy Style traditionalists, black is verboten for anything beyond leather shoes and matching belts. But when asked about it in The Rake, Alan Flusser said: "Black can be very chic, and guys who are into tradition are generally not into chic."
I've found black to be a tremendously useful color for knitwear, although it's true that it plays better with contemporary wardrobes than traditional ones. Black knits are chic and sophisticated. They look better at night, when you might actually need a sweater. And they provide an excellent neutral background for coats and jackets in dusty olives, faded tans, and stone grays. In fact, you often see them use in runway shows and lookbook presentations because of how they help highlight a good piece of outerwear.
Whenever I'm not sure what kind of sweater to layer under a jacket, I usually reach for a slightly textured, black Our Legacy knit. It goes well underneath tan suede cafe racers, olive bomber jackets, French chore coats, grey topcoats, and even black leather jackets. A deep black, cotton sweatshirt goes great with any olive or brown military-style outerwear. A more refined, black cashmere crewneck sweater can be a base for smarter tonal outfits. 3sixteen has a black sweater this season made with a half cardigan stitch, which has a bit more body and a touch of texture. It would go well across a range of wardrobes. A black Shetland would also work in the same ways. 
This effect is similar to the one seen here on our friend Peter, who pairs a black Western shirt with black jeans and a tan suede Ralph Lauren trucker jacket. See how the jacket pops against the black background. Black dress shirts can be dicey, as they can make you look like a prom date or cruise ship magician. But black knitwear is surprisingly useful.
Options: Proper Cloth, Unrecorded, 3sixteen, Aime Leon Dore, Margaret Howell, Drake's, John Smedley, Todd Snyder, J. Crew, and Jamieson's
---