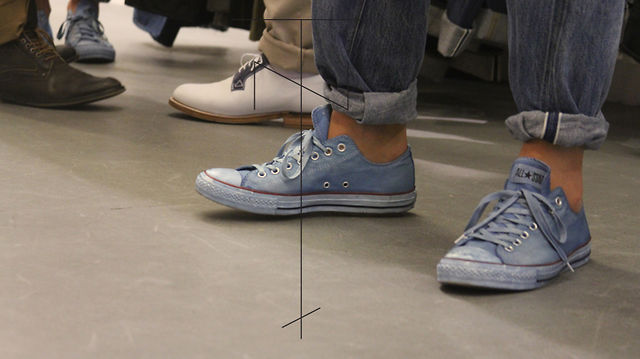 "Whatchu know about that RIT Dye?" – Big Boi on Bullseye
I'm not sure if these aren't a bad idea, but summer is essentially made for questionable clothing choices (I'm looking at you, shorts). Lately, I've been thinking about dyed sneakers, which I suspect might look better on my screen than on my feet. On the other hand, they also look like they'd be really fun to wear this summer with beat-up chinos and casual shirts. Something for lounging around on lazy days. 
To get a pair, you have three options.
DIY. The first is to obviously make them yourself. Start off with a pair of white sneakers and dye them with one of the many at-home dyeing kits. RIT Dye is popular, and you can buy packet of it at Walmart, CVS, or Amazon. There are a ton of online guides that will show you how (start here, here, and here). Basically, the gist of it is: if you want a deeper color, such as these Chuck Taylors 3sixteen once dyed, you'll want to use hot water and lots of a salt. Prepare the dye in a bucket, however, as the chemicals might stain your bathtub or sink. Then, dip your shoes in multiple times and let them air out in-between each dip. For a lighter color, such as these Chucks by Tenue de Nimes, just use warm water, don't use a lot of salt, and don't dip them in that much. To ensure the color doesn't deepen, you can rinse them off afterwards. (Note: 

For a kind of dye that will fade with time, try

Jacquard's natural indigo

. Just be careful the first few weeks, as the color might bleed a bit more than RIT Dye, which means you can wind up with blue feet and perhaps even blue floors).

Farmtown Denim.

You can also go to Melissa Farmer, who's a popular Reddit poster with an Etsy shop. She regularly dyes things for Reddit members for a small fee. At the moment, she has a

pre-order for natural indigo dyed sneakers (

she uses Jacquard, I'm told). You can get anything from Vans Authentics to Jack Purcells to Chuck Taylors, and she'll provide the shoes. A great option if you, like me, are too lazy to do this process yourself. To see how her dyed shoes age, you can see check out the photos in

this interview

.

 

Vans.

Vans has a

blue overwashed version

of their popular Authentics this season. The upside to these is that they won't bleed on you, and they'll look broken in from day one. The downside is that you won't get the experience of having dyed something yourself.
To get a sense of how these might look on your feet, check out our friend Travis Gumbs over at Street Etiquette. Noah Emrich also once dip dyed a pair of Tretorns in order to give them more of a two-tone gradient effect. 
(Photos via Vimeo, 3sixteen, Vans, and DIY Vat)
---