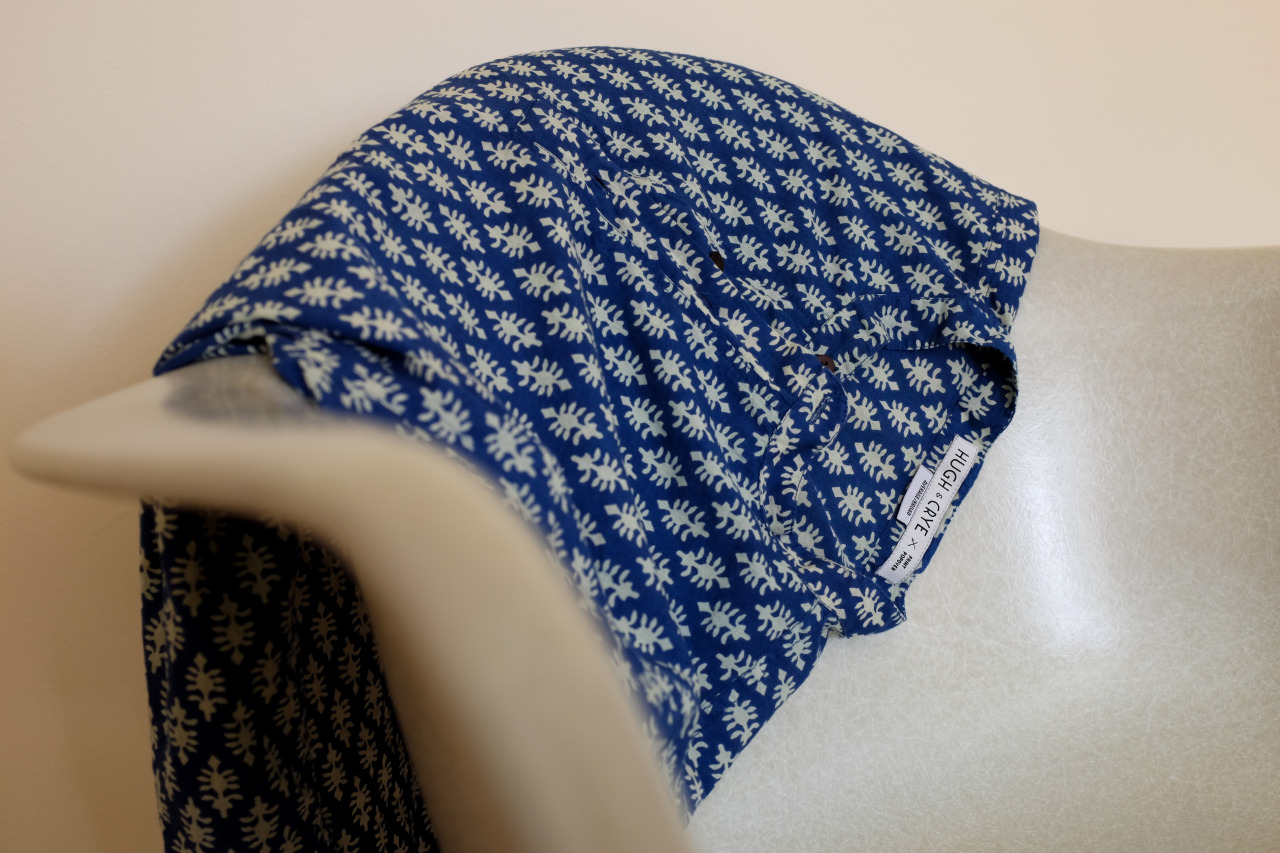 Other than properly using an iPhone camera, nothing baffles my mother-in-law more than the current popular taste for mid-century modern furniture. That anyone would pay $1500 for a credenza she's pretty sure she's seen on the curb in Baltimore is mystifying to her. I understand–that's a lot of money for something she's not even sure she likes.
Likewise, while I've long been on board with the popover shirt, I've been a little more hesitant to wear a band collar (grandpa collar, kurta collar, etc.) shirt. I wasn't sure they'd work for me (would I look like a priest?) and such shirts from brands I like, like Engineered Garments, are $200+.  For what it's worth, I think that EG shirt is very rad. Just maybe not when placed on my torso.
Fortunately DC-based shirtmaker Hugh & Crye sells some band collar popovers at a very rad price: $35. That puts them in the same value range as Kent Wang's sunglasses. The shirtings they use are light, almost gauzy print fabrics sourced in India (where Hugh & Crye's shirts are also manufactured)–H&C has more fabrics coming later in the summer. They're screen or block printed with natural dyes (H&C recommends hand washing; I have washed mine (above) on the delicate cycle with like colors). The shirts are short sleeved and cut with more room than H&C's standard dress shirts, which are quite trim. H&C also uses a nonstandard sizing grade based on height and build, which works well once you figure out where you fall on their spectrum (I'm "average broad," which sounds like a Raymond Chandler line). For about $40 shipped, they're definitely worth a try if you're on the fence on band collars.
The print popover is a worthy substitute for the tired pique polo in casual, non-golf situations. I've found it especially handy at the beach and poolside, as the fabric is not clingy like a jersey tshirt. And the prints, while busy, are no louder than an Aloha shirt. I'd say both go pretty well with mid-century decor.
---