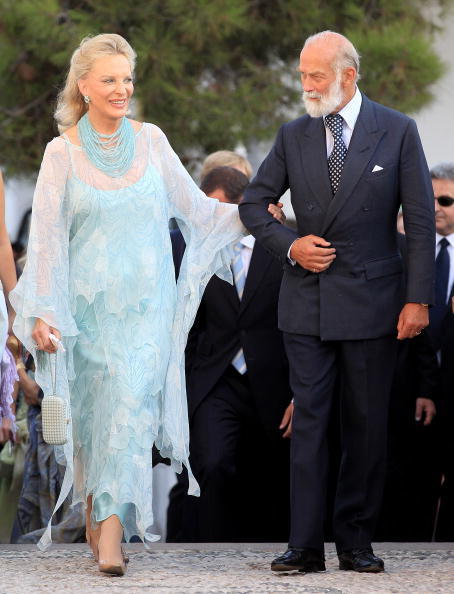 If you're going to a wedding this summer–June is the most popular month for weddings–you probably already know. Etiquette says wedding invites go out six weeks or so before the wedding, but many couples send save-the-dates months ahead. Put This On gets questions pretty often asking where and how to get proper wedding attire (as a groom, groomsman, or guest) on very short notice. Don't let it get to that point.
You'll likely need some lead time if you want a proper ensemble like the Prince of Kent or Simon Crompton (pictured above). Think about what you might want to wear now, identify holes in your wardrobe, and then you can fill them at a leisurely pace via ebay and judicious purchases. Some updated tips from the PTO archives:
For Everyone
For the Groom
Congratulations, it's your day! Haha, no it's not. But it may well be the best excuse to wear a fantastic new suit and tie you'll ever have. So do it up.
Details that border on flashy for business, like peak lapels, waistcoats, or one-button or double breasted suits, are great for weddings.
The bride, groom, and groomsmen need not all match, colorwise, but coordinating the level of formality is important or you'll look like you're going to different parties. If your bride is wearing a simple cotton dress and you're getting married in a sunlit garden, it's probably not a black tie occasion for you.
For the Groomsmen
As a groomsman, respect the couple's wishes. If that means you have to rent a notch-lapel tux with a long tie and wear it before 6 p.m., just accept it and enjoy the open bar.
Get a haircut and shine your shoes.
If you're a bride or groom and are deciding what to ask your groomsmen to wear, be considerate: new suits, especially specific, unusual new suits, can be expensive.
A good way to coordinate the groomsmen is to provide them with a boutonniere or tie, rather than forcing everyone into the same suit.
For the Guests
Again: solid suit, white shirt, black shoes.
Linen and cotton can be great in the summer. Seersucker, too, where regionally appropriate.
Add a swank wedding tie and/or a lapel flower for some personality.
It's better to be a little overdressed than a little underdressed. But try not to outdress the wedding party. I know; it's hard for Put This On readers.
For more on wedding attire, browse PTO's archives or read probably the best single piece of writing on the subject: Nicholas Antongiovanni's Wedding Attire in the Modern World.
–Pete
---