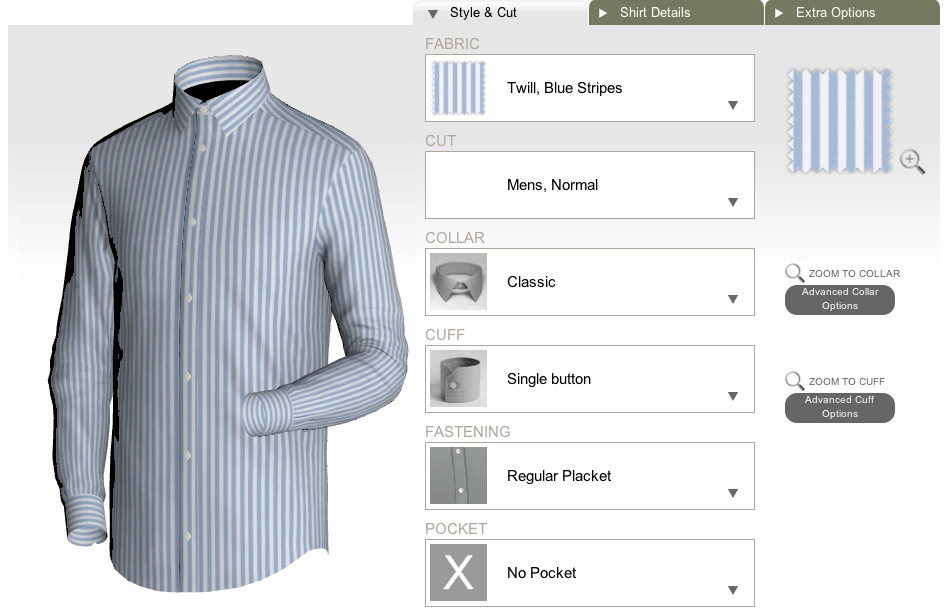 Twice a month, we like to thank our sponsors for supporting our site. Our sponsors this month include Cottonwork, Flint & Tinder, Frank Clegg Leatherworks, and The Hanger Project.
Cottonwork sells custom-made shirts over the internet. You can order by either submitting your measurements online or sending them your best fitting shirt to be copied. From there, they have a nice online interface for you to work with as you design your shirt. Basically, as you make selections for the collar style, fit, and cloth, you get to see your shirt being built in real-time, so that you have an idea of what it might look like. They also have a free starter kit you can order from their website. In it, you'll find some coupon codes for your first order, some sample fabrics, and a measuring tape.
Our second sponsor Flint & Tinder specializes in American-made undergarments, including undershirts, boxers, briefs, boxer-briefs, and socks. This summer, they're also launching something they're calling The All-Summer Board Short. It's basically a pair of swimming trunks that you can also use as regular shorts (they have belt loops, pockets, and don't have any crazy patterns that would limit them to the water). The idea is to give men the option of buying a pair of swim trunk that they can actually wear all summer long, even if they don't go near water that often.
Our third sponsor is Frank Clegg Leatherworks. Frank Clegg, the proprietor, has been making leather goods for over forty years. Today, he makes a range of leathergoods and accessories out of his workshop in Fall Rivers, Massachusetts. He has a pretty big selection of things he sells in his online shop. There are briefcases made out of a sturdy harness belting leather (which is a kind of vegetable tanned leather treated with extra fat liquors during the condition process), some travel bags made from shrunken leather, and some wallets, card cases, and iPhone sleeves for people looking for small gifts.
Finally, our last sponsor is The Hanger Project. As their name suggests, they specialize in high-end hangers, but they also sell a range of other things, such as Saphir shoe care products, closet organization accessories, and neckties.
So thanks to all four of our sponsors for their support. We genuinely appreciate their support.   
If you want to advertise on Put This On, just email us at contact@putthison.com.
---