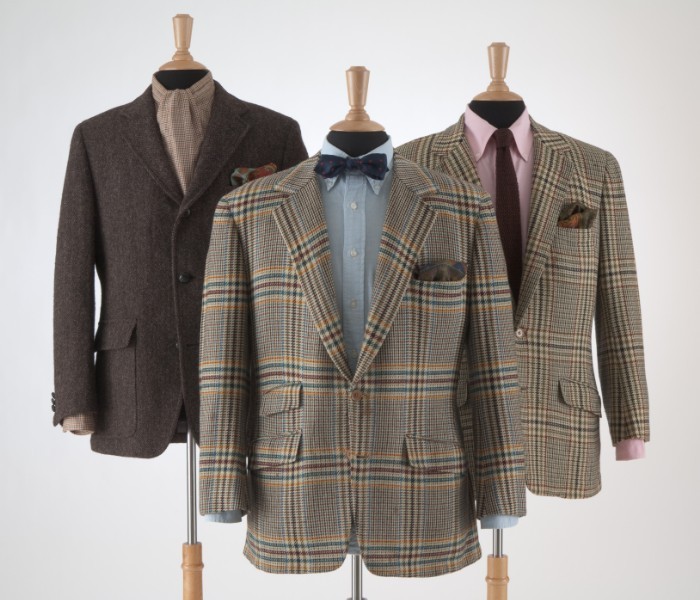 If you haven't already heard, The Museum at FIT in New York City is hosting an exhibition on the classic American "Ivy League style." The exhibit, simply titled Ivy Style, will show the development of the look over three distinct periods: the interwar years of the 1920s and '30s, the post-war era to the end of the '60s, and the style's revival from the '80s to present. In the first period, the interwar years, American clothiers Brooks Brothers and J. Press took classic English pieces such as tweed jackets and polo coats, and appropriated and modified them for young men in elite East Coast colleges. After the second World War, the "Ivy League look" started to disseminate across the United States. OCBDs, khaki chinos, and penny loafers were adopted by a much larger, more diverse population, including working class GIs and jazz musicians. Finally, after a period of dormancy in the 1970s, Ivy League style started to see a revival, from the '80s until today. 
The exhibition will be on view from September 14th until January 5th. The museum is also running its annual fashion symposium on November 8th and 9th. This year's talk will be connected to the Ivy Style exhibit and will feature speakers such as Bruce Boyer and Christian Chensvold, as well as other scholars and designers. We'll publish info on that symposium as the date approaches, but for the time being, we encourage you to check out the exhibit. 
For those not lucky enough to be able to attend, know that a more in-depth study of the Ivy League look will be featured in the accompanying book, also titled Ivy Style. It will contain essays written by the museum exhibit's curator, Patricia Mears; scholars such as Dr. Peter McNeil, Dr. Christopher Breward, and Dr. Masafumi Monden; and leading menswear writers Bruce Boyer and Christian Chensvold. Boyer and Chensvold, in my opinion, have written (and continue to write) some of the best material on classic men's style, and I'm really looking forward to reading their new project. You can pre-order it now on Amazon. 
---