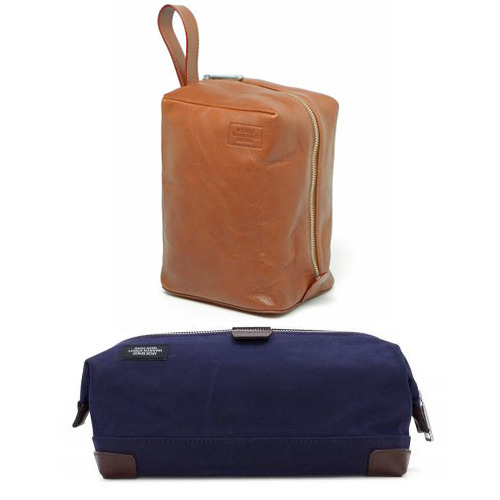 Dopp kits are designed for men who need something to hold their toiletries while they travel. They were invented by Charles Doppelt, a German leather-goods maker, sometime in the early 20th century. Doppelt scored a contract with the US Army during WW2 and provided millions of American GIs with them while they fought abroad. When these soliders came home, they brought their dopp kits with them and thus began their civilian use. 
Now, unless you're off fighting a war, nobody needs a dopp kit. You can get along fine by triple bagging your toiletries in plastic bags when you travel. Unless you're hanging out with really lame people, nobody's going to judge you for it, assuming they even notice. However, these pouches are still nice to have. There's something about them that help you feel a little less like you're living out of a box, and they inspire a better sense of organization. With plastic grocery bags, even if I bring my nicest ones, my toiletries randomly wind up on different tables in my hotel room. As well, dopp kits just feel a bit more "grown up," and that's what this site is all about, right?
So for readers who travel, I thought I'd run through some dopp kit options. I'll separate this out into three price tiers.
Over $100: Mulholland Brothers sells some nice basic models in both waxed canvas and leather. Nothing fancy here, just your standard dopp kit in great materials. If you want something a bit more interesting, there's this Kenton Sorenson, which will darken to a beautiful patina over time. Jack Spade also makes some. My personal dopp kit is by Jack Spade and I love it, but I'll admit that I think their products are slightly overpriced for what they are. However, Jack Spade dopp kits go on sale every once in a while at Gilt and Nordstroms, so check there. Lastly, there is Col. Littleton, which looks amazing, but is pretty expensive. 
Between $50 and $100: As with a lot of things, Filson and Orvis always makes very nice mid-priced items. There's also this leather piece by Buxton Accessories, which has one of the nicer organization systems I've seen. 
Under $50: If you're on a tighter budget, there are many dopp kits priced under $50. The first is Lands End's SeaGoing and Square Rigger models. The SeaGoing is designed for really wet environments (perhaps if you're bringing your dopp on a boat) while the Square Rigger is a bit more traditional. There are also affordable waxed canvas options by Marc New York and J Crew, as well as a leather model by Dopp Delegate. Additionally, Potterybarn has one you can monogram. I've handled this one before and wasn't very impressed with the leather but – well – it's $39. Lastly, MUJI has a variety of affordable options – this one's $17. Jesse uses a MUJI bag not unlike this one and recommends them, and I can see the hook coming in real handy for situations where you can't take up a lot of counter space. There are more here.
As for what to pack in your dopp kit? For me, I work off of this list:
The Essentials: Travel size bottles of shampoo and conditioner; toothbrush and toothpaste; floss; nail clippers; facial scrub; lotion; hair products; Q-tips; hand salve; a comb; deodorant; sunscreen; and a shaving kit. 
Optional: Lip balm; Band Aids; Tylenol; $20 bill; LintUps; breath mints; ear plugs; Emergen-C; condoms; and my own soap (since hotel soaps usually suck). 
Also, be sure to squeeze out the air from your travel sized bottles. This will help make sure they don't explode during the flight. You can buy travel sized bottles at almost any Longs Drugs or Walmart, or online through Flight 001. 
Lastly, a word of caution when selecting your dopp kit. The goal here is not to get the biggest sized bag you can. It's much wiser to know what you typically bring and buy an appropriate sized bag for your gear. If you get something too big, it will just take up unnecessary room in your luggage, so know thyself before buying. 
---