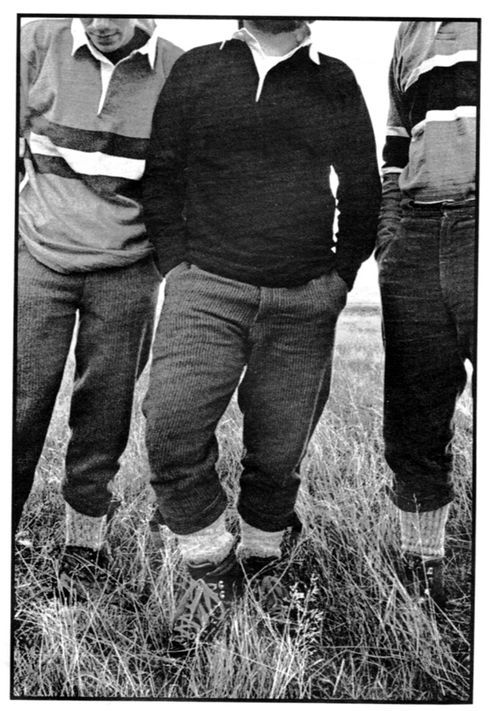 Rigidly reserving things only for their original intended purpose is for the short of sight and narrow of mind. The telephone was originally an instrument of business; what early adopter could foresee that in 2013 a phone would be something you carry in your pocket and use primarily to photograph yourself? Likewise, the rugby shirt, a garment designed for the pitch, over time found new homes on college campuses, in the mountains of California, and eventually in the dresser drawers of thousands of men who wouldn't know a scrum from shinola.
Origins
The basic, classic rugby is a heavyweight, knit cotton jersey shirt, often with ribbed cuffs, and a placket and collar of white cotton twill, usually fastened with rubber buttons—less likely to tear off during rough play. (This is a sport that considers binding your ears to your head with electrical tape a form of protection.) That contrast collar and placket are largely what differentiate the rugby shirt from any general long-sleeved polo shirt—but reasonable people disagree. Rugby players often prefer a slimmer fit; modern rugby shirts are constructed of synthetic fabric and cut very slim to frustrate potential tacklers looking to grab hold. They're very similar to current professional soccer jerseys. In its early days in the 19th century, rugby was played at British public (i.e., very much private) schools, and shirts were often striped with "hoops" in the school's colors to identify teams, hence the bold stripes on many casual rugby shirts.
Although it's hard to point to a specific moment when the rugby shirt made the leap to casual, nonsport wear, it was probably in the middle of the 20th century, when the game itself experienced a surge in popularity on stateside campuses. Eventually the rugby became a standard item in 1980s L.L. Bean and Land's End catalogs. In the 2000s, Ralph Lauren named an entire label Rugby (RIP). Overlogoed versions, polluted with embroidery and superfluous stitching, have been common since the second coming of Abercrombie and Fitch.
Chouinard's Rugby
Patagonia founder Yvon Chouinard is credited with bringing the rugby shirt to the mountains, where in the 1960s a climbing boom was just beginning to spur the growth of a new industry of gear. Rugby shirts were comfortable and elastic enough for freedom of movement when climbing, and the collar kept heavy climbing ropes, slung across the body, from chafing necks. Plus, the bright, broad stripes looked fantastic. Chouinard began carrying the shirts under his original gear label, Great Pacific Iron Works, as "the most practical shirts we have found for rock climbing." (The black-and-white image above comes from one of GPIW's beautiful 1970s catalogs, in which rugby shirts were $12 to $16, or about $50 to $70 today.)
I prefer a plain or striped rugby in the style of Chouinard's, with the traditional twill collar and ribbed cuffs. For me they're off-duty wear—I would hesitate to wear one with a sportcoat or real trousers. Heavy corduroys, canvas pants, or denim match the heft of the jersey fabric and are seasonally appropriate in the chilly months when rugby shirts are most often worn.
Sources
Fortunately, well-made rugby shirts are affordable, although fitted versions are less common. Columbia Knit supplied a number of 1980s labels with USA-made rugby shirts, and still makes a nice rugby for as little as $30 (even less if you order a shirt of mixed up remainder fabric). Columbia Knit's shirts are generously sized and drop shouldered—the shoulder seam will not fall at the edge of your shoulder, but high on your upper arm. Barbarian has a good reputation (I have not handled their shirts, which are made in Canada), and their versions run about $50. Land's End still sells rugby shirts, but they're imported, and classified by one reviewer as "roomy and stylish."  Kent Wang's modified rugby is $85. Ralph Lauren's custom fit is probably the most reasonably priced, reliably slim fitting option at $100. Of course, it has a Polo pony embroidered on the chest. Gant, which has a line called Rugger, sells a fitted version with a minimal logo.
Rugby shirts are of course fall/winter items and most stores are now just getting fall/winter clothing on the shelves, so expect to see more options soon. In recent years, Archival Clothing, Jack Spade, Brooks Brothers Black Fleece, and Brunello Cucinelli, among others, have offered attractive versions. If you see any particularly great ones on the market, let us know.
-Pete
---