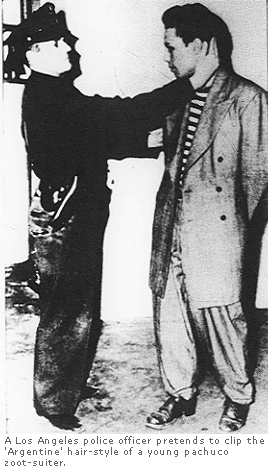 Yesterday, I posted, tongue-in-cheek, some WWII-era fashion propaganda.  I'm feeling guilty now for not pointing out the darker side of the anti-excess-fabric movement.
In the 1930s and 40s, young Mexican-Americans, particularly in Southern California, created a unique sartorial statement: the zoot suit.  It was a suit defined by excess: pants weren't pants, they were "drapes," with huge legs and pegged ankles.  Coats stretched down to the knees.  It was a conspicuous display of excess and identification with "pachuco" culture – and it was a display of excess that didn't sit well during the war years with one of Los Angeles' other big youth populations: servicemembers.
Chicanos were already the target (then as now) of racial discrimination in California, particularly as the nation was just coming out of the depression, which had led many to blame immigrants for their own difficulties.  The fact that their vibrant culture was thumbing its nose at fabric rationing was enough to set off a racial powderkeg.
Sailors on shore leave from the Port of LA and young Mexican-American pachucos began to clash violently, and the Mexican-American community found the media, police and politicians consistently blaming a culture of juvenile delinquency – in other words, pachucos.  Isolated incidents led to organized groups of police, then sailors heading to Chicano neighborhoods to beat any and all zooters they could find.  June of 1943 found literally thousands of servicemen roaming the streets of the barrio, beating any and every young Latino they saw.  Mobs went into movie theaters, pulled out Chicanos and beat them.  Police intervened – to arrest the Chicanos on charges of vagrancy and delinquency.  Sailors beat young people on the streets with impunity, often tearing off their zoot suits burning them in piles on the ground.
As riots raged, the Los Angeles City Council passed an ordinance banning zoot suits on the grounds that they were a symbol of hooliganism.  Violence spilled out into African-American neighborhoods, where blacks in zoot suits were targeted.  Eleanor Roosevelt had the temerity to describe the violence as race rioting, and the Los Angeles Times published an editorial accusing her of communist sympathies.
The Zoot Suit Riots were well-documented in an episode of The American Experience that you can probably grab from your local library, and in fiction in Luis Valdez' brilliant play and film Zoot Suit starring Edward James Olmos.  Check them out if you have any doubts of the cultural power of style.
So: there's the dark side of calling excess fabric "unpatriotic."
(PS: I've been wanting a forum to say this for ten years plus: SERIOUSLY, CHERRY-POPPIN DADDIES?  ZOOT SUIT RIOT?  REALLY, BUNCH OF WHITE GUYS?  IS YOUR NEXT ALBUM "RODNEY KING RIOTS" WITH THE LEAD SINGLE "WOUNDED KNEE MASSACRE PARTY?"  GO FUCK YOURSELVES.)
---