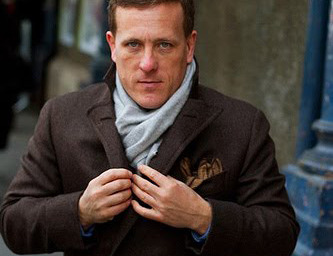 As the temperatures begin to dip, it will be important for you to have a few scarves on hand. If it's cold enough, you'll obviously wear yours with an overcoat or some kind of heavy winter outerwear. If it's not, however, a scarf can be even more important, as it may be your only source of warmth. 
When buying one, it's important to pay attention to a few key things:
Material: Generally speaking, cashmere will be softer and warmer than wool or lambswool, but it really depends on the quality. A lambswool/ angora blend by Alex Begg, for example, will be nicer than any cheap cashmere. You can also get scarves in either silk or cotton, but those tend to not be as warm. Whichever you choose, I recommend staying away from acrylic. There are too many affordable, good scarves, made from natural materials, to justify buying an acrylic scarf. 
Nap and size: Pay attention to the size and nap. I personally prefer scarves to be around 70" long, and never go below 63". As Will from A Suitable Wardrobe shows, if your scarf is too short, you won't be able to tie it. You'll also want to pay attention to the width. If your scarf is too thin, it will hang like a silly noodle around your neck. Lastly, note that rougher materials, such as some lambswools, will be more difficult to tie into knots.
Color and patterns: As I've written before, I think scarves are worn best when they complement, but not match, the rest of your ensemble. That means picking one with complementary colors or a secondary color that matches your jacket or coat. I personally find solid colored scarves, or those with plaids, windowpanes, and stripes, to be the easiest to wear, but you can also get scarves in Fair Isle, dip dye, or houndstooth designs. 
So with that, what are some of your best options? 
For under $40: There are a surprising number of good scarves for under $40. In terms of value, it's hard to beat Johnstons of Elgin's, particularly their cashmeres. Sierra Trading Post often has them for under $40 once you apply their Deal Flyer coupons. In addition to those, there is also Barbour, Dent's, and Amana Woolen Mills. Amana Woolen Mills' are particularly cheap at $16-18, but they're very thick and a bit itchy. I found them last year after seeing someone rebrand their scarves and sell them for $166. Kind of hilarious. Note also that Amana isn't limited to just those Fair Isles; they'll cut any of their blankets into scarves if you request them to. 
For $50 to ~$100: This is where most of the action is, so you'll find a wider range of patterns and colors here. My favorites include Brooks Brothers, J Press, Howard Yount, Lochcarron, and Berg & Berg. I've also been charmed by these Howlin' scarves, which Unionmade carries, but I haven't handled one yet. 
For ~$100 and above: Most scarves priced above $100 are by high-end fashion brands such as Burberry, Zegna, and Moncler, or luxury-end houses such as Colombo and Begg. The designer/ fashion brands are all very nice, but you're obviously paying some premium for the name. If you don't mind that, you can find them at Saks, Neiman Marcus, and Barneys. For luxury-end houses such as Colombo or Begg, check Four in Hand, Unionmade, and Kabbaz and Kelly. Kabbaz and Kelly has particularly good customer service. Brooks' cashmere scarves (which I believe are Colombos) and Drake's of London are also very nice. Lastly, A Suitable Wardrobe carries some really handsome scarves. I'm particularly fond of this navy one with an ecru overcheck. 
Of course, there are hundreds of good scarves to be had, so the above list isn't meant to be exhaustive. If you're on the market to buy one, however, the above can be a good place to start. 
---