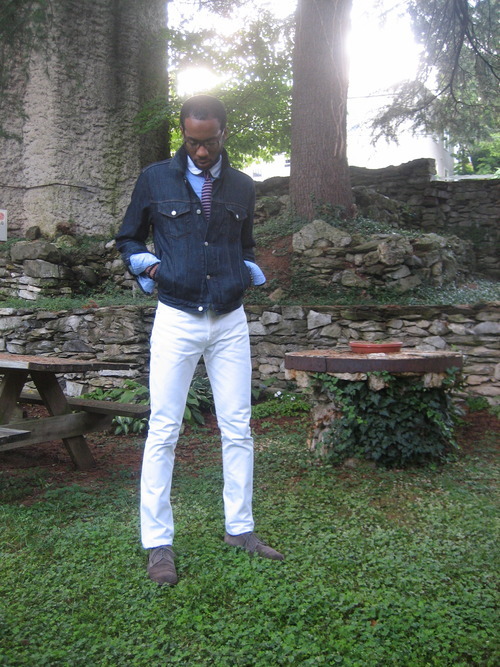 I have one pair of white blue jeans – some 501s not unlike the ones above – and this is the time of year they come out. Despite their weight, they actually wear reasonably cool, and end up being a great option on days when the sun's out and it feels like summer, but it's not quite hot outside.
Our friend CBenjamin's in the picture above, and his outfit has a lot going on. He pulls it off well, but I find that I have good luck pairing my jeans with very simple compliments. Even as simple as a plain navy t-shirt and canvas sneakers. (I avoid white tops; white-on-white is a little too Andrew WK, though Andrew always looks great.)
White jeans also make a nice compliment to a summer blazer. With tan bucks, like CB is wearing, and a pale blue shirt, you have a relaxed look that's surprisingly pull-off-able.
One note: CB's white 501s, and mine, are tapered slightly by a tailor. This will cost you about $20, but I find that a trendier, slimmer fit is more appropriate with a jean like this. It helps drive home the point that you're wearing white denim on purpose.
---