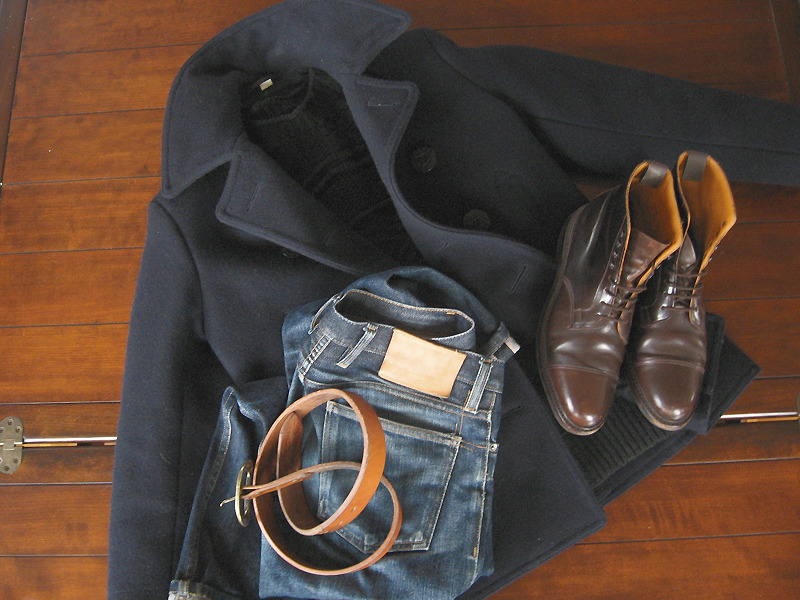 Next to tailored clothing and shoes, most of my clothing budget is spent on outerwear. In my closet are some field jackets – the kind with two pockets at the chest and two at the hips. Then I have some coats with various belted riggings, which are used to help cinch in the waist, as well as some "designer" pieces with unusual pocket placements. It's said that these sorts of jackets are often inspired by hunting coats, but I can't imagine anyone who has bought these sorts of things (including me) has ever hunted for anything but their keys and an open bar. 
Some of my coats, however, are quite simple. Boring, even. There's a waxed cotton Barbour Bedale, which I bought in the standard dark green colorway. It has a corduroy collar, but the overall look is so generic at this point that the jacket has become almost nondescript. I also have a heavy Melton wool pea coat from Buzz Rickson, a green barn coat from LL Bean Signature, and a brown, waxed field coat from last season's Barbour x Norton & Sons line. The brown field coat actually looks something like this vintage piece I found on eBay over the weekend.
Each of these lack the kind of bells and whistles that can make an outfit interesting, so to balance things out, I sometimes layer in some heavy, textured knitwear. Above are some examples. Underneath the pea coat is a very subtly textured, black Shetland, which is also from last season's Barbour x Norton & Sons range. Underneath the LL Bean Signature barn coat and waxed cotton Bedale are some heavy, cream-colored sweaters, which are from Inis Meain. The first is a basket weave sweater that's been made with an open interlocking lacing on the front body. The second is your standard cable knit Aran, although done to Inis Meain's design. Finally, underneath the brown field coat is also an Aran from Inis Meain, but this time, in navy. The pairing of blue jeans and a navy sweater can sometimes look off, but the jeans here, I think, are light enough that there's enough contrast.
The chunkiness of these sweaters and their texturally interesting designs help make boring outerwear pieces look slightly less boring. If you wanted to wear a scarf with these, it would be better to stick to something that's also solid-colored, but textured – such as a grey cabled knit. That way, no element sticks out too much on its own. By relying on complementary colors and playing with textures, you can make outfits look interesting without needing to turn to the brashness of patterns or unusual design details. It's a quieter, arguably more sophisticated, way of making a statement. 
(Pictured above: sweaters and coats as described; straight legged 14.5oz selvedge denim jeans from 3sixteen; undyed thick harness leather belt from Don't Mourn Organize, made with a buckle bought at Slash Clothing; and shell cordovan boots from Brooks Brothers)
---