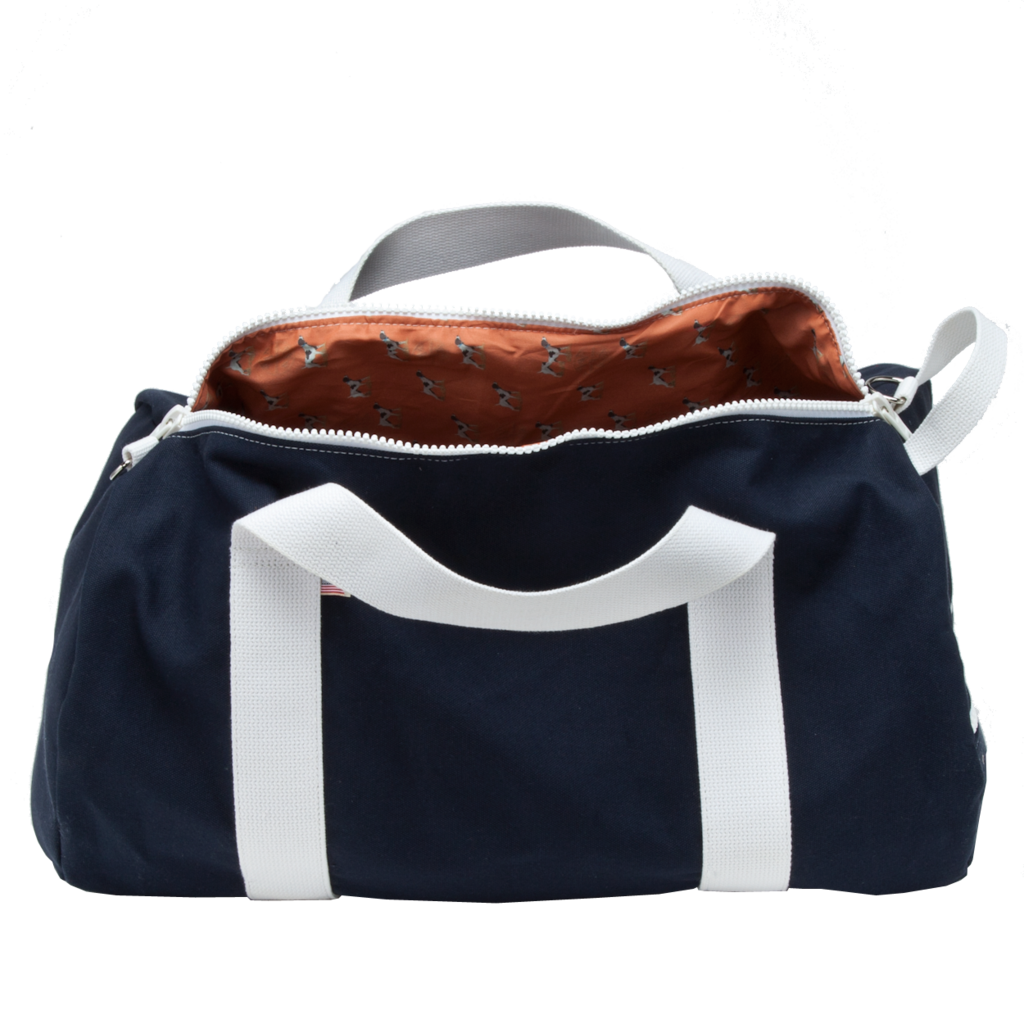 I love the canvas duffel bag. Headed out of town for the weekend? Going to a, uhm, friend's house for a sleepover? Throw some clean clothes and a sweatshirt in your duffel and hit the road. So when Hudson Sutler asked if we'd take a look at their St. Simons Duffel, I readily agreed.
The St. Simons duffel is the basic weekend duffel size – 12" in diameter and 22" long. Like all duffels, it fits a surprising amount of stuff. In addition to the basic hand and shoulder straps, it's got a "quick grab" strap on one end, which is a neat addition. There's a convenient interior and an exterior zipper pocket. It's also got a great look in navy and white, with an orange hunting dog lining by William Lamb & Son. It's a very charming piece.
As I loaded it with crap at my office that needed to go home, though, I wondered how far that charm would get me. The bag has a big-toothed plastic zipper that seems destined to break. The lining is great-looking, but lightweight, and I was immediately worried about soiling or tearing it. The bag's made in the USA, but it seems like aesthetics trumped the heavy-duty construction that's usually the hallmark of this sort of bag. There was nothing to make me wonder if the bag could handle an extra pair of pants and some socks and underwear, but I wouldn't subject it to more than a load of clothes.
At $120, the bag is reasonably priced. It's a bit less than the classic competitor, William J. Mills & Co., who charge about $135. It's a fair bit more than my favorite, Oregon's Beckel Canvas, whose War Bag is about $85. Still, I love how it looks, and I'll certainly grab it the next time I've got a few extra clothes to tote around. (When I'm on my way to my seaside estate, for example.)
---