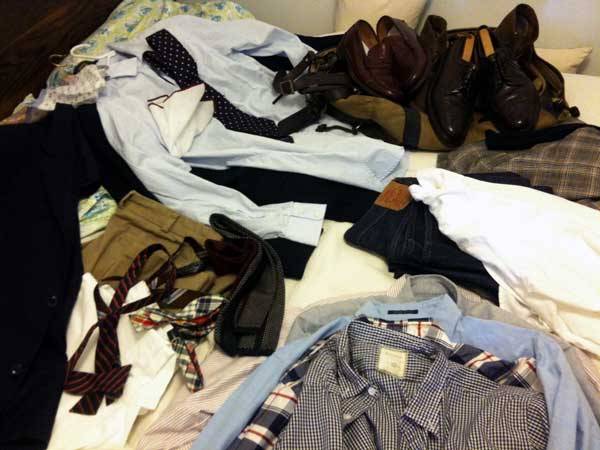 Unlike MistahWong, I'm a horrible photographer, but given the packing questions folks are always emailing us, I thought a rundown on what I'm bringing on an upcoming work trip might be informative.
I'm headed to Calgary next week for the Calgary Folk Festival.  I'll be there for six days, conducting interviews for The Sound of Young America and, on Wednesday, giving a talk about new media called "Make Your Thing."  (Buy your tickets, Calgarians).  I'll be wearing a suit for the talk, but for the rest of the trip, I'll be shooting for something like professional casual dress.  I'll be checking a Filson Pullman, though if it weren't for the need to carry on my audio equipment, I wouldn't check a bag.  Weather in Calgary is expected to be mild with rain possible.
So… what am I bringing?
A navy mid-weight suit.
A light blue dress shirt, plus tie and square for the talk.
Two jackets – a summer-weight Billy Reid and a cotton pique navy blazer by hickey.
A v-neck cashmere sweater in dark red.
Two blue oxfords, one in a maroon stripe, one in a red white and blue plaid.
A lightweight gingham casual shirt.
A pair of Levi's.
A pair of khaki chinos and a pair of lightweight white ones.
Desert boots, plus oxblood loafers and a pair of shell cordovan wingtips.
Black, maroon and navy knit ties (the lattermost with pindots).
A couple simple bow ties in case the mood strikes.
An oxblood shell cordovan belt, and one in brown elephant hide.
White, white with maroon piping and white and blue linen pocket squares.
Socks and underwear, of course.
If it still looks like rain, I'll throw an umbrella in there, too, just in case my hotel doesn't have loaners.  One the plane, I'll wear the desert boots, jeans, oxford, black knit and the Billy Reid coat, which is light enough to be worn comfortably both in LA's relative heat and Calgary's relative cool.  And who knows, maybe a hat, too.  We'll see.
Added post-facto: it all fit comfortably in my carry on-sized bag.  I replaced the loafers with some wet weather shoes after visions of muddy fields and rainy concerts flashed through my mind.
---