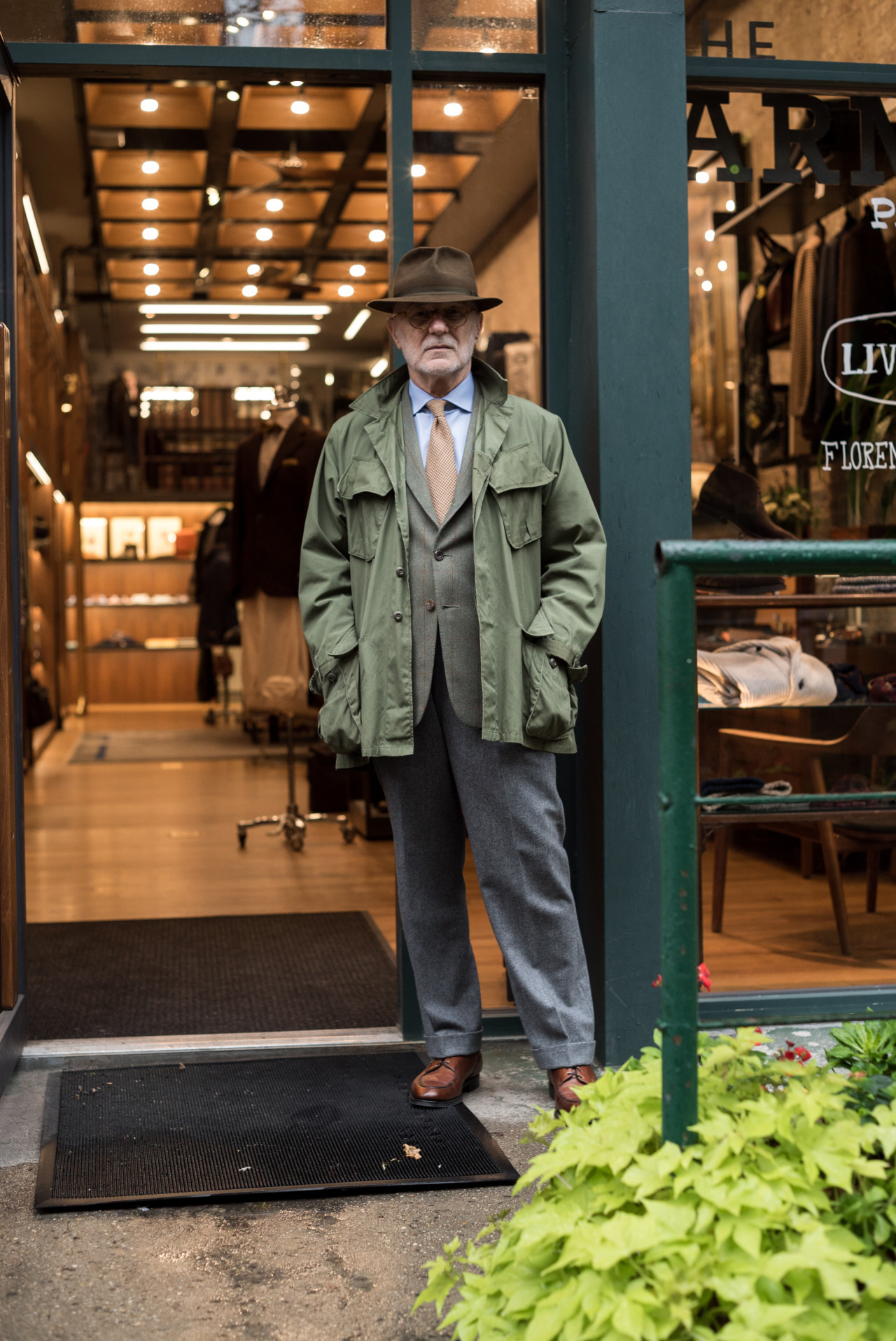 Five or six years ago, menswear was beset with one of the worst layering trends. Guys were throwing on four or five pieces at a time, vaguely looking like they were trying to sneak out of an unattended coatroom with other people's clothes. The combinations were usually something like a bubble vest over a suit jacket over a chunky cardigan over a denim trucker jacket over a parka over combat body armor. Basically a way show off your entire wardrobe.
There are ways you can add a layer or two, however, without looking affected. In the first few weeks of spring, when the weather is still chilly, it can be good to add a light mid-layer between your shirt and jacket. Something stiffer and thicker than an overshirt, but doesn't have the bulk of regular outerwear. Thoughtful layering here can look more interesting than just throwing a jacket over a sweater – with the added bonus that you won't muss up your hair if you have to take off a layer sometime during the day.
The simplest and easiest way to layer is to throw a topcoat over a sport coat, but that can look a bit formal in today's age. For something more relaxed, you can try an Alpha Industries military jacket (see our friend Bruce Boyer pictured above). Like vintage military field jackets, these are oversized to fit over military uniforms, which means they'll also accommodate tailoring. I like the M-43 model for its lapels, but you can also browse our military jacket guide for other styles. Just note that you want the field jacket to cover the hem of your sport coat, so beware when buying.
For casualwear, try chore coats, trucker jackets, quilted vests, or thin liners for your mid-layer. Indigo & Cotton, one of our sponsors, has a reversible vest that would work really well for this sort of thing – grey wool on one side, olive green quilting on the other. Quilted pieces here are sometimes a little easier to wear when they're vests, rather than full jackets, since they don't have any bulk in the arms. I also like vintage French chore coats, although Vetra is good if you want something new. For denim trucker jackets, try Levis, imogene + willie, Scye, or any of the fancy, Japanese workwear brands sold at Self Edge. If these things feel a bit too rugged, look towards simpler and more refined pieces, such as these from Minotaur and Stephan Schneider.
Some good, basic rules-of-thumb for layering:
Keep mid-layers simple. While mid-layers can be quilted and/ or have pockets, they're usually best when they're simple. Jackets with a lot of detail tend to be bulky.
Similarly, keep your mid-layers mid-weight. Your thinnest and lightest layers should closest to your body, with the bulkiest being the outermost. As things move away from the body, they can be bulkier, heavier, and more rugged.
Wear looser outerwear. Nothing looks worse than an overly layered outfit that looks like it's going to explode. Your last layer should be slightly oversized when worn on its own. Look for things such as topcoats, ranch coats, and military styled outerwear (e.g. field jackets, deck jackets, jeep coats, etc). Those are traditionally cut to accommodate a bit of heavy layering anyway.
---