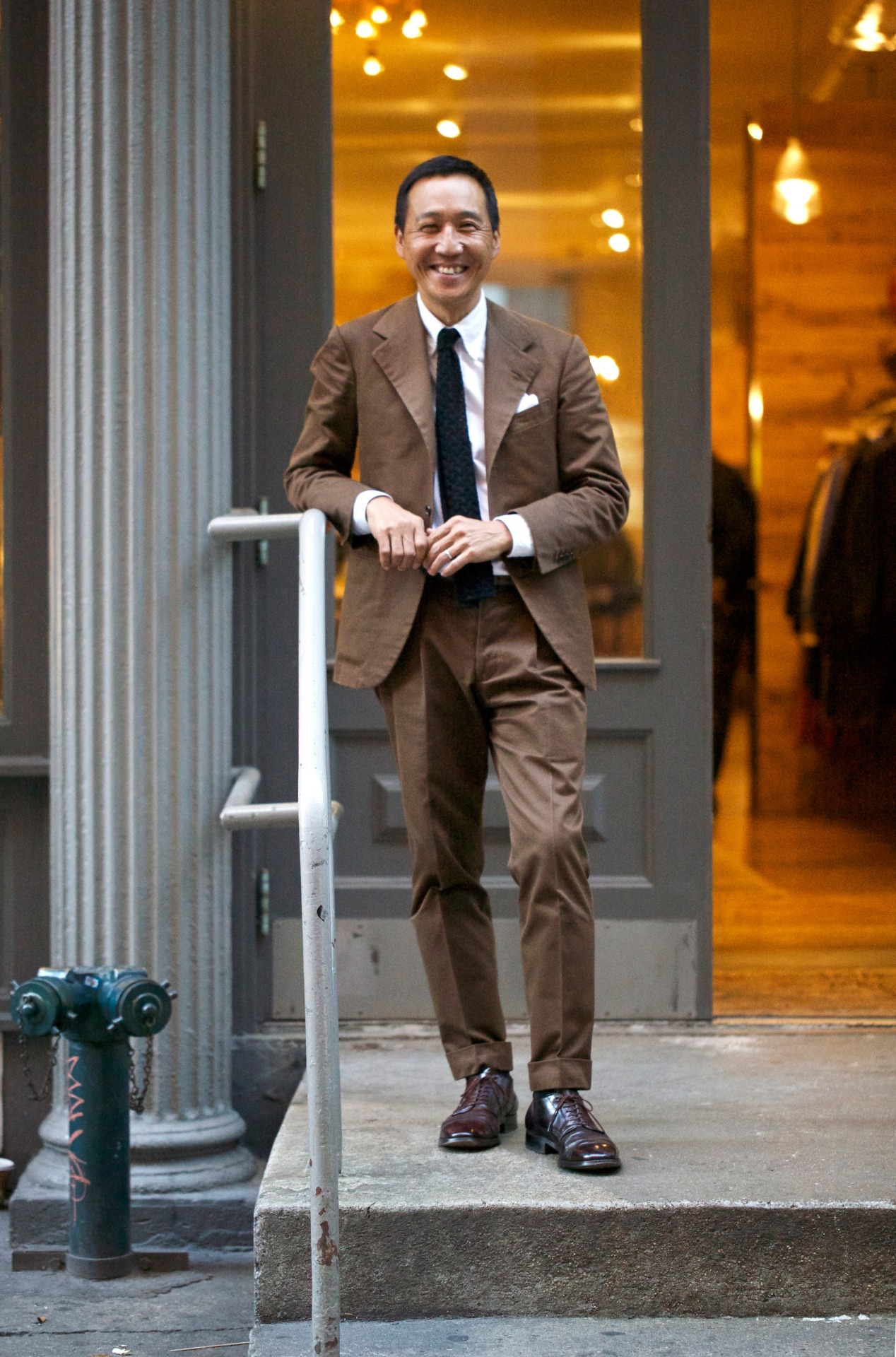 Since most traditional men's clothing comes from England, so do most of its rules. A commonly cited one is, "no brown in town." Back when there were still such things as dress codes, men choose clothes according to geography. Business attire was worn in the city (e.g. navy suits with oxfords), while sporting clothes were reserved for the country (e.g. brown tweeds with heavier shoes). Never did the two mix.
Today, dress codes have largely relaxed, if not altogether disappeared, and suits are mostly worn for the serious business of weddings, job interviews, and menswear meet-ups. Since men only wear suits on formal occasions, you rarely see casual colors such as brown anymore – whether you're in the city or not.
Which is a shame because I think brown suits look great in the warmer months. I myself have two: one in cigar linen and another in tobacco fresco. The rule of not wearing "brown in town" should probably still be adhered to in 2015, but nowadays, that means keeping them out of busy financial districts, rather than cities in general. They work well in more relaxed environments, when you want something more casual than a navy suit, but dressier than a sport coat (think: lunch at a swanky hotel restaurant).
If you're thinking about getting a brown suit, consider what seasons you'll wear it most. Linen works well in the summer months; cotton in the fall; and gabardine in the spring and fall. Eidos also has something in an open-weave raw silk, which would be good on a cool summer day. You can pair these with causal ties, such as black knits, and either black or brown shoes. The combination of formal black shoes with a casual brown suit might sound strange, but they work if the suit is dark enough. Besides, Hardy Aimes is supposedly buried in his favorite brown suit and black oxfords, and the guy knew a thing or two about style.
(photos via Christopher Fenimore and The Sartorialist)
---