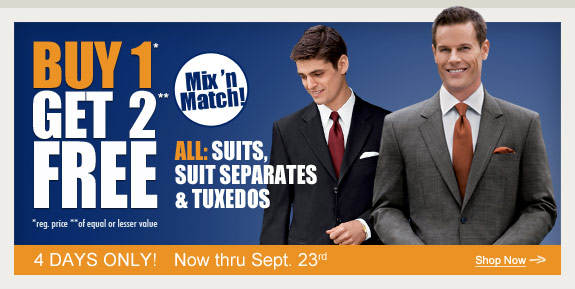 Readers regularly email me with news of the latest sales at Jos. A Bank.  Often the store offers 70% off or three-for-one deals that sound fantastic to the novice suit buyer.  Unfortunately, these sales don't represent true savings – instead, they're the kind of baloney usually reserved for those stores that sell polyester suits downtown to would-be pimps and playas… the sort that sell you a package of suit, shirt, tie, belt and shoes for $149.
In 2004, the New York Attorney General's office took legal action against the chain.  The essential problem?  It's illegal to claim a sale price on an item that never sells at the regular price.  It seems that some of the items on sale at Jos. A Bank were selling at full price as little as one or two days a year.  The CEO of Bank was unbothered: he called the investigation and legal action, which was settled for nearly half a million dollars in penalties, a "parking ticket."
Is there any value in Jos. A Bank?  Well, I once needed collar stays in Mill Valley, California, and found them there.  Besides that, though… it's tough to say.
Their highest lines (called Signature Platinum Diamond Encrusted, if memory serves) offer decent quality of construction, though even at 75% off they are only a passable deal.  The greatest problem area is cut.  The suits are cut in a very "traditional" shape, which for a mass-market US retailer means blocky and formless.  While tailoring can help a bit at the waist, some of the problems – like linebacker shoulders – simply can't be tailored away. 
The one area where I'd say Bank is worth considering is formal wear.  If you'd like to buy traditional formal wear, but you don't want to buy vintage (the best option, in my opinion) or spend more than a couple hundred bucks, Bank does offer a traditional tuxedo that is appropriate for the job.  In the deepest depths of their discounts, it can come down to a reasonable price of about two or three hundred dollars.
Generally, though: Jos. A Bank gets a rating of "STAY AWAY" from me.  Also a rating of "PLEASE DON'T EMAIL ME ABOUT ANY MORE."  Not to mention a rating of "MEN'S WEARHOUSE TERRITORY."  (That last one, by the way, is the worst rating I can offer.)
---