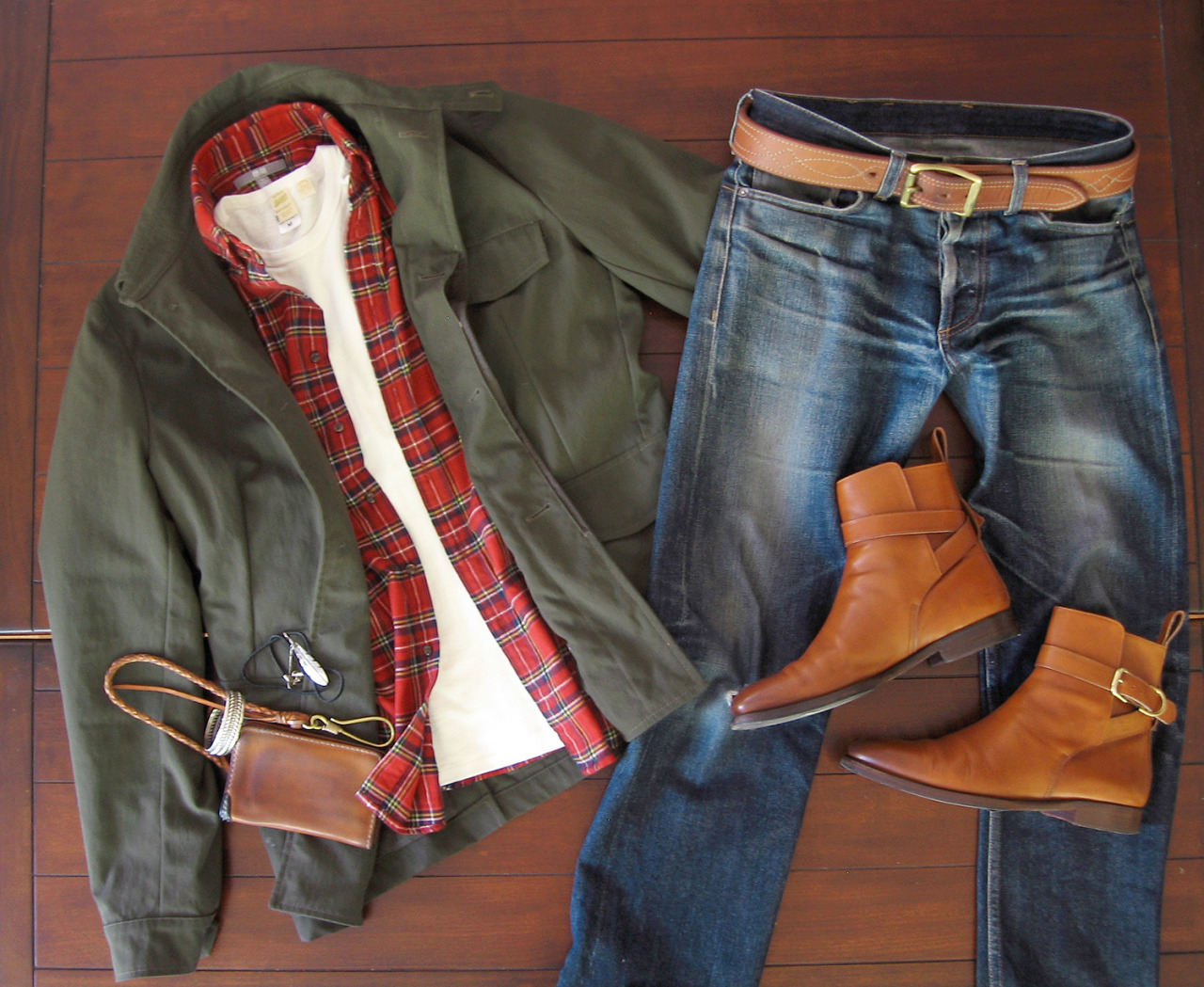 Now that the weather has warmed up a little, it's time to put away the heavy coats and break out the transitional jackets – things that are light enough to be worn in the mid-afternoon, but can also be used at night to keep out the chill. One of my favorite options around this time of year is the field jacket. You can wear one with a pair of beat-up jeans, a white t-shirt, and an open flannel for a layered look. For something slightly dressier, try a nice sweater, a pair of micro-cords, and some brown derbies.
As usual, to find something affordable, you'll want to search the second-hand market. Etsy is full of vintage options, which you can find by using the search terms M-43, M-51, and M-65 (Pete wrote a great guide on the different models here). You can also browse eBay for names such as APC, Engineered Garments, and Ralph Lauren. They've done lots of designer versions in the past.
For something readily available, consider::
Urban Renewal ($50): This in-house Urban Outfitters line is the company's attempt to up their cool by selling actual vintage items (rather than items that are just made to look vintage). At the moment, they have a couple of military jackets that start at a reasonable $50. You can find vintage Rothcos online for about the same price.
Alpha Industries ($94+): The main producer of the original M-65s. They have regular and slim-fit versions, but even on the slim fit, you'll want to size down. Remember: these were originally cut to fit over military uniforms.
Gap ($98): Another refreshingly affordable option. Some reviewers complain about the cheap zippers, but field jackets look better worn open anyway.
Peter Manning ($178): This company specializes in outfitting shorter men (specifically those under 5′8"). Their field jacket draws more from hunting designs, rather than the military, but the olive version is close enough. Take 20% off your first order by signing up for their email list.
J. Crew ($188): Arguably the best among affordable models, J. Crew has two versions called the Field Mechanic Jacket and Garrison Fatigue. Just don't pay full price. Almost everything at J. Crew gets discounted by 25-40% at some point.
Fjällräven ($259): Fjällräven's field jacket is named The Räven, which makes us wonder – how many Fjällräven Rävens would a Fjällräven räven if a Fjällräven Räven could fjäll rävens?
Apolis ($288): A lightweight, washed linen option for better breathability.
The Real McCoys ($300+): Japanese repros on the American originals. These pieces start off nice, but really come into their own over time.
Niche ($335): A Japanese label founded by a former designer at Nepenthes (the umbrella company to Engineered Garments, Needles, and South2 West8). The jacket comes in olive and navy, and you can take 10% off the listed price with the checkout code SF10.
Aspesi ($400+): An Italian specialist in fashionable, civilian versions of military-styled outerwear. With tons of options every season, it's hard not to find something you'll like (my jacket, pictured in the first photo above, is from Aspesi). Also available on discount at Yoox.
Barbour ($429): An army-styled jacket made from Barbour's famous waxed cotton fabric. The waxed shell and stowaway hood makes this a great option for rainy days.
Engineered Garments ($475): The price of this jacket is a lot easier to swallow when you think of it in terms of cost-per-pocket. Lower still if you think of it in terms of cost-per-pocket-wear. (Life hack: keep taking this jacket on and off throughout the day, and your price-per-pocket-wear will rapidly approach zero).
Beams+ ($530): A patchwork jacket that combines American military design with Japanese wabi-sabi. For something similar, check out Needles Rebuild and White Mountaineering.
Ten C ($848): Military-styled jackets made from unique, technical fabrics. This line feels really innovative, but also wearable, which makes sense given that the designers came from Stone Island and CP Company.
Visvim ($1,110+): A Japanese label with lots of vintage Americana and Native American influences. You can find them at End, Mr. Porter, and Union, but they're a bit more affordable if you buy direct from Japan. The downside? It's harder to make returns once you realize you're not going to look like Hiroki Nakamura.
---