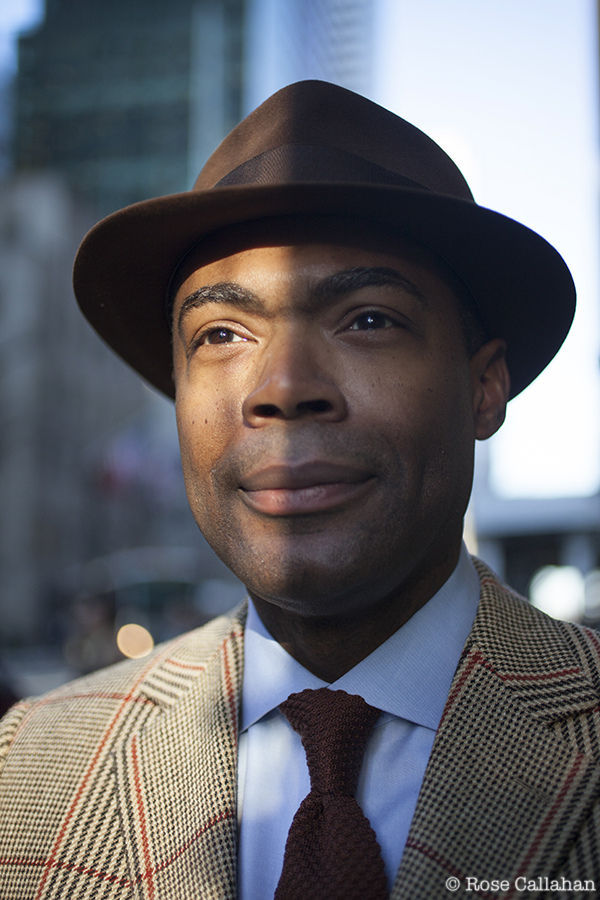 For as long as I've been buying silk knit ties, I've always preferred the crunchy variety – the kind where if you squeeze the tie in your hand, the silk material feels a bit "crunchy" as it rubs against itself. I like these for their heavier weight, as the tie doesn't flop around as much, and for their more distinctive visual texture. You can find them on the high-end at Drake's, but the best bang-for-you-buck might be from Land's End. Those retail at $60, but it's not uncommon to see them go for ~$30 during one of their many sales. 
Some months ago, however, I came across this photo of Dr. Keith Churchwell. Here, he's seen wearing a brown hat, light blue shirt, Russell plaid jacket, and a burgundy soft-knit tie. The softer knit tie seems so much better suited to an autumnal ensemble, much like how a wool tie would be a better here than any of your basic silks. So, I've been hunting for a good soft knit to try out. 
Luckily, it's easier to find soft knits than crunchy ones. Many the more traditional American clothiers will carry them, such as O'Connell's, Ben Silver, and J. Press. For something more affordable, there's The Knottery. In addition to silk, there are also ones made from wool, cashmere, and alpaca blends. Our friend Will at A Suitable Wardrobe has some cashmere ones on sale, and Brooks Brothers just came out with these Donegals. I may just try one of these options out this fall. 
Incidentally, the photo above was taken by Rose Callahan, who has two upcoming events for new her book I Am Dandy. The first is on November 7th from 6-8pm at the Fine and Dandy shop in New York City, and the second is on November 18th from 6-8pm at the National Arts Club (also in New York City). The second will double as the opening reception for a weeklong exhibition of prints by our friend Rose. If you're in town, stop by and tell her we said hi. 
---