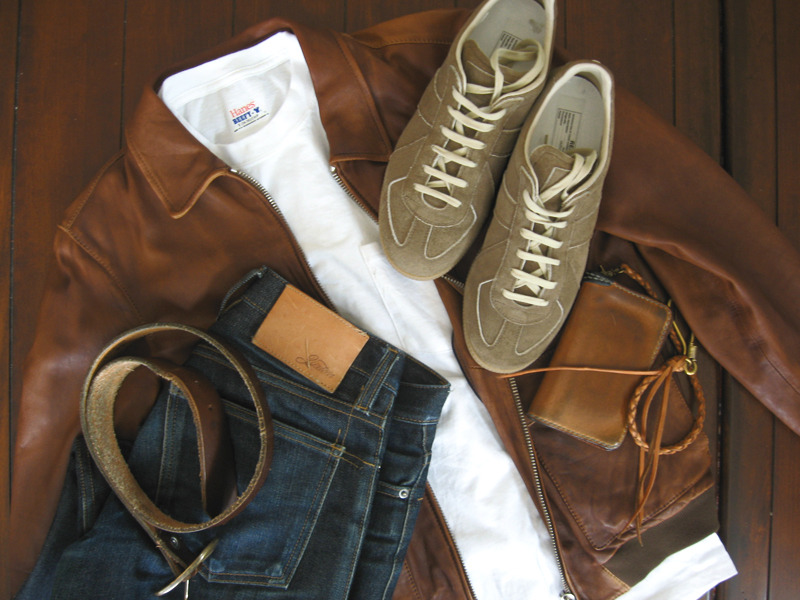 Although I enjoy wearing tailored clothes on weekdays, I dress pretty casually on weekends. Lately, that's meant dark blue jeans with a clean white t-shirt and a nice, brown leather jacket. For shoes, I wear either sneakers or boots, and if it's cold outside, I layer with a heathered grey sweatshirt. I find it's one of the simplest, easiest looks you can put together, and depending on your lifestyle, very well suited to casual weekend activities with friends.
For jeans, I really like 3sixteen's SL-100x model. It's a slim straight-legged cut made from a medium-weight selvedge denim that doesn't bag as easily as other brands'. I've also been admiring their premium 3sixteen+ line, as well as Flat Heads 3009s and Iron Heart 634s. Those are made from unsanforized denim, which Kiya at Self Edge tells us will yield more interesting fades over time (without the need to forgo washing, thankfully). For something more affordable, check out Albam, Gustin, and Uniqlo's Made in Japan offerings.
For the t-shirt, I stick to a pretty basic Hanes' Beefy-T (I get the one with a chest pocket). It has a stoutness that I think works well with this kind of look, and it can be easily found on sale for about $6. Jesse has also recommended Costco's Kirkland t-shirts for this sort of thing. For something thinner and stretchier, check out Alternative Apparel, which Jesse does bulk orders on every summer, and American Apparel. Levis also has a nice model that's in between the toughness of Hanes and the fineness of the last two brands.
Finally, there's the leather jacket. These can get astoundingly expensive, but it's worth buying the best you can afford. Just as you can get away with a pair of cheap chinos and dress shirt if you have a really nice fitting sport coat, you can skimp on the jeans and t-shirt if you have a really beautiful leather jacket. 
Some of the best makers here include Good Wear Leather, Bill Kelso, The Real McCoys, Eastman, and Aero. These brands specialize in making reproductions of vintage flight jackets, and they make them as tough as the originals. Temple of Jawnz is also a favorite among style enthusiasts. They're sadly closing up shop in a month, but are doing one last call for custom orders. 
The price points for any of these is pretty expensive. We're talking $750 to $1,500 for a jacket, and some even have waiting lists that stretch back a year. As usual, a more affordable option would be trawling eBay and vintage stores, but what you save in money, you'll spend in time. You could also go for a similarly rugged jacket style, but one not made from leather. One of my favorite stores, Bench & Loom, has some really handsome pieces, and they're holding a 20% off sale with the code SPRING20. The code is good for both sweaters and outerwear, with some brands being excluded (Mister Freedom, Schott NYC, Buzz Rickson, and The Real McCoys).
---