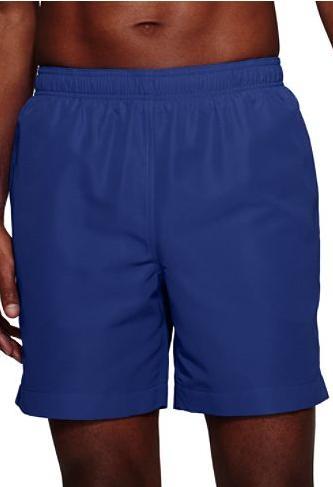 I think we can all agree that a grown man looks ridiculous in board shorts, and even more absurd in a Speedo. That leaves traditional swim trunks. I prefer them in a fast-drying synthetic, with a slim profile, no logo and a solid color scheme. That's surprisingly tough to find, especially at a reasonable price point, but there is a solid option: Lands' End.
I like the Men's 6" Volley Swim Shorts, which are $24.50 at full price, come in some nice colors and will be plenty stylish for years of use. Lands' End has frequent sales – you just missed a 25% off and free shipping code – and with a little patience, you might manage to pay less than twenty bucks. If you happen to be a size small, there are even some of last year's colors for $16.97.
The quality of Lands' End products is unspectacular but solid. I, for one, really appreciate a source for decent basics at a reasonable price, with great customer service policies. Fits and styles at LE are rarely fashion-forward, but for things like swim trunks, they needn't be. Simple is best.
(PS: How about that creepy disembodied guy up top? Sweet, right?)
---