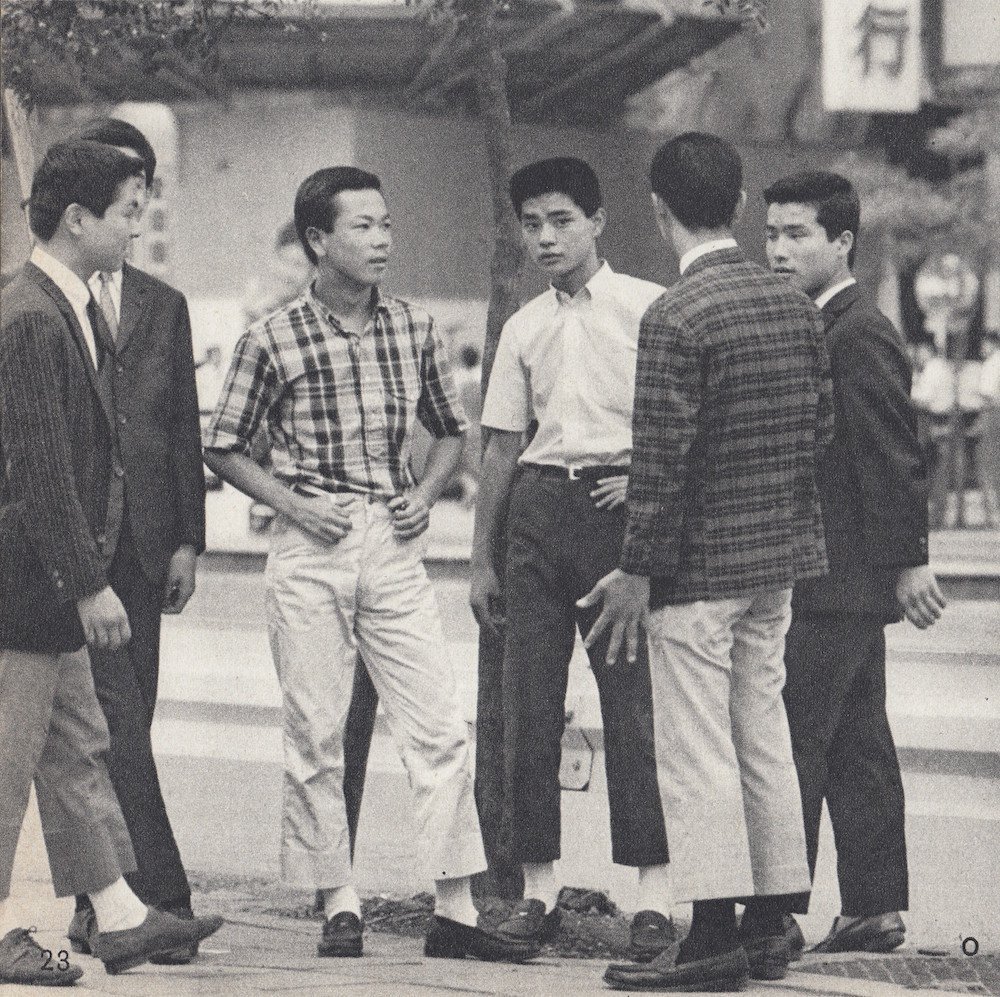 David Marx posted this great photo on Twitter today. Shown above are some members of the Miyuki-zoku, a 1960s Japanese youth movement that revolved around Ivy Style clothes. Somewhat notable: the men are seen wearing short jackets and heavily cropped trousers, some fifty years before Thom Browne built his career off the same silhouette. 
An excerpt from an old blog post by David Marx:
The first Japanese to adopt elements of the Ivy League Look were a youth tribe called the Miyuki-zoku, who suddenly appeared in the summer of 1964. The group's name came from their storefront loitering on Miyuki Street in the upscale Ginza shopping neighborhood (the suffix "zoku" means subculture or social group). The Miyuki-zoku were mostly in their late teens, a mix of guys and girls, likely numbering around 700 at the trend's peak. Since they were students, they would arrive in Ginza wearing school uniforms and have to change in to their trendy duds in cramped café bathrooms.

And what duds they were. The Miyuki-zoku were devotees of classic American collegiate style. The uniform was button-down oxford cloth shirts, madras plaid, high-water trousers in khaki and white, penny loafers, and three-button suit jackets. Everything was extremely slim. The guys wore their hair in an exact seven-three part, which was new for Japan. They were also famous for carrying around their school uniforms inside of rolled-up brown paper grocery bags.

What lead to the sudden arrival of the Miyuki-zoku? Although Japanese teens had been looking to America since 1945 for style inspiration, these particular youth were not copying Princeton or Columbia students directly. In fact, Japanese kids at this time rarely got a chance to see Americans other than the ever-present US soldiers.

The Miyuki-zoku had found the Ivy look through a new magazine called Heibon Punch. The periodical was targeted to Japan's growing number of wealthy urban youth, and part of its editorial mission was to tell kids how to dress. The editors advocated the Ivy League Look, which at the time was basically only available in the form of domestic brand VAN. Kensuke Ishizu of VAN had discovered the look in the 1950s and pushed it as an alternative to the slightly thuggish big-shouldered, high-waisted, mismatched jacket-and-pants look that dominated Japanese men's style throughout the 1950s. As an imported look, Ivy League fashion felt cutting-edge and sophisticated to Tokyo teens, and this fit perfectly with Heibon Punch's mission of giving Baby Boomers a style of their own.

When the magazine arrived in the spring 1964, readers all went out and became Ivy adherents. Parents and authorities, however, were hardly thrilled with a youth tribe of American style enthusiasts. The first strike against the Miyuki-zoku is that the guys — gasp! — would blow dry their hair. This was seen as a patently feminine thing to do.
---