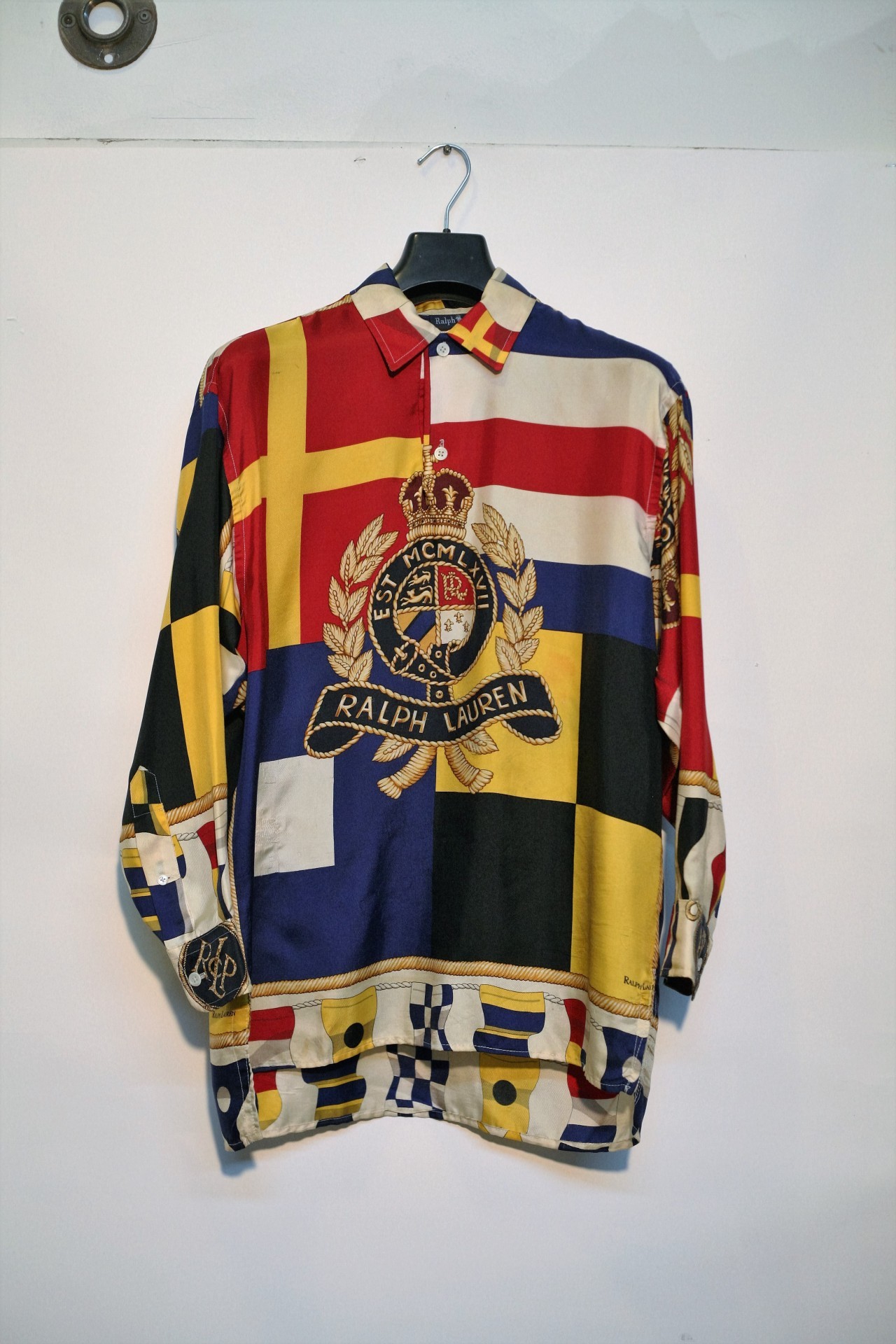 If you happen to have a million dollars laying around, and love '90s Ralph Lauren as much as I do, Ezra Wine is selling off his collection of rare Polo Ralph Lauren grails this month at a gallery space adjacent to The Fancy in NYC.
Truthfully, the asking price seems … a touch high (just a touch). But Wine also has some rare and notable pieces, including things from the Snow Beach collection – made famous in Wu Tang's "Can It All Be So Simple" music video – as well as the P-Wing sweater and silk crest shirt pictured above. Many of these are the crème de la crème when it comes to '90s Polo collecting, the sort of things that make for legends in the 'Lo Head community. In the '90s, it was a lot harder to come across these, but they're a bit easier to track down nowadays via sites such as eBay (although, with that, comes considerably higher prices). Vogue reports:
As crowds of Fashion Week–going folk make the trek up to Bedford, New York for Ralph Lauren's Spring 2018 show tonight, Ezra Wine will be taking a load off, at least figuratively speaking. He's been amassing Polo Ralph Lauren gear for the last 20 years—since he was just 15 years old—and this evening, he will put the entire 100-piece collection up for sale with a price tag of $1 million. "The Million-Dollar Vintage Polo Collection" will be on display at The Fancy store's adjacent gallery space at 224 Mulberry Street in Soho. Dates on the items range from 1987 to 1994, including the '92 Polo bear sweater made popular again in the mid-2000s by Kanye West during his College Dropout album launch. In fact, Wine sold that sweater and other rare Polo items to Kanye himself.

"The first Polo item I bought as a teenager was the maroon tennis man button-up," Wine explains. "I got it through a deal that I did with my friend Joe Einhorn—I gave him cash and my red North Face extreme jacket and he gave me the shirt and the Team Polo hat." This exchange went down on a basketball court in the Village and Wine had no idea where it would eventually lead him. He's become the go-to guy for vintage Polo within the hip-hop community, working with stylist Mike B and artists like Chris Brown, Raekwon, and Fabolous. Despite the fame, he's more interested in turning things back to the actual Polo treasures. "I feel that these pieces belong in a museum because they are works of art," Wine says. "Polo was instrumental in creating the first fashion subculture." The group he's referring to are called "Lo Lifes" or "Lo Heads." In essence, they are Polo fanatics and hard-core collectors like Wine.
If you don't have a million dollars, it looks like Ralph Lauren will be releasing some things soon with its 1992 Stadium and P-Wing designs. Ezra Wine has something about on a Tumblr page where he describes the things you see above.
This movement is so strong that in the fall of 2017 Polo will launch a limited edition capsule collection of retro 1992 Stadium P-Wing pieces. These remakes have led to additional hype within the Polo collector community, as this is the first time that Polo is releasing retro versions of these collectors items, following the success of the retro Nike Air Jordan collection that began in 1994. Ralph is actually listening to the collectors that he seemed to ignore for the last 25 years. These retro items will allow older collectors to re-buy items from their past, and open up the culture to a new younger generation of buyers. These remakes will be a nice reminder of the '92 collection.
The collection looks to be considerably less detailed than the originals – and it'll be part of Ralph Lauren's very expensive Purple Label line – but it would be great to see more '90s re-releases from the brand that helped define the decade.
---