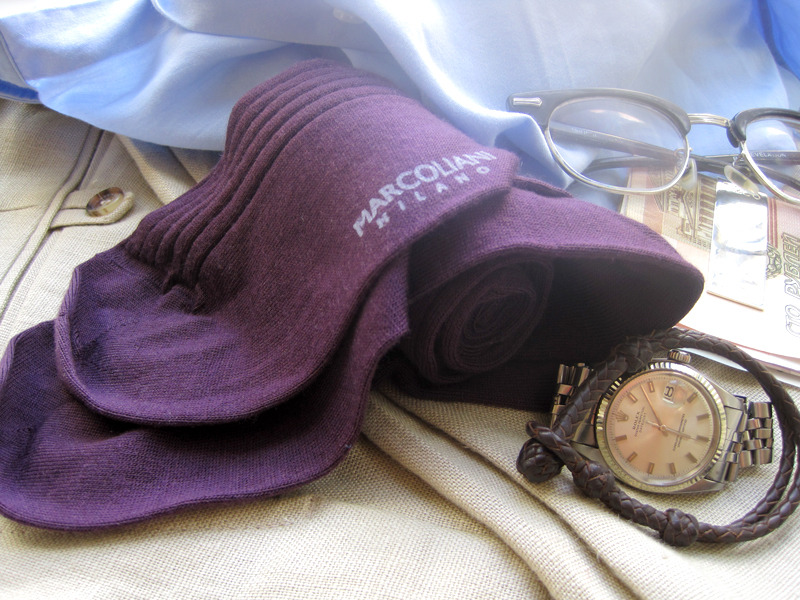 Most men rely on standard colors for their wardrobe – blues, greys, and browns, in various shades and textures. These are good foundational colors since they're easy to wear and complement each other well. However, only relying on these colors get a bit boring, and eventually cease to excite the eye. As such, it's good to have a few secondary colors in your wardrobe just to break things up a bit. Salmon pink, hunter green, and bordeaux are all very nice, but today I'll talk about purple. 
Purple can make a statement since it's a unique color. However, it's so closely related to blue that it can also feel familiar and sophisticated. Purple is also much more versatile than men give it credit for. It complements many of the standard colors men wear and serves a good substitute for blue. For example, a dark, deep purple tie goes well with a tan jacket and light blue shirt, and can be used any time you would otherwise wear a navy tie (though the conservativeness of navy can make it more useful). 
I also recommend purple socks. Michael Drake, co-founder of Drake's of London, wears them as a personal signature of eccentricity. This past summer, I often wore purple socks with light blue shirts and pants in either a grey tropical wool or tan linen (first picture above). I've found that this ensemble goes especially well with brown suede shoes. 
Hardy Amies once said of purple, "I can see no use for this handsome, not unmasculine colour except for ties, socks and handkerchiefs." I, however, think it can be used for more than accessories. For example, lavender shirts go quite well underneath navy or tan suits. You can pair it with a conservative, charcoal tie, and then have a secondary color in the tie pick up the lavender in your shirt or the color of your suit. This practice seems to be common in Moscow. From my observation, one in six men here on the street will be wearing a lavender shirt, and it always looks good (assuming the shirt fits well). 
The standard palette of grey, brown, and blue is a nice foundation, but don't neglect to have some secondary colors here or there. Purple works with a number of colors and wearing it well can add variety into your wardrobe. Just don't overdo it. Wearing too much of it will make you look like Barney, and doing things such as matching purple socks to purple ties will make you look too studied. Purple, in my opinion, should be worn with a healthy dose of nonchalance. 
(pictures above taken from Ethan Desu, A Bit of Color, Men of Habit, and me)
---