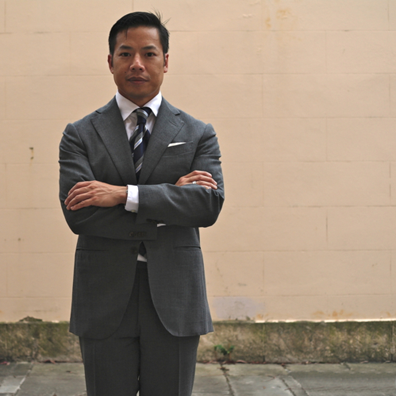 Summer is approaching, and if you've been paying attention to menswear for more than a year, you know every menswear magazine and blog is about to run the same threadbare advice – wear seersucker and cotton suits, and utilize linen when you can, in order to manage the heat. In the coming days and weeks, I'll cover the same topics, but let's start with a little advanced placement menswear. Many of you already know the basic summer fabrics, but what else is available? 
Well, for suits, I recommend fresco – a wool fabric specifically designed for summer wear in the hottest climates. The fabric is woven in an open, porous weave, which allows your skin to more easily breathe and take advantage of every breeze that comes through. The fabric isn't fragile either; the yarn is made with a high twist in order to give it the tensile strength it needs to compensate for the fabric's open weave. The result is a high-grade, cool, crisp fabric that looks just like any other worsted wool from a distance. It's a great way keep cool in the summer, but not compromise your elegance by resorting to cotton, linen, or seersucker for your suiting. 
Similarly, you don't have to just rely on cotton or linen pants in the summer. Try tropical weight wools, otherwise known as lightweight wools (of which fresco is considered one). These work much better for trousers than cotton because they're, again, woven in a more open weave and allow your skin to breathe. They also help wick away sweat, bringing them away from your skin and towards the surface of the wool, where it can evaporate. Cotton, on the other hand, just absorbs sweat, which cuts down on air exchange. It also wrinkles a lot more than lightweight wool, which makes it look terrible, especially on hot days. It may seem counter intuitive to wear wool pants in the summer, but if you get the right weight and weave, it's actually your smartest bet.
For shirts, aim for the same open weaving. Here I recommend voile, a cool, almost gauzy, cotton fabric. The problem with many types of voile, however, is that they can be a bit sheer. In fact, the name derives from French and means "veil." Many aren't fit for the modest man, but if you get one in a textured surface, and in a color like blue or ecru, it's much more opaque and wearable. Alternatively, you can also opt for madras, an East Indian fabric that has a lightweight, airy quality. The patterns can be bit loud, but that's kind of the charm. True madras is a bit hard to find nowadays, but I did a round up of madras shirts a while ago, so you can read through this post to see some of your options. 
Linen and seersucker are great, but there's an entire world of fabrics out there that is under explored. Know what's available to you and you'll have a much more unique wardrobe this summer than your standard cotton jacket, chinos, and polo uniform (though there's nothing wrong with that, either). 
---