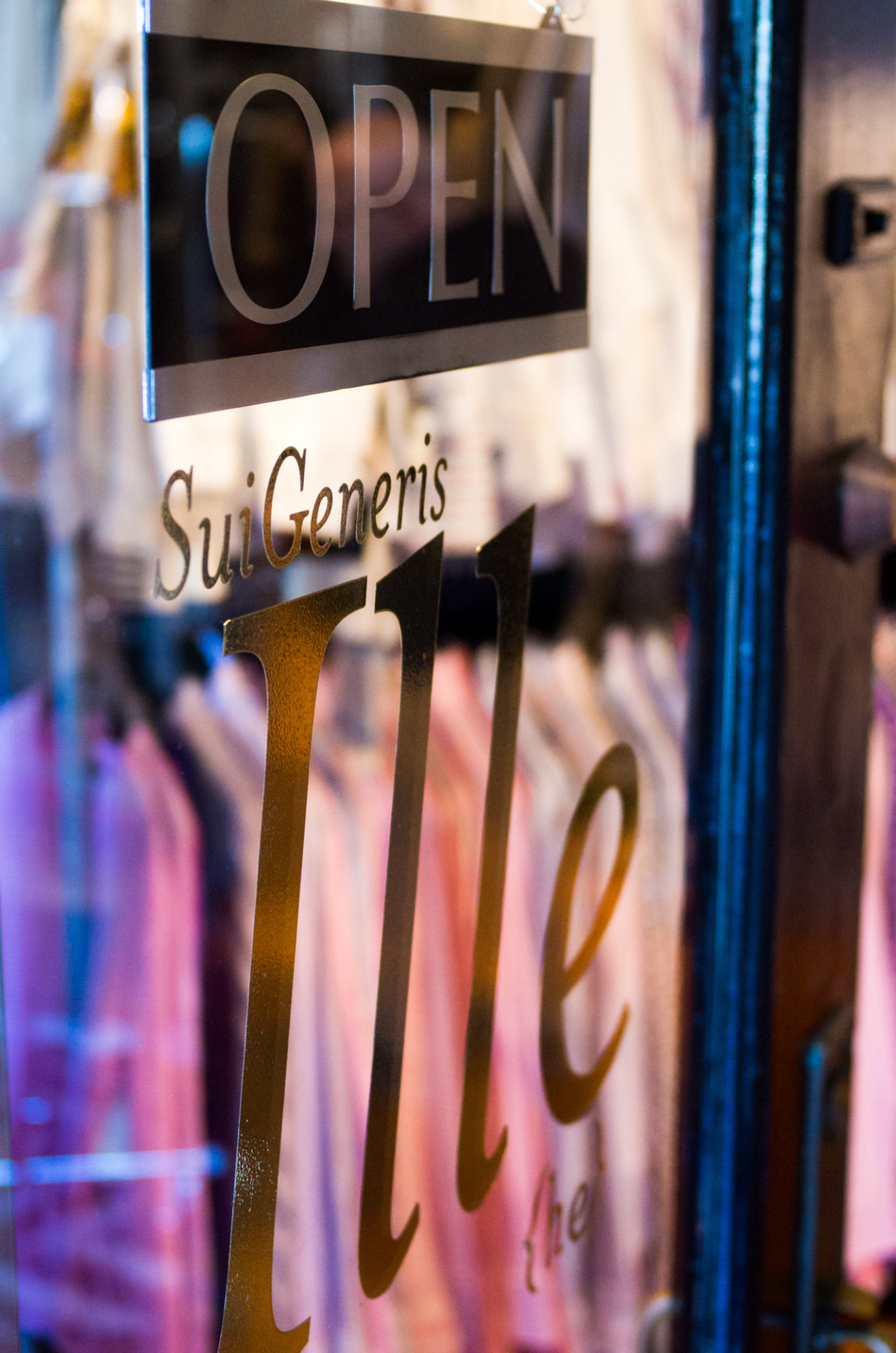 It's rare to find a good men's consignment shop. There's often a sad little rack in the back of a women's shop, full of Robert Graham party shirts and Tommy Bahama linen sportcoats, but a real shop with real merchandise you might actually like to buy is a precious thing. That's why Sui Generis in San Francisco is so exciting.
I visited Sui Generis while home for the holidays, and I was delighted by what I found. Somehow the store, which has been around for more than five years, had eluded me, though I'm in the City regularly to visit family. I say store – it's actually three stores. A women's store, plus two men's stores on Market in the Castro. One offers a broad range of designer consigment merchandise, the other, a few doors down, offers a smaller selection of stuff on deeper discount, plus some discounted offerings from local designers.
The selection at Sui Generis is impressive – it's organized by something like aesthetic, merchandized like a boutique. There's a rack of earth colored tailored clothes, a whole section of fashion-y stuff in black, white and grey, shoe racks and tie racks and even some deeply discounted new stuff that came over from Unionmade a few blocks away. The brands on sale are superb, with a high-end, younger focus. Whether your tastes run towards classic tailored clothes or towards the runway, you'll probably find something interesting.
Often in men's consignment shops a knowledgeable shopper can walk away with a steal. Women's buyers price merchandise, and it often means that Banana Republic shirts end up costing the same as Luciano Barbera. Know your brands, and you can get over. Not so at Sui Generis, where there is a bit of J. Crew-level stock, but most is much higher-end and the pricing is consistent relative to retail. I walked out with a cashmere Kiton suit for about (gulp) $700. Expensive for a consignment shop, but fair relative to the retail price (thousands) and about on par with online second-hand. You won't get over, but the quality of the merchandise more than makes up for it.
Another advantage to a men's-only store: the sales staff were reasonably knowledgable and very friendly and helpful. Try finding someone who knows anything about menswear at a women's consignment shop and you'll understand how special that is.
If you're in the Bay (or planning to be), Sui Generis is absolutely worth the visit. Head over to Market Street, and you'll find one of the best men's consignment stores in the country.
---