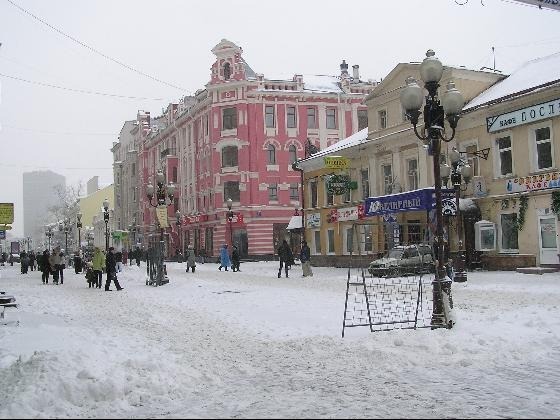 I was joking with friends a few weeks ago that Napoleon should have waited for global warming before he invaded Russia. Even in early December, Moscow didn't feel that cold and I was able to get by with some good sweaters and a fall coat. In the last few days, however, it finally feels like winter. It's about 25°F here and snow has fallen. My neighborhood looks like a Russian winter wonderland. 
In weather like this, most people know that they should wear sweaters, scarves, and heavy coats. Down-filled parkas, duffle coats, and heavyweight overcoats are good for protection. A pair of cashmere-lined leather gloves can also be very useful. 
Perhaps a little neglected, however, are good baselayers. I strongly recommend Smartwool for almost all this stuff – long johns and long-sleeve undershirts, mainly, but they also make very warm wool socks. You can get them at REI. They come in different weights and thicknesses, and they're the best I've ever come across. Get the pair that matches your lifestyle and weather conditions. If you get ones that are too thick, you can actually find yourself to be too warm in the office. 
I've also been reasonably satisfied with Terramar, which you can find heavily discounted at Sierra Trading Post. I don't find the construction to be as nice, or the garments to be as warm, but they still serve pretty well. For something even more affordable, consider Uniqlo's HEATTECH. I have no personal experience with them, but they're well regarded by many and are currently on sale. The long johns and long-sleeved shirts are $12.90, warm-lined pants are $14.90, and socks are $9.90. Uniqlo unfortunately doesn't have an online store, but you can purchase anything from them through Suddenlee (who will ship nationwide). Just enter the sale prices into Suddenlee's checkout process.
You might also want to consider putting a pair of felted wool insoles into your boots. The Great English Outdoors sells a great pair for a fair price. I guarantee that if you have a have some good baselayers, felted wool insoles, and a good coat, you'll be ready for winter almost anywhere. 
(As an aside, it's worth noting that even though it's snowing and bitterly cold here, many Russian women still wear skirts and high heels. If anyone ever wants to start a war with Russia, they should probably know that fact.)
---