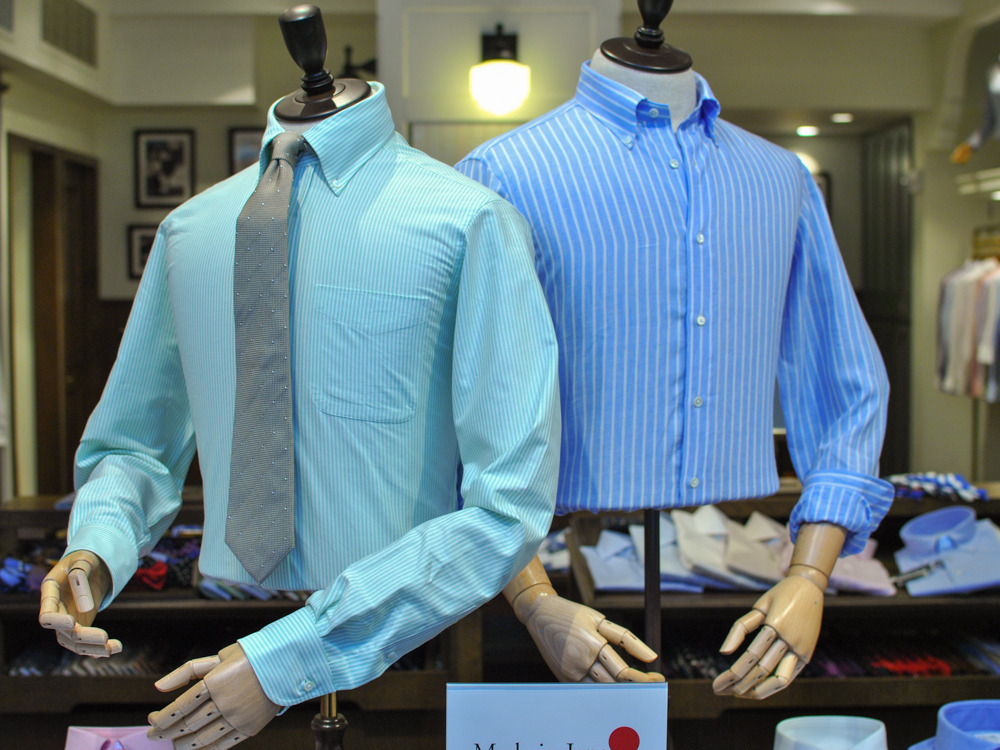 After reading Derek's thorough oxford cloth button down (OCBD) shirt series and some background on Japan's Kamakura Shirts over at Ivy Style, I ordered a Kamakura OCBD in university stripe from their recently opened e-shop with great expectations. The shirt I ordered was well made but a little slimmer than I prefer, and I determined I'd have to visit their retail location before ordering more, so I could better assess the fabrics, cuts, and sizing in their purported throwback Ivy glory.
I was not let down when I finally got to Kamakura this week. Kamakura's New York shop occupies an unassuming storefront at 400 Madison Avenue, a block north of J. Press's flagship, with Paul Stuart a little further south. Those are beautiful spaces, with some of the finest American classic menswear on display, but right now I'd prefer to buy my shirts at Kamakura.
Shirt Design and Construction
If you aren't familiar with the history of the American oxford cloth button down, I recommend Derek's introduction. Like Derek, I wear button-down collars almost exclusively. Straight and spread collars I reserve for the occasions for which I must wear black shoes like weddings and job interviews. In his OCBD series of reviews, Derek concluded that several shirtmakers produce excellent button-down collars with the sought-after "roll," but that Kamakura is the top choice for the right collar, a more modern fit, and a reasonable price. Most Kamakura shirts sell for $79; Mercer and O'Connell's OCBDs are over $100, and Brooks Brothers non-non-iron, American-made OCBD is $95 (Brooks shirts are regularly available at a discount).
The workmanship on Kamakura's shirts is quite good—stitching is even and clean, and seams finished well. Collars are cotton lined but not fused (lining and fusing help a collar keep a consistent shape, but make a collar stiffer; not the goal on OCBDs). The shirts are made in Japan, while similar shirts from Brooks, Mercer, and O'Connell's are made in the United States. Kamakura's standard fabrics are mostly 100% cotton, often Xinjiang cotton, a long-staple variety grown in China that has a reputation for softness. Some shirts use Italian or American cottons and are labeled accordingly. The standard Kamakura oxford fabric seems to have a little less heft than beefy American OCBDs. All shirts use trocas/takase shell buttons, which look better than the plastic buttons on mass market shirts but are not as thick or iridescent as true mother-of-pearl. The basic OCBDs hit the right notes for Ivy-influenced shirts, although they omit some arguably traditional details like a third button at the back of the collar, a locker loop, or a flapped chest pocket. As a rule, Kamakura makes well-built, straightforward shirts.
Shirt Cuts and Sizing
Kamakura cuts both traditional and slim shirts, and the biggest barrier for new customers will be getting the right cut and size. For dress shirts, there are four cuts. In order from fullest cut to trimmest: New York Classic, Tokyo Classic, New York Slim, and Tokyo Slim. The New York Classic is a traditional, full-cut shirt; the Tokyo Classic a little trimmer, and the slim versions are darted and hence slimmer still. Darts are not a traditional OCBD detail, but they effectively reduce billowing fabric at the waist. Shirttails on all cuts are long and intended to be tucked in to pants, so these are not ideal substitutes for short, ultra-casual OCBDs like those from Band of Outsiders or Gitman Vintage.
It's great to have different cut options, and the shop offers try-on shirts, but Kamakura's shirts are not clearly individually labeled according to cut. The help of a sales associate is recommended—on my visit, the two associates working were attentive and knowledgeable. The marked sizing can also be confusing to Americans. The tagged sizes are neck/sleeve measurements in centimeters and they don't translate evenly to inches, which is one reason the e-shop's style guide can be confusing (thirds of inches?). In addition, the sport shirts are sized S, M, L, and LL (i.e., XL), but the cuts vary greatly. Some of the issues with cuts and sizing can be chalked up to the ongoing process of expanding a well-established Japanese brand to a single location in the United States. The e-shop is adjusting some size notations.
Other Offerings
Although the exemplary OCBD is the centerpiece of Kamakura's shop, other items are worth considering. I purchased a button-down collar shirt in a knit pique cotton fabric that's also available as a spread collar model. Shirts in 100% linen would have turned my head were fall not already on my mind. Ties are generally in the prep tradition of stripes, solids, and silk knits (made variously in Japan, Italy, or Germany), and fairly priced at $69. Silk or linen Italy-made pocket squares with hand-rolled edges are $30. Kamakura also makes shirts and shirt dresses for women.
Right now, web orders ship from Japan, and customers in Japan have access to a wider range of goods, including pants and a small selection of jackets. The Madison Avenue store plans to launch a made-to-measure shirt service in August, pricing shirts at $180 regardless of fabric choice. But the off-the-rack shirts are reason enough for a visit. In my opinion, once you determine your preferred cut and size (and if you dig shirts in the prep/Ivy/trad style), Kamakura is the best bang for the buck (collar for the dollar?) out there right now.
-Pete
---