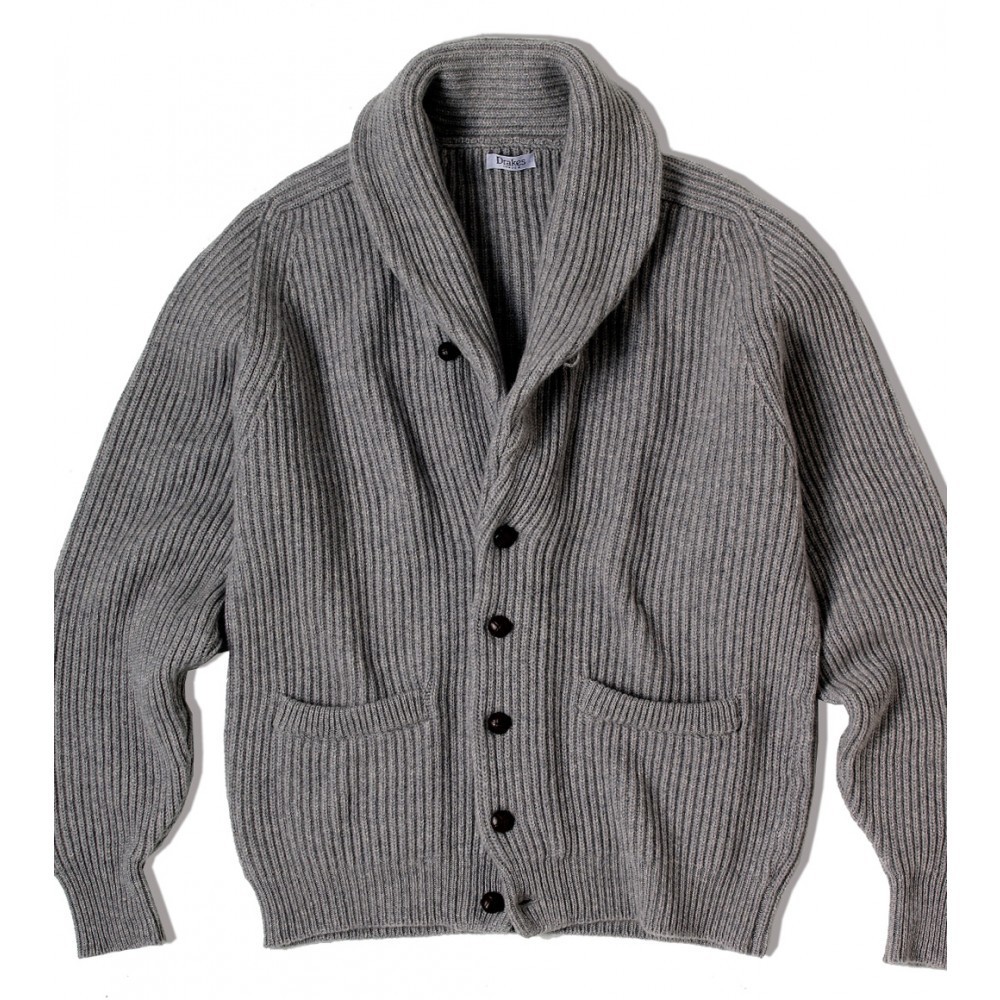 As legend has it, the original cardigan was invented for Lieutenant General James Brudenell, the Seventh Earl of Cardigan. He wanted a sweater that he could put on without ruining his perfectly coiffed hair. So, the front was cut open, buttons put in, and voilà – we have the cardigan sweater. How the shawl collar – a detail originally designed for the Victorian smoking jacket – got mixed in is unclear. Perhaps it's because both were considered at-home pieces for lounge and leisure. Who knows.
In any case, shawl collar cardigans make for great autumnal sweaters. The elongated line of the collar nicely frames the face while the body of the knit keeps the wearer comfortable and warm. Today, you can get these from a number of companies, and they range from the stratospherically priced to the reasonably affordable.
I'll start with the stratospherically priced. Even if we're not able to afford them, they're fun to look at (and talk about). These tend to be knitted in Scotland and made from multi-ply wool, cashmere, lambswool, or camelhair yarns. Multi-ply means that multiple plies are twisted together to form a thicker, stronger yarn. This gives the sweater more warmth and durability. The yarns are also usually made from longer animal fibers, which means there are fewer weak points that can break and result in pilling. Finally, the weaves tend to be denser and tighter, which helps ensure that the sweater will keep its shape for years to come. The result, while expensive, is something that's incredibly chunky, plush, and warm. Wear one of these on a chilly morning and you'll be immediately be impressed with the quality. 
You can find such cardigans at a number of traditional American clothiers. Ben Silver, O'Connell's, Kabbaz-Kelly, and Paul Stuart have exceptionally nice ones. From Europe, there's Drake's, Berk, Johnstons of Elgin, and Peter Johnston. Ovadia & Sons also makes a nice, thick lambswool one that's suitable for someone wanting a slimmer fit. All of these tend to be expensive, but some will go on sale at the end of the season. In fact, Ben Silver has some at 50% off now.
For something more affordable, check out J Crew, Rugby, Brooks Brothers, Gant, Land's End, Orvis, and Save Khaki (one of which is on Gilt). These tend to be thinner than the ones mentioned above, and will likely have cheap, plastic buttons instead of animal horn. You can swap out the buttons yourself, however, for about $30-50. Finally, you may want to consider the options at Northern Watters, White of Hawick, and Black Sheep. I have no personal experience with their products, but nice things have been said about them across the various menswear forums. And although their websites aren't terribly appealing, it's important to separate out marketing hype from quality of clothing. They may just be the right middle point between the over-priced, under-delivered "fashion brands," and the superlative, but incredibly expensive, Scottish knits. 
---