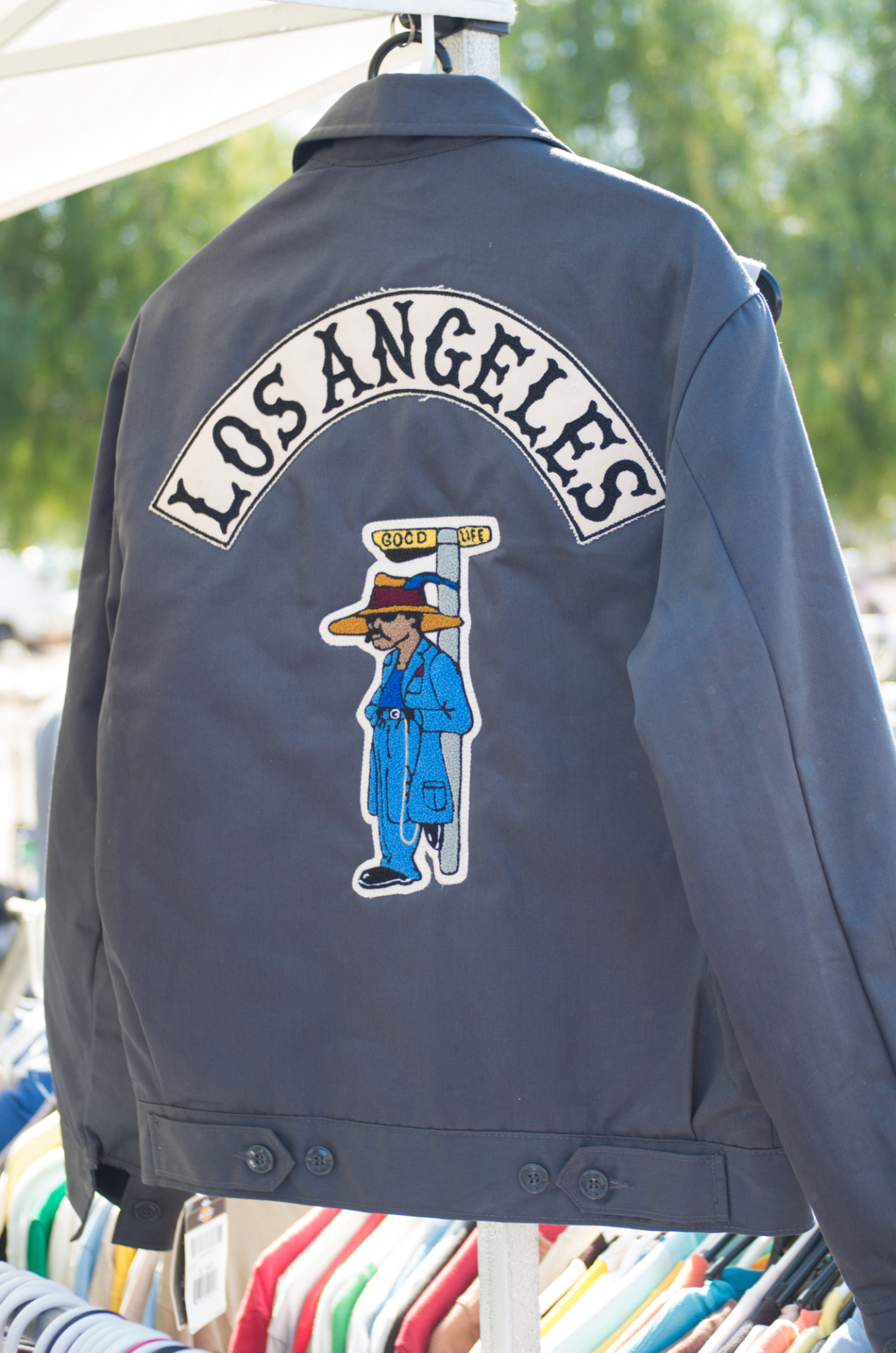 My mother's in town, and since she's an antiques dealer, that means a trip to the flea market. One of the best things about living in Los Angeles is that there's a great flea market almost every weekend. I'm partial to the Pasadena City College flea, the first Sunday of the month. Santa Monica, the second and fourth Sunday, is quite nice though a bit pricey. Third Sunday means Long Beach, a bit of a haul from my house but a great show. But there's only one true heavyweight champion.
The Rose Bowl Flea Market is one of the largest monthly markets in the United States. It stretches around the 100,000-seat stadium and far our into the parking lot. There are all manner of goods for sale – a big section selling swap meet junk, candles and artisinal honey, a huge antiques and vintage area that's bigger in itself than pretty much any other show in California.
But for clothing lovers, the mother lode is over the trickling Arroyo, a concrete bridge away. There are hundreds of clothing dealers from all over the country, buying and selling. In fact, they come from all over the world – there are dozens of Japanese and European dealers filling duffel bags for the plane ride home.
There's plenty of miscellaneous vintage menswear. Standbys like letter jackets, band t-shirts and embroidered Western shirts. Tons of militaria, old and new – a few dealers always have really impressive foreign surplus, and if you're just looking for an old Army jacket, you can find one at any of a hundred stalls. A few dealers specialize in workwear or Rockabilly garb. I even spotted one dealer selling traditional menswear.
It's not always just old stuff, either. The folks from Yuketen were on hand, offering a sample sale selection of shoes at $100-150, plus a few racks of Monitaly sportcoats and a few bags. A young man representing a brand called Heirloom & Co. was selling shirts and henleys for $25-35 (they retail, he told me, for more than $100). I bought a t-shirt – it's gorgeous, but after a run through the washing machine it's too short for my 6′3″ frame.
If you decide to hit the Rose Bowl, a few words of warning. First: don't expect a thrift store selection. Very little tailored clothes, a lot of vintage t-shirts. Second: arrive early. The waves of chumps start rolling in around 10:30. Be there by seven or eight if you really want to shop. Third: remember that the time to buy it is when you see it. There are no re-dos in the flea market shopping game.
(photos by Jesse Thorn)
---