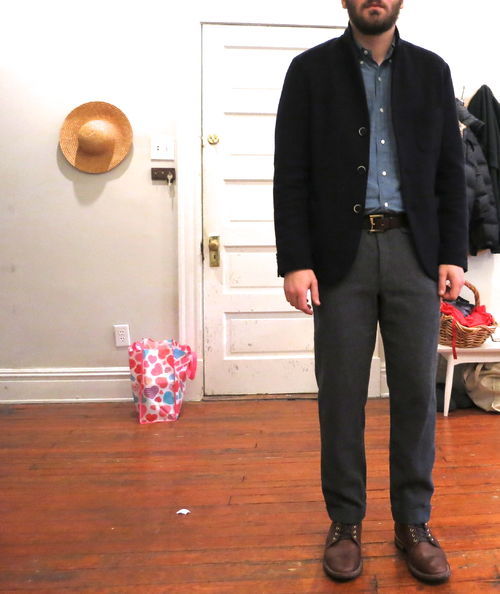 If there's one thing that peeves traditionalists, it's the trend for short jackets, which has been going strong for over a decade now. The rule of thumb is that a jacket should cover your butt, although this somewhat varies by region. Traditionally cut jackets in Southern Italy will be a little shorter; ones from England will be a bit longer. Personally, I think a better rule to follow is to have your jacket's hem hit about halfway between your jacket's collar and the floor, but truthfully speaking, the "cover your butt" guideline – give or take – isn't a bad one to follow.
If you want a traditional look anyway. If you don't, then there are short jackets, or what traditionalists like to mock as "bum freezers." Although I'm not crazy about trends in the "suit and tie" look, I also don't mind more fashionable cuts in casualwear or streetwear. Take Ben from Richmond, for example. He's seen above wearing a sport coat from Barena, an Italian brand known for their soft, relaxed style. Their jackets are often made from knitted fabrics instead of wovens. The difference? Knitted textiles are what you find on sweaters (hence "knitwear") and wovens are what you typically see on shirts and pants. Knitted textiles tend to be stretchier. When used for a sport coat, you get something that wears like a cardigan, especially when it doesn't have a canvas or chest piece inside (which Barena often goes without). 
With a jacket like this, I think a fashion-forward cut can look great. Even here, where Ben is mixing it with more "traditional" items: the button-down collar shirt is from Kamakura, the quick release belt from Equus, the pants from Oliver Spencer, and the workboots from Viberg. 
Short jackets are also easier to wear with jeans or – as Pete suggested – fatigues. Jeans with sport coats are much harder to pull off than most people give credit for, and it's very easy to look discombobulated with a dressy half up top and an oddly casual look down bottom. However, with a more fashionably cut jacket – like the ones made by Barena, Engineered Garments, and Oliver Spencer – it's easier to look a bit more cohesive. Plus, if you're ever going to turn your collar up on a sport coat, it should be something from one of these brands, where it looks more natural, rather than something you'd pick up from J. Press or Brooks Brothers. 
Is it a classic look? No. Is it something you can wear to traditional offices or weddings? Probably not. But it's casualwear, and given the right context, this stuff can look pretty great. As evidenced by Ben above, or even our very own Pete, who can be seen here in a pair of jeans and an Engineered Garments jacket. 
---