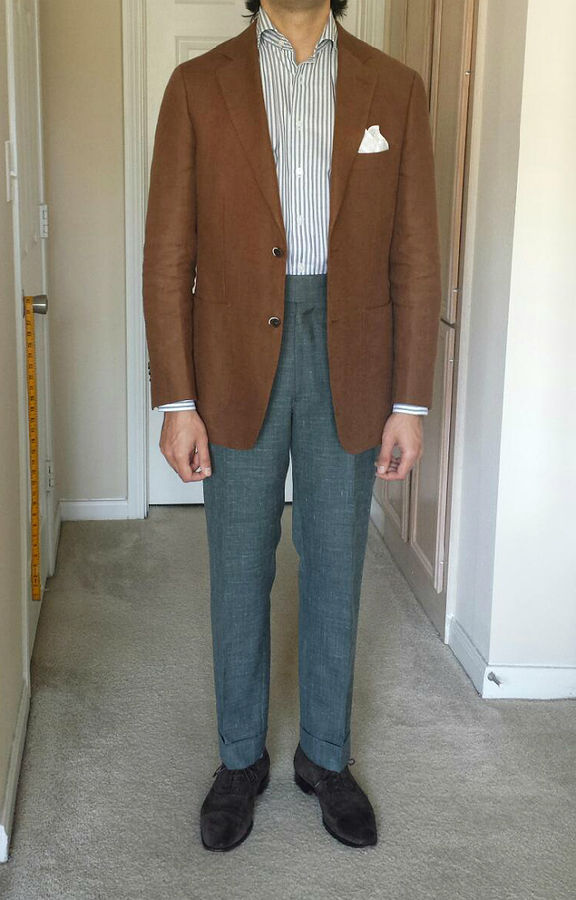 Italian style has been en vogue for a while now, but it often comes with a slight American vibe. The shortened jackets and cropped pants are more reminiscent of Thom Browne than anything Marcello Mastroianni would have worn. For a more classic Italian look, try similar proportions, but extend the hem of the jacket and raise the rise of the pants. 
Unfortunately, although traditional jackets can still be had, higher-rise trousers are difficult to find off-the-rack. At least ones with a slim leg-line. Scott in Dallas here is wearing the Sal model from Eidos, a relatively new company that offers a youthful take on traditional Italian style. Their Sal model combines a slim leg with a higher rise, and features nice details, such as an extended tab closure and adjustable side tabs. Scott has paired the pants with a tobacco linen, soft-shouldered sport coat and spread collar shirt from Suitsupply. The look is deceptively simple, but the striped shirt, subtly textured trousers, and brown suede shoes keep things interesting. 
You can pick up the trousers at No Man Walks Alone (note: they use European sizes, so be sure to convert). The listed price is a bit high, but you can knock 10% off with the checkout code OCT10, and the pants come with a $40 tailoring credit, which is automatically deducted at checkout. That brings the price down to about $300 (pricey, but not too far from the ~$200 Howard Younts that are often recommended). Gentlemen's Footwear also has the same suede Carmina shoes above on sale. Sizes are limited, but they can take special orders. For a similar sport coat, Suitsupply has this Hudson model in a wool-cashmere blend. 
---