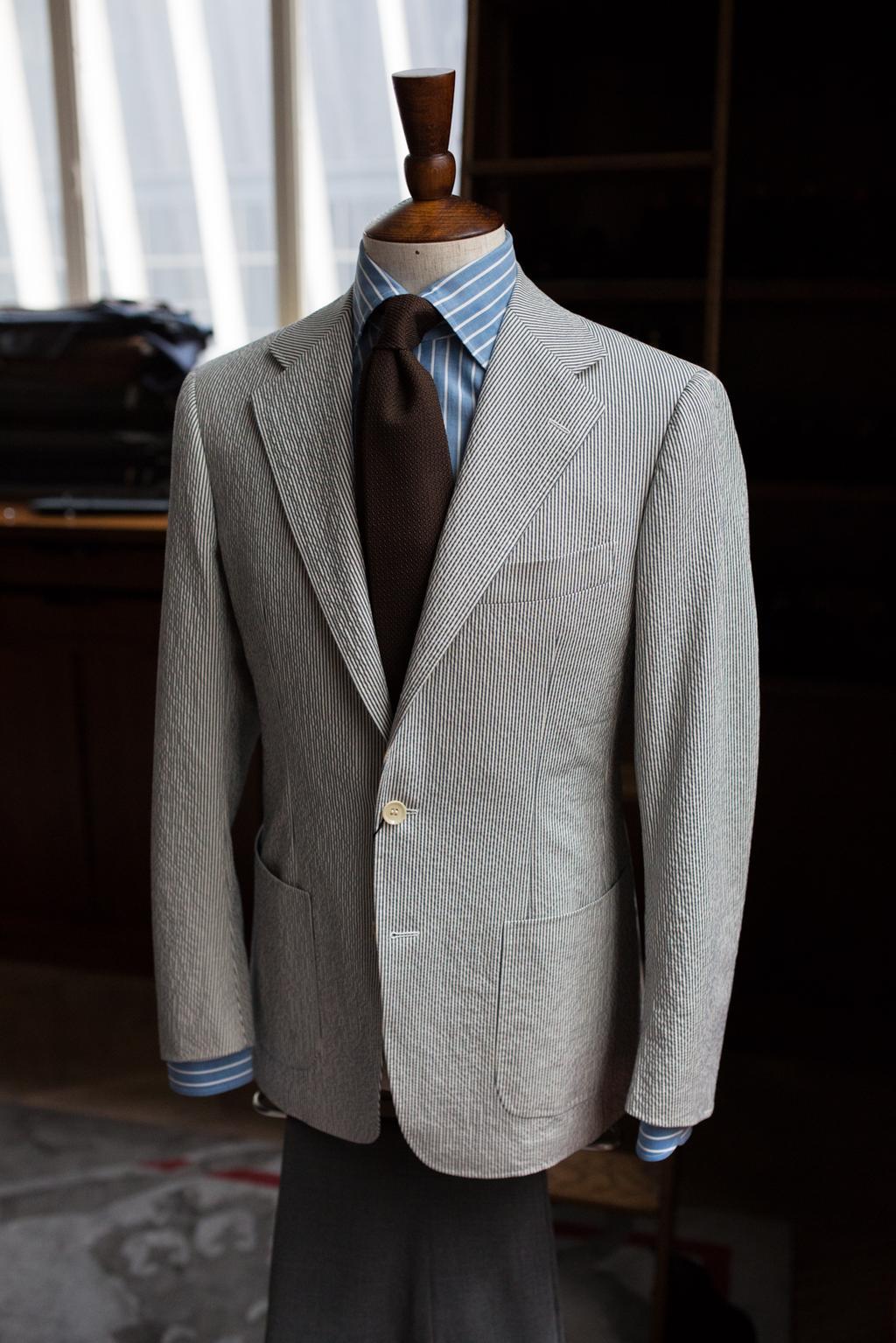 David asks: I really want to wear a seersucker suit this spring, but I'm not sure how to pull it off. Any suggestions for how to make it look good?
Seersucker suits are an American classic, but you rarely see them around anymore. That's partly because fewer and fewer men wear tailored clothes outside of work, so navy and dark grey suits remain, while casual suits are less common. It's also because seersucker was originally established in the pre-air-conditioning era, when having something lightweight, cool-wearing, and easy-to-wash was as much about practicality as it was about style. 
These days, men are more likely to wear shorts and t-shirts when it's hot, but you can still turn to seersucker for a sharper, more tailored look. Here are some suggestions, in descending order of preppy-ness: 
Go Unabashedly Prep: Believe it or not, seersucker suits were originally considered a poor-man's alternative to linen. Sometime after the First World War, college men started to wear them, which is how they eventually became part of the preppy canon. If you go to things like garden parties, consider following Trent Lott's style advice: pair a seersucker suit with pastel ties, white bucks, and cucumber sandwiches.
Go Bashfully Prep: A seersucker suit will always look preppy, but you can take some of the edge off by swapping pastel ties out for something darker, and trading white bucks for something less bright. Try a navy tie with dirty bucks or tan calf bluchers. Or tone the suit down further with a long-sleeved polo and casual loafers. 
Try Navy: If you can find one, a navy seersucker suit can be a nice alternative to the traditional blue and white. Here's an exceptional double-breasted example on Savile Row tailor Michael Browne.
Break It Up: For an even more casual look, break the suit up into separates. You can wear a seersucker jacket with linen, cotton, or gabardine trousers in cream or tan (I like The Armoury's Ring Jacket model for these purposes, since the jacket has patch pockets). Seersucker trousers can also be worn with a navy sport coat, as Voxsartoria has done here. 
Ease Into It: If you're not yet ready for a seersucker jacket, consider a seersucker shirt. They can add some nice texture to a solid-colored sport coat. This season, you can find seersucker shirts from Brooks Brothers, Gitman Vintage, Aspesi, and Freeman's Sporting Club. No Man Walks Alone also has some handsome short-sleeve options from Monitaly and Portuguese Flannel (although, those should be worn sans sport coat). For something custom, consider our sponsor Proper Cloth. 
For the Truly Timid: If all the above still scares you, try a seersucker tie. O'Connell's has some traditional four-in-hands, J. Press has some bow ties, and A Suitable Wardrobe has seersucker striped ties without the crinkles. The last should be wearable even for the shyest of men.  
(photos via The Armoury, Voxsartoria, NeoRetro Style)
---