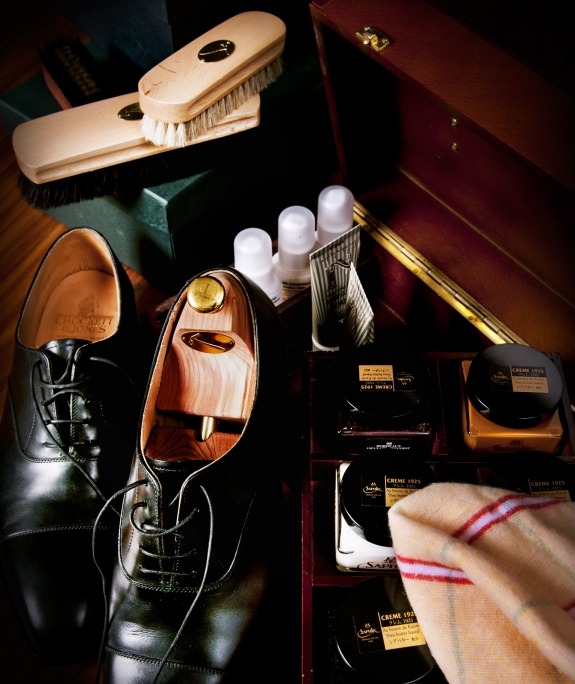 Over the weekend, one of our readers asked us for our opinion on which shoe care products he should consider buying, so we started with what's most important. Today, we'll cover some stuff that's less essential, but can still be kind of nice to have if you're really getting into shoe care.
1. Cleaners: It's good to wipe down your shoes every once in a while with a cleaner if you use wax polishes. Doing so helps removes build-up and allows the leather to best take in conditioner. Lexol and Saphir Reno'Mat work really well as general purpose cleaners, while Saddle Soap is a bit better for rugged workboots. When using these, make sure you use a sparing amount and go gently. This stuff can be powerful.
Saphir also makes a special cleaner for suede shoes, though much of stain prevention can be done by spraying your suede shoes down with Allen Edmonds' Waterproofer.
2. Welt Brush: These are handy for brushing out the dirt that accumulates in the welt (the area where the sole meets the upper). A Suitable Wardrobe sells one made from pig bristle, but you could also just use a stiff bristled toothbrush.
3. Shoeshine Mat: Shoeshine mats are completely superfluous, but I really like them. They're used to protect the surface of your table as you work on your shoes. Obviously, newspaper is a much cheaper solution, but if you don't mind spending the money, La Cordonnerie Anglaise and Valmour make some really nice leather options.
4. Solvent dispensers: If you want to bull your shoes, you have to put a little bit of water on your polishing cloth to build a shine. One way is to do this is to fill up a very small cap with water and dip your cloth into it every once in a while. Another is to lightly spit (a bit gross, admittedly, but this is where the term "spit shine" comes from). I personally use this solvent dispenser, which you can see in action here. Amazon has a bunch of other options as well.
5. Chamois cloth: I like to dust off my shoes before putting them on. Allen Edmonds's horsehair brush is good for this, as is Saphir's chamois cloth.
6. Shoe bags: Speaking of dust, shoe bags are useful for keeping shoes dust free when they're not in use. The company that made your shoes probably provided you with a free pair, but if you need replacements, our advertiser The Hanger Project and this seller on Amazon seem to have good options.
7. Edge dressing: The edges of soles can get pretty scuffed up from wear, so every once in a while, it's a good idea to "repaint" them. Saphir and Allen Edmonds make some pretty good tools for this.
8. Boxes: Finally, you might need a box to hold all this stuff. I talked about a bunch of options in this post, but since writing that, I bought this box by Gerstner & Sons. I highly recommend them if you don't mind spending the money.
---