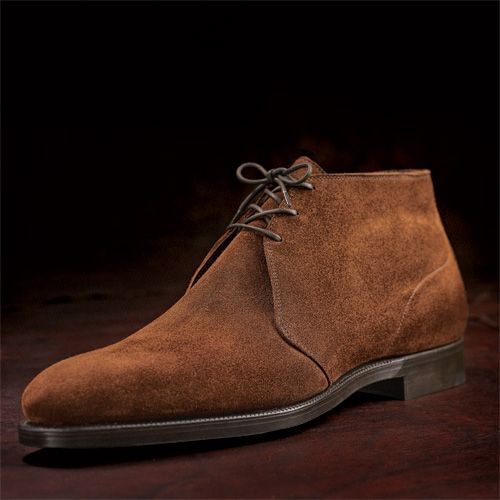 Brett writes to ask: I have a pair of suede plain-toe bluchers coming from Alden.  What do you do, if anything, for protection or treatment?
Some people think suede shoes are too delicate and need babying, but in actuality, if you know how to take care of them, they're easier to maintain than regular calf. You don't have to condition, polish, or wax them every couple of weeks, after all. Here are some basic maintenance tips:
Apply a waterproofing spray to protect them from stains and water. Brush with a suede brush before and after the spray. I use Allen Edmonds' spray protectors and brushes.
If you get a stain, use a suede eraser. Again, I use Allen Edmonds'.
If you get mud on them, let the mud dry overnight and brush it off with a stiff brush (eg a nail brush). If there is some remainder dirt left, wipe it off with a clean, damp cloth or use the suede eraser.
In most cases, if your shoes get wet, they should be fine. In some cases, however, they can be left with water stains. It may sound counter-intuitive, but in those situations, I recommend you wash your shoes, like this.
If your stains are more serious, such as those from oil or grease, you may be in trouble. Try brushing it off with a stiff brush and applying the suede eraser. If those don't work, hand wash them. A last ditch attempt could be to just take them to a cobbler for a professional cleaning. If all those fail, you'll have to either tell yourself the stain is a "patina" or resign your shoes. 
If your suede shoes are old, hold them over a pot of boiling water and let the steam hit it. After that, brush them with a suede brush. This should restore the material's nap and luminescence.
The above should be done in addition to all the other things you should be doing for your shoes: Insert unvarnished, cedar shoe trees whenever you're not wearing your shoes; let them have at least a day of rest in between each wearing; and use shoe horns when you can.
Don't be afraid to wear them in more inclement weather, either. I personally wouldn't recommend wearing them at the end of winter, when there is a bunch of half-melted, dirty, slushy snow outside, but almost any other time is fine. I wear mine more or less year round.
In the end, remember: shoes are meant to be worn. There's a difference between aging well and aging poorly, but your shoes are always going to age. If you invest in quality shoes and do the above, they'll age well and actually look better than they did when they were brand new.
---