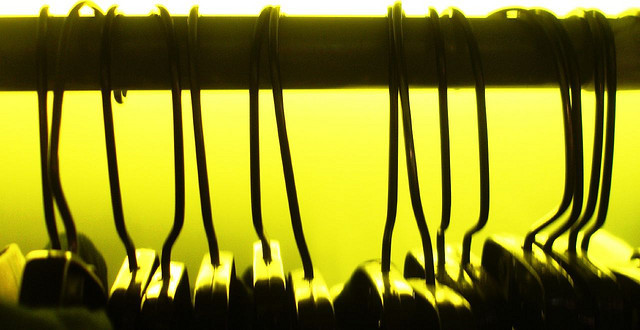 Jacques asks: I have a really small closet. Would you offer any suggestions or tips on how to improve closet space or how to improve closet organization in general? Thanks!
I struggle with the same problem. My closet is probably not even suitable for someone with a regular sized wardrobe, let alone someone who has an interest in men's clothing. I dream of one day having a walk-in closet, though I suppose every closet is a walk-in if you try hard enough.
This subject is probably too much to cover in one post, and what's possible or optimal will depend a lot on your living space. If I could give some general advice, however, they'd be the following:
Dump and store: First, get rid of things you don't need. If you haven't worn something in a long time, you probably never will, so consider donating it to charity or selling it on eBay. If you're too lazy to list stuff, you can give them an eBay consigner, such as Luxe Swap, who will sell them for you. For the remainder, store away anything that's out-of-season. This will make room for things you'll actually wear and protect your other clothes for the next six months, when they'll be out of use. You can read an article I wrote about seasonal storage here.
Maximize your closet space: How you should do this will depend on the particulars of you closet. One good solution, however, is installing a second rod; this should double the amount you can hang across your closet. If installing a full second rod isn't practical for you, try a hanging one. After that, you can add an over-head shelf to store your out-of-season clothes, and put some cubbies or adjustable shelves on the floor to hold things that you'll only occasionally use. On the side of your closet, if you have room, you can build shelves and put in shelf dividers or baskets. I recommend woven baskets over plastic ones, because clothes are best kept in breathable storage units. You can also hang vertical shelves to hold sweaters and shoes. Remember the point with all these things to maximize the vertical space in your closet as much as possible, but keep the prime real estate for things that you'll use on a daily basis.  
Use the back of doors: On the back of your closet door, you can install hooks to hang things such as belts or the day's dry cleaning, or throw an over-the-door shoe organizer (but only the kind that will allow you to still use shoe trees). The only thing I wouldn't recommend putting in there are shoes that have been bulled, but otherwise, they should hold shoes just fine.
Put things under your bed: Here is where you can put out-of-season clothes, or things such as socks, underwear, and undershirts. This will free up your dresser drawers for things such as sweaters and knits. (If you haven't yet, read Jesse's guide on how to store clothes. No matter what solutions you come up with, I recommend you not deviate from his guide). Canvas containers will allow your clothes to breathe but plastic can be good if you have a lot of dust bunnies. There are also under-the-bed storage solutions for shoes.
Consider other speciality products: There are a ton of other products you can consider. Cascading hangers, for example, will let you hang more dress shirts in a vertical space. I'm less of a fan of those since I think button-up shirts hold their shape better when they're held on wooden hangers and not smashed against each other. There are also hangers to hold multiple pairs of pants (like this, this, or this). I've found those to be of limited use since hanging four or five pairs of pants on the same hanger still takes about the same horizontal space as they would if you hung them separately. The one by The Great American Hanger Company also has small plastic teeth on each bar. Useful for making sure your pants don't slip down, but potentially damaging for wool trousers. I use one just for chinos and keep it on the end of my closet. Additionally, there's the Hanger Hamper, which can be a nice way to free up space in your closet as more hangers become empty throughout the week.
Buy a new closet: At some point, there's only so much you can do, and you may have to buy a new closet. I think this one and this one look particularly promising because of the double decker rod system.
That's just the start. I recommend checking Closet Maid, The Container Store, and Bed, Bath & Beyond for other solutions. As I said, much of this will depend on your needs and room's particular layout. 
(Photo by Darwin Bell)

---