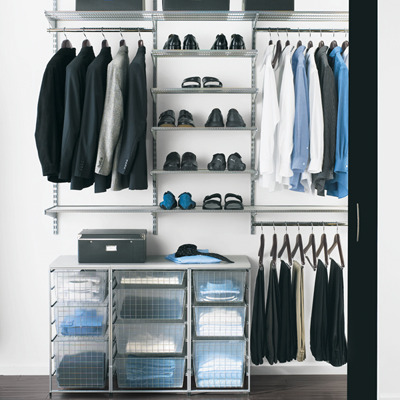 americastoppushing writes: I just got a job at a major publishing house in NYC and the whole staff here is very well dressed. I need to jump from grad school clothes to stylish office clothes quickly. I have about $500 to spare right now and I need to make some significant changes to my wardrobe, including shoes, a laptop bag, and at least a few shirts and pairs of pants. Where can I get the most for my money? I'd like to get things that are fairly versatile.
First, congratulations on the new job and for graduating grad school. I'm actually finishing up a grad program myself, so I can appreciate what a grind it can be.
As for your wardrobe, I'm afraid $500 won't going to get you very much, especially if you need it soon. But let's see if we can't give it a try.
For shoes, I recommend a pair of brown derbys (also known as bluchers). Derbys have "open lacing," which means the shoelace eyelet tabs are sewn on top of the part of the shoe that covers your toes and instep. This differs from the more elegant and formal oxford, which has the eyelet tabs sewn underneath. Oxfords are considered more formal because they make you feet look more "dressed." However, since you can't afford suits and sport coats at this time, you should embrace the inherent casualness of what you're wearing by getting derbys. These can be worn with anything from cotton chinos to wool trousers.
Getting them in brown will mean that you can wear them with trouser color (except black, which you shouldn't be wearing anyway). I recommend a plain toe design for your first pair, but if that's too boring for you, you can also get them with a perforated or non-perforated toecap. Any of these will be acceptable in an office environment. You can get a pair at Meermin for about $150.
For dress shirts, you really ought to have at least ten, so that you can get through two work weeks before having to do laundry. However, ten will almost wipe out the rest of your budget and leave you pants-less, so I recommend getting five for now. As soon as you can, pick up another five.
Your first five should include three solids and two stripes in a mix of white and light blues. These colors flatter the complexion of any man, and they'll set a good foundation for when you're ready to wear suits, sport coats, and ties. You can read Jesse's post about this subject here. I agree with what he said, and would just add that in your situation, it would avoid having people think "here comes that guy in the bright pink shirt again." You are going to be wearing each of these often, so best to make them look fairly non-descript.
Design wise, choose the following if you can: semi-spread collars (they look good on every guy); French placket with no pocket (as a proper dress shirt should be); and barrel cuffs (not French cuffs, as you won't be wearing these with a suit for now). You can browse TM Lewin's clearance section to see what they have. Their "slim fits" fit decently well on the average sized guy. At $32 a pop, this should set you back $160.
For pants, I'm going to fudge here and assume you at least have a pair of khaki chinos you can use for casual Friday. To add to this, I recommend two pairs of wool trousers, one solid mid-grey and another slightly darker. If you must choose a pair of non-grey pants (and only if you absolutely must), I recommend brown. Pick whatever weave you'd like (from flannel to sharkskin), but just make sure the fabric doesn't look too shiny. You don't want to look like you forgot your suit jacket at home. Sign up for Land's End's newsletter and wait for a coupon code to come up. You can then score a pair of their Tailored Fit wool trousers for about $60.
Finally, we have the laptop bag. Muji has a canvas and leather shoulder option as well as a "3-Way" bag (an unfortunate name) for $80 and $90, respectively. These aren't the most professional looking of bags, and there are certainly better options out there, but this slides us in at about $515, just fifteen dollars more than the budget you allocated.
Of course, a basic business wardrobe should have at least double what I've listed above – two pairs of shoes so that you can rotate between them (wearing the same pair everyday will quickly ruin the leather), ten dress shirts, and four trousers. Depending on your office environment, you may also want to get a few suits or sport coats at some point. These will make you much more professional looking, but they'll be considerably more expensive.
Remember that you can lower your outlay by acquiring things over time instead of buying everything at once. Try thrifting, using eBay, and waiting for sales. Jesse's guide to thrifting can help you with the first, our eBay roundups the second, and my sales announcements here and at the Inside Track the third. Give yourself a year or two to acquire a decent, basic wardrobe, and perhaps another five to six years to perfect it. It takes a while to acquire what you need and learn how to dress well, but the process itself can be very fun and rewarding.
---