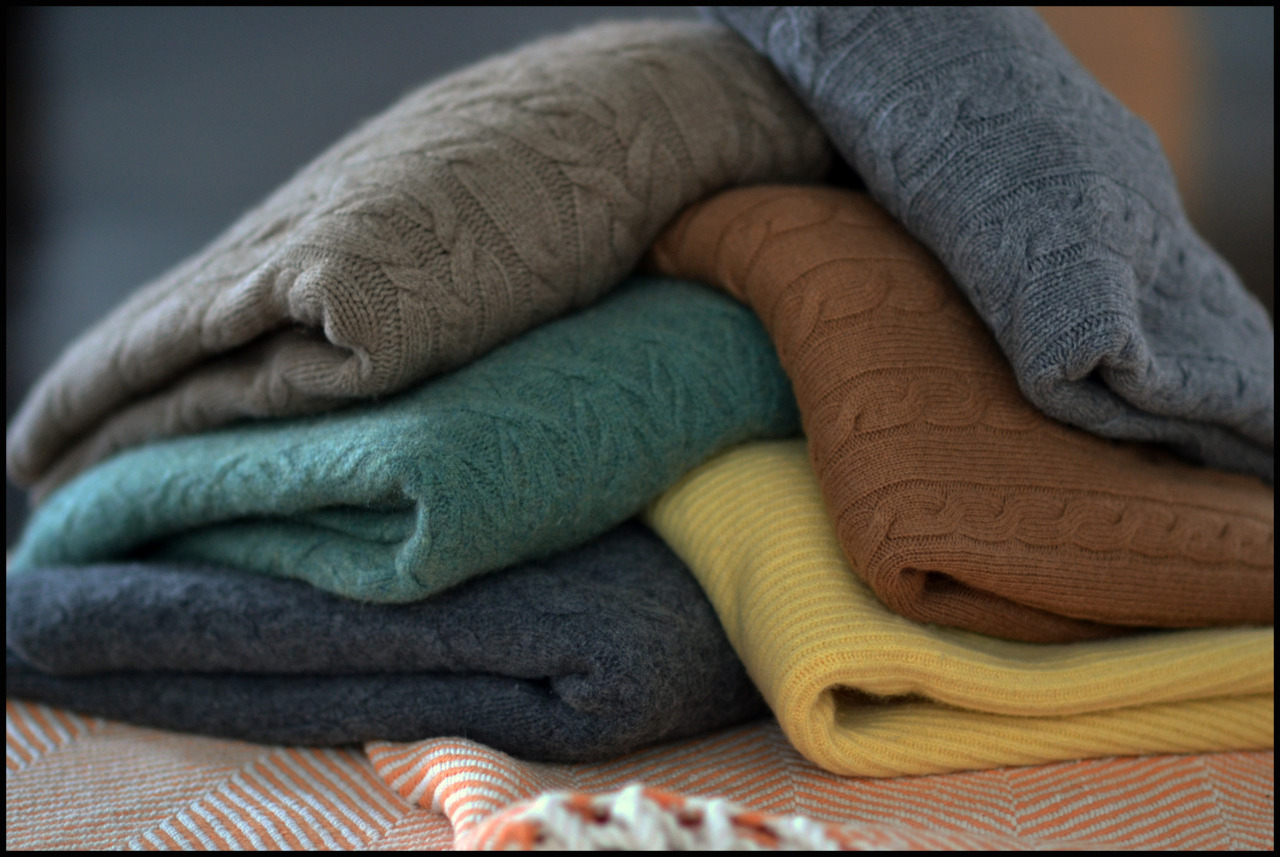 Hayden asks: Can you alter a sweater? Looking at getting a cashmere sweater on eBay but the pictures make it look kind of full in the stomach area. Thanks for your time.
You generally can. Most wool, cashmere, and natural fiber knits can be altered in order to give a better fit. This includes "fine knits" (small stitched, machine-made items) and knits of medium and heavier weight yarns. Synthetic and wool-synthetic blends, on the other hand, often don't lend themselves easily to the re-knitting process. 
Typical alterations include shortening the sleeves, hems, and turtlenecks. This is done by going in and removing a section of the fabric, then grafting the pieces together stitch by stitch. To imagine how this is done, imagine a knitter working like a jeweler, "re-setting" each stitch carefully one-by-one. In the end, the item looks just like it did originally, with sleeves and hems retaining the same cuffs and finished edges. The only difference is that the measurements are made to the correct lengths. 
When items need to be made smaller overall or taken in at the stomach, it's best to have a tailor pin the item for alteration, as if they were going to do a regular sewn alteration. The pinning starts at the top by picking up the shoulders and sleeve caps, then goes to the body along the side seams. The alteration is then done by serging, which is a three or four thread machine-made seam that secures the fabric. The process isn't too unlike how you would take in the excess fabric on a baggy shirt. 
Of course, the world is full of different knits. Occasionally, items are not good candidates for alteration. These can include ones with emblems, beading, pockets, or other such items at the places were alteration needs to take place. Some machine-sewn seams are also unique and cannot be duplicated. Additionally, if you have a knit made of tubular construction, you can have the sleeves, hems, and turtlenecks shortened, but the knitter will have to open up the garment and create side seams if you need it to be taken in through the body and/ or sleeves. You may also be looking at a more expensive job if the knit is made of smaller stitches, or if there are patterns (either in stitch or color) that the knitter has to work with. Given this, whether you can alter a particular knit is really something that should be decided on a case-to-case basis. 
These days, I buy many of my solid-colored, basic knits the way I buy my shirts. I make sure it fits well at the chest, shoulders, and sleeves, and then I figure I can take in the sides for about $14 at my tailor's. Of course, those other areas can be altered as well (just as they can on a shirt), if you need them to, but it just adds to the cost.
As you can guess, the quality of this work greatly depends on the experience and skill of the tailor you're working with. To find a good knit alterations tailor, contact a high-end men's clothing store that has an alterations department. Ask who they recommend for these services. If you find someone who does reknitting on their own, ask for references to stores they provide services to, and check those references. You may also want to send in your lower-quality knits in first, so that you can examine the quality of their work. It may take more effort to find someone who specializes in knits, but when you do, they can help you transform those baggy sweaters into perfectly-fitting ones. 
(Photo by Voxsartoria)
---