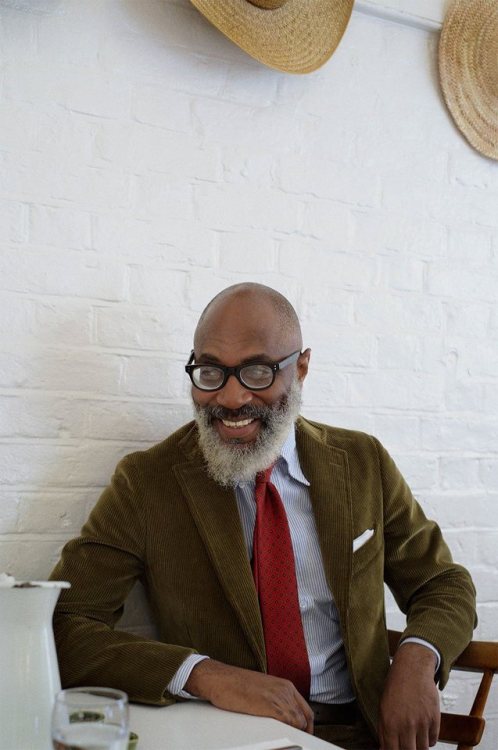 Corduroy may well be one of the best fabrics of our age, threatening to even surpass tweed. As each passing autumn gets warmer and warmer, corduroy is one of the few fabrics you can wear this time of year without overheating. It also embodies all that is good – it's smart, yet informal; outdoorsy, yet intellectual. Jesse summed it up best in his address to the Corduroy Appreciation Club a few years ago (yes, that's a real thing):
For a thousand years, corduroy has stood for what is right in our lives. Intellectual rigor. Fresh air. The comfort of a crackling fire. It is a fabric as forgiving and enduring as our spirits at their best. […] Corduroy is a fabric built to take on the world. Tuck your corduroy trousers into your boots and feed the pigs. Roll up your corduroy sleeves and bring in the harvest. Put on a corduroy field jacket and go outside to build something. […] Corduroy is the fabric of living.
Of course, corduroy is also seen as fusty and old-fashioned, worn by those who are hopelessly out-of-touch. See every movie about an English Lit professor, who's shown wearing a threadbare, ill-shaped corduroy sport coat with patched elbows. Nevermind that academics rarely wear corduroy in real life. The fabric is a way for directors to communicate something to their audiences, much like how dark shirts under suits are used to identify made men in mob films.
At the same time, it's that down-to-earth, out-of-touch character that makes corduroy so great. At a time when everyone is try to dress down as much as possible, corduroy sport coats and trousers allow you to look a bit sharper without seeming overdressed. Wear them with oxford cloth button downs and soft, brown suede shoes. As the fabric naturally wears down and bags over time, it'll only look and feel more comfortable. Some suggestions on to wear the fabric well:
Classic and Easy-to-Wear Combinations
Corduroy has its roots in workwear and country clothing, so it does naturally well in earthy, autumnal colors such as wheat tan, russet brown, and mossy green. That said, don't be afraid of colors such as navy or gray. So long as you know the history of how colors have been used, you can combine rustic fabrics with "city" colors for a more contemporary look.
The ribs running down corduroy are known as wales (from the Anglo-Saxon walu, which means "to mark with stripes"). The more wales per inch, the sleeker and more contemporary the look. Most cords have eleven wales per inch, which make them versatile for anything from suits to sport coats to trousers. Needlecord, which can go up to sixteen wales per inch, is generally better for suits and casual pants. Jumbo wales can be as low as eight wales, which pushes it closer to casualwear (in tailoring, jumbo wales can make a man look a bit old school).
The easiest way to incorporate corduroy into your wardrobe is to start with pants. Five-pocket needlecord jeans are a great alternative to denim, and can be worn with almost anything. You can find them at places such as Levi's, Club Monaco, and Lee. Preppy American clothiers, such as Ralph Lauren and Brooks Brothers, stock slim-fitting cords that look a bit dressier; S.E.H. Kelly and Old Town make ones that sit well with workwear. For things you can combine with traditional tailoring, try Rota, Ring Jacket, Drake's, and Cordings. Our advertiser Proper Cloth even sells needlecord shirts, which would look great with chinos or denim.
See the combinations above for styling ideas. Casual cords can be worn with chunky, textured knitwear,which can be used on their own or layered underneath quilted jackets and tailored topcoats. If the rise on the pants is high enough, you can team them with autumnal sport coats in materials such as tweed or heavy wool. Similarly, corduroy sport coats can be equally versatile. I like them with flapped pockets, rather than patched, as the thick material can sometimes add visual weight to your hips. When done right, a corduroy jacket can be worn with everything from blue jeans to tan khakis to gray flannels to brown cavalry twills. Some of these combinations are so classic, there are even songs and books about them.
Going Beyond the Basics
Corduroy will never lose its fusty connotations – that, in part, is what makes the fabric so charming. That said, one of the easiest ways to modernize a look is to play with color. See how English-American novelist Christopher Isherwood wears a tan sport coat with taupe wool trousers and a blue shirt. While it's possible to combine light colors in your shirt and jacket, if you find your ensemble visually floating away, you can always anchor a light colored jacket with a darker button-up or sweater.
Corduroy also plays well with denim, which makes it a great option if you like dressing down your tailored jackets. Andy Spade, co-founder of Kate Spade along with other companies, has built his style around this combination – green, tan, and dark brown sport coats, cut a little full for comfort, but also a touch short to make the silhouettes feel casual. He usually wears them with beat-up blue jeans and similarly old chukka boots (often desert boots, such as Loake's Sahara or Clark's). You can accessorize this look with a pocket square, but I find jeans + sport coat combos look best without a tie (it keeps things casual).
It can be a little jaunty, but turtlenecks look great under textured jackets made of napped flannel, prickly tweed, and most of all, ribbed corduroy. Stick to thinner merinos, so you don't add too much bulk underneath. I find mid-gray, charcoal, and dark green to be the easiest colors to wear, although navy can also add a contemporary touch.
Finally, if corduroy sport coats feel too dressy for you, don't forget about the wide world of casualwear. Companies such as Naissance, S.E.H. Kelly, 1ST PAT-RN, Engineered Garments, APC, and Barena all used the material this season for things such as workwear, casual topcoats, and sport-coat-inspired outerwear. For a more affordable option, Levi's corded sherpa would look great with a sweater and some jeans, and can be had for just $98. Uniqlo also has a corded trucker jacket for just under $20.
---