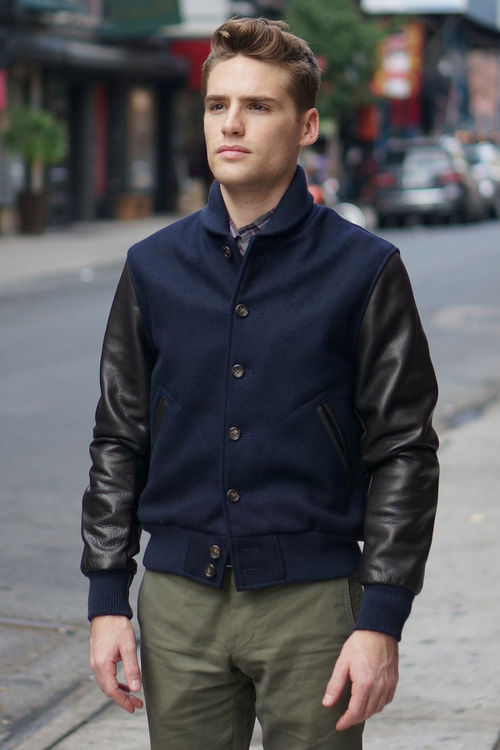 The endurance of the silhouette and styling of the letterman/varsity jacket is a little surprising to me. Trying to remember when I bought mine (red body, gray arms, above) I found a thread on Styleforum asking if varsity jackets were "back"…in 2007. Seven years later and the varsity shape is still in the game: Hedi Slimane made it a centerpiece of his comeback men's collection for Saint Laurent in 2013. For a jacket that seems so bound by its origins–color-matched casual wear earned by team sports players for athletic accomplishments, i.e., FOR JOCKS–the varsity is maybe surprisingly versatile, even potentially subversive.
A Long Way from the Locker Room
For a long time, the "right" varsity jacket was the one you earned. A uniform for school athletes from the middle of the century on, it became pop culture shorthand for jock, whether that meant bullying jerk (Ogre in Revenge of the Nerds) or apparently harmless good guy (Michael Jackson, in human form, in Thriller). In the 1980s straightedge subculture kids adopted the hoodie-and-varsity ensemble as a symbol of fraternal, occasionally militant clean living. After a brief 1990s resurgence in washed denim we didn't see a lot of varsities until the late aughts, when the classic Americana trend took hold. High fashion versions, like Slimane's, take advantage of both the masculine connotations of athletics and the kitsch of throwback, Kodachrome America. Today you could call the varsity an ivy style or streetwear classic, and you wouldn't be wrong in either case.
The Details
Nearly everyone who sells men's casual wear, from Target to Engineered Garments to Saint Laurent, carries a version of the varsity jacket. But their styling choices greatly influence the vibe of the jacket itself. Raglan shoulders allow freer movement than set-in, but set-in sleeves make for a narrower, more tailored shape. Low profile shawl collars are standard, and foldover collars are a little more interesting and sit taller. But collar shapes can get even more exaggerated. Snaps are very 1980s, sewn buttons more vintage looking, a zip more moto-styled. Some jackets omit the knit trim waistband, which looks a little sloppy in my opinion. Monochromatic, tonal, and dark colors look more modern and can help avoid the risk of looking like you just haven't bought a new jacket since high school (blue and gold, for example, will have the opposite effect). When it comes to letter, patches, and embroidery, I prefer none at all, but they can add character to a vintage jacket.
Where to Find Them
With so many companies making jackets for so long, varsities saturate the vintage market. If you're cool with wearing someone else's letters (or using a seam ripper to de-letter), you have your pick at nearly any thrift store. Some good American makers to look for on jacket tags are Centralia Knitting Mills/Skookum, Golden Bear, and Maple–their jackets will generally be better made than no-name and imported vintage pieces. Centralia and Golden Bear still make jackets–Rakuten searches often reveal interesting Skookum models. Golden Bear has been the manufacturer of choice for Engineered Garments, Union Made, and many others who use a general varsity shape. Keep in mind that jackets made for school clients are usually limited to school-style colors, and often use plastick-y leather for the sleeves. The co-branded jackets tend to use custom materials or shapes that you won't find on pieces made for a high school band. Epaulet made a very refined, modern looking varsity-styled jacket, seen in the first picture on this post, unfortunately sold out for the season. Like many other symbols of mid-century America, the jacket has been obsessively recreated by Japan-based companies like Flat Head. As with military jackets, you can really spend as little or as much on a varsity jacket as you want.
-Pete
---