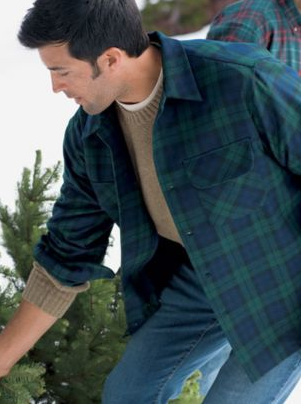 I was clearing out my closet last month when I "rediscovered" an old Pendleton board shirt I bought many years ago. It was an impulse buy at a Black Friday sale, which I had woken up very early that day to check out. The sale was a bust, unfortunately, and only confirmed my now deeply held belief that all Black Friday sales are a waste of time. Not wanting to leave that sale empty handed, however, I bought this shirt-jacket for about $40, and it's been sitting in my closet for the last three or four years.
Since finding it, I've had my tailor take in the sides a bit, so that it'd be a bit more flattering, and now wear it on weekends with a white OCBD, pair of jeans, and moc toe boots. Being wool, it's a nice layering piece for cool weather – when you need something to wear over a shirt, but don't want to put on a serious coat. I've been finding it quite useful for temperatures in the low 60s. To be sure, it does have a bit of "woodsman" look that's been fashionably stale for a while now, but it's also nice for casual activities such as taking the dog for a walk or going on a hike with friends. 
At full retail, these run $115. I'd hesitate to recommend people spend that amount, but you can easily find them for about $40 to $60 at Vintage Trends or eBay. You can also consider a CPO jacket, which can be worn in the same way. There are a ton of options for those, but the two most affordable I know of are Fidelity ($65) and Save Khaki (now $99 on Gilt). From what I've heard, the two are built equally well, and the thickness and quality of their materials are about the same. The Save Khaki version has hip pockets, however, and fits somewhat slimmer. The Fidelity is less of a trim fit, but you wouldn't need to go as far as sizing down. You'll want to have enough room to occasionally layer this over a light sweater anyway, and a tailor can take care of any excess fullness beyond that. 
---