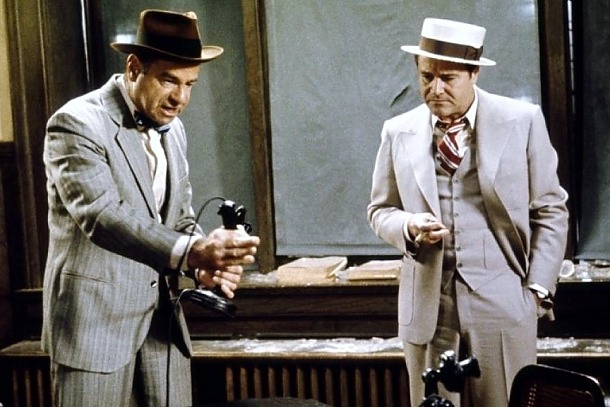 Last night, I caught the last half of 1974 remake of "The Front Page", starring Jack Lemmon. It's an amusing film, especially if you were a journalism major who really enjoyed hearing stories about how press rooms used to be filled with cigar smoke and poker games. Sadly, this wasn't the experience I had during my brief career in newspapers. 
Lemmon's character, Hildy, wore a suit that caught my attention. I couldn't be entirely sure, but I believe it was a cotton khaki suit. What made it interesting was the combination of a single-button, peaked-lapel front along with triple patch pockets. It's not a pairing you see very often, as patch pockets are typically reserved for suits and jackets that are more casual. And peaked lapels are definitely more formal. 
But the more I thought about it, the more it made sense. He's wearing a boater hat, signaling it's summer – or at least where he's headed next with his wife-to-be that it's warmer weather – and the need for cooler-wearing clothing. It reminded me of a post at A Suitable Wardrobe about how summer jackets have patch pockets. This is done to minimize the amount of lining needed to allow for better air circulation in the heat. A jacket with pockets that go inside would require more lining inside. 
Of course, I wondered how much of this would be negated by the fact Hildy also wears a waistcoat, which ends up coming undone toward the end (naturally, while cranking out the story of his life on a typewriter on deadline). But as you'll notice in this photo, it also has patch pockets. And I'm not sure he could get away with wearing a single-button, peaked-lapel suit without the waistcoat and still look quite as sharp. 
The suit is a reminder that typical conventions and rules are nice, but sometimes you should be open to changes for the sake of practicality. 
-Kiyoshi
---