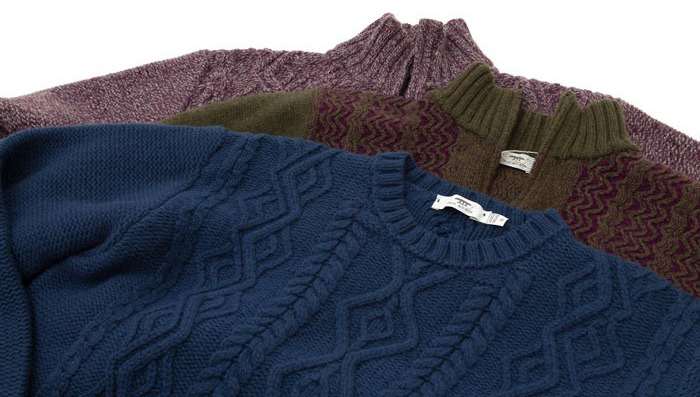 Winter seems to have suddenly arrived as the cold weather hit hard this past week. Our sponsors have a bunch of new seasonal items in, and we wanted to briefly mention them as we thank them for their support this month.
Our first sponsor, The Hanger Project, has some densely knitted sweaters from Inis Meain – a small, knitwear manufacturer located on one of the three main Aran Islands. Unlike other Aran knitting companies, Inis Meain doesn't serve the tourist market (mainly because they're located on one of the more remote islands, which frankly, few people visit). So, they've built a business by combining traditional Aran knitting with luxurious yarns, and sending those sweaters to high-end boutiques around the world. These cabled pieces at The Hanger Project, for example, are made from 90% British wool and 10% Italian cashmere.
Our second sponsor, Gustin, also has some new winter gear. In addition to their regular offering of jeans, work shirts, and small leather goods, they have two new outerwear projects. One is a CPO (Chief Petty Officer) jacket made from a wool they sourced from Pendleton Woolen Mills. The other is a waxed cotton canvas trucker jacket – the waxed cotton here not only gives the jacket a slightly more unique look, but it also makes it a little more weatherproof. Like with everything Gustin sells, these are offered directly to customers through an online crowdsourcing system. This allows them to avoid the middleman markups that retailers charge. 
Next, Proper Cloth is continuing to expand their product line. In addition to shirts, accessories, and tailored jackets, they're now offering cashmere sweaters. These come in two different slim fitting, crewneck designs. There's a cobble stitch sweater, which is made with an interlocking knit style that gives the garment a subtle, textured appearance. Then there's a chest striped crewneck for a sportier look (those were modeled after classic collegiate sweaters). All sweaters are made from pure Mongolian cashmere.
Finally, Ledbury just added some new sweaters to their knitwear collection. There are now some cabled cardigans, mocknecks, and more v-neck offerings. Meanwhile, Chipp Neckwear just got in some more ancient madder ties (which pair well with tweeds and flannel) and Ministry of Supply just dropped their Aviator blazer. 

If you want to advertise on Put This On, just email us at contact@putthison.com.
---