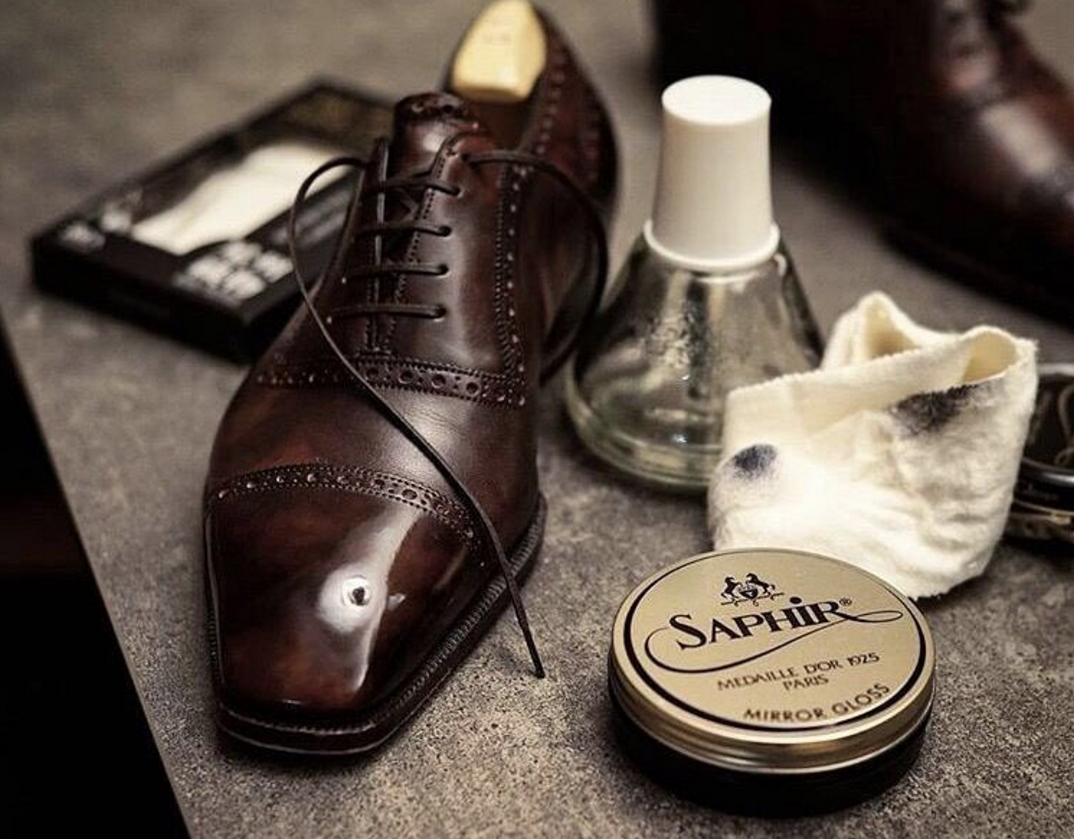 We're really thankful as an independent menswear blog to have sponsors, so twice a month, we like to thank them for their support. It gives us a chance to recognize them, as well as update our readers on their latest happenings. 
For footwear aficionados, The Hanger Project just made a fifteen minute online video tutorial on how to create a high-gloss mirror shine – one of the harder polishing techniques to do since it takes a lot of patience and a bit of know-how. Kirby, founder of The Hanger Project, leads you through the process in three easy steps. The things you see used in the video are also sold in his store: Saphir's mirror gloss wax polish, Saphir's Pommadier cream polish, a high-shine cotton chamois, and Saphir's Pate de Luxe wax shoe polish. 
Proper Cloth is gearing up for spring with some new warm-weather fabrics. Their Sienna Checks collection features colorful patterns that are simultaneously bold and office appropriate. The Genova Solids line, on the other hand, includes versatile, dark-colored solids that have a soft feel and matte finish. Pictured above are the new Portuguese seersuckers. The subtle texture here lends texture to any ensembles, while also creating enough breathing space to allow you to feel cool on a warm day.  
Our friends over at Chipp Neckwear can now make ties to any length. Extra long ties can be bought at 60″ and 62″ lengths for just a $10 surcharge. Chipp can also shorten a tie with a blunt cut (cutting an inch or two from the tail and binding it) for $5 extra, or cutting the tail end and creating a point for $10. Paul, the store's proprietor, notes that he'll also be away the first two weeks of April. When he returns, he'll be meeting customers at his NYC by appointment. You can reach him at (212) 687-0850. 
Indigo & Cotton continues to get new spring arrivals. They have tubular knit tees from Velva Sheen (made with no side seams and cut with a vintage-inspired fit); unique woven shirts from Aime Leon Dore (including poolside shirts and safari shirts); and cotton twill shorts from Norse Projects (cut above the knee, but designed to not show too much thigh). You can also find some deals in their sale section. Take an extra 25% off already marked down prices with the checkout code PLUS25. That brings things such as the Gitman button-downs down to $76 and Howlin by Morrison Donegal sweaters to $81. 
Meanwhile, Dapper Classics is gearing up for horse racing season. Look for their new derby-themed socks to hit their site soon. Like all of their socks, they're made in the USA and feature hand-linked toes (which means they don't have a seam at the front). And while you wait for those socks to drop, Dapper Classics is also offering an exclusive discount to PTO readers. Take 15% off anything in their store with the promo code PTO15. The code works on their popular tailored trousers, which now come down to $165. Sale ends Sunday night. 
Finally, our thanks to Wolf vs. Goat. They just made some new tees and henleys, both of which are designed to be lightweight, airy, and breathable. The tees are constructed from Celliant- and Rexcell-wool blends, which give them a smooth and soft hand similar to Tencel. The henleys, meanwhile, are knitted from micro-model and Supima cotton fabrics. All of these help wick moisture, which will leave you feeling cooler and drier on hot days. You can read a review of some of these over at Reddit. 
If you want to advertise on Put This On, just email us at contact@putthison.com.
---