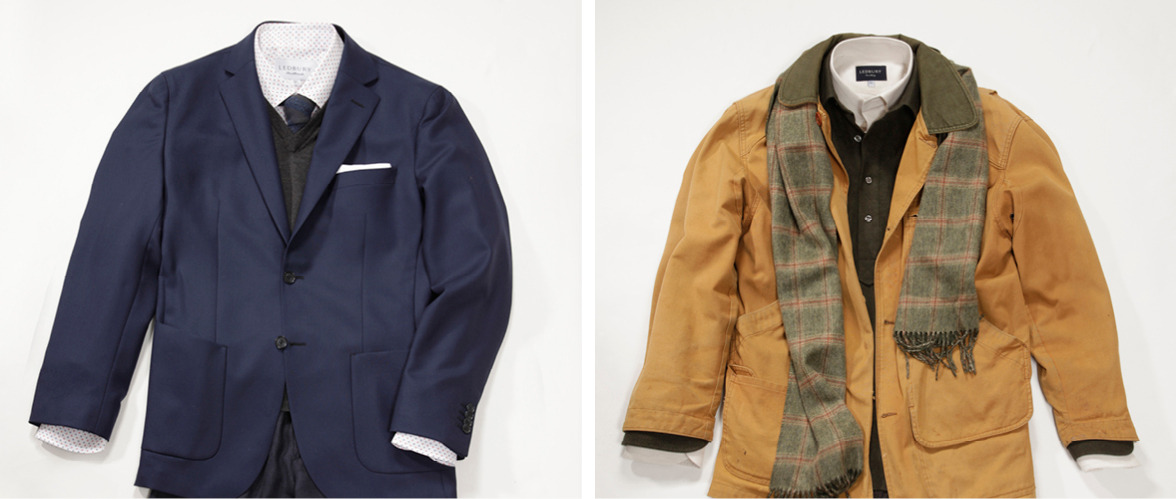 We like to thank our sponsors twice a month for their support, and it gives us a chance to talk a little about what they have going on at the moment. 
Our first sponsor, Ledbury, is a shirtmaker based in Richmond, Virginia. They recently just released a small collection of shirts in partnership with a local museum. Richmond's Valentine History Museum boasts one of the largest collections of historical clothing in the world, and Ledbury went through their archives and recreated three of their favorite shirts, but with a bit more of a modern fit. There are three models, including a tuxedo and hunting shirt, each with Ledbury's signature fit and detailing. I've pulled pictures of two of the shirts and posted them above. They've been styled with city or country life in mind. 
Our second sponsor, The Hanger Project, is having a sale that will end later today. Included is a wide range of Drake's accessories, such as the very versatile Drake's cashmere ties I've posted above, as well as some of their pocket squares. There's also some suede travel slippers for those who either travel often or just want something for the home. The slippers are soft and flexible, and can be easily brought with you onto any airplane or into hotels. 
Gustin is our third sponsor. They're an online crowdsourcing operation that allows people to pre-order items, thus helping cut down on surplus inventory and middleman mark-ups. The savings is then passed onto the consumer (you). They've done this with raw denim jeans and casual shirts, but this last week, they just made their first foray into outerwear. Their first design is a waxed canvas trucker jacket with some unique detailing. The tan waxed jacket, seen above, sold out quickly, as once they reach the minimum number of orders, the project closes and goes to production. On the upside, they've brought the design back in a 13.5oz waxed olive canvas. It's about 60% funded, but still has some room and time left. 
Finally, we want to thank Compass Rose Design for their support. They make unique men's and women's accessories out of their workshop in San Francisco. 
If you want to advertise on Put This On, just email us at contact@putthison.com.
---