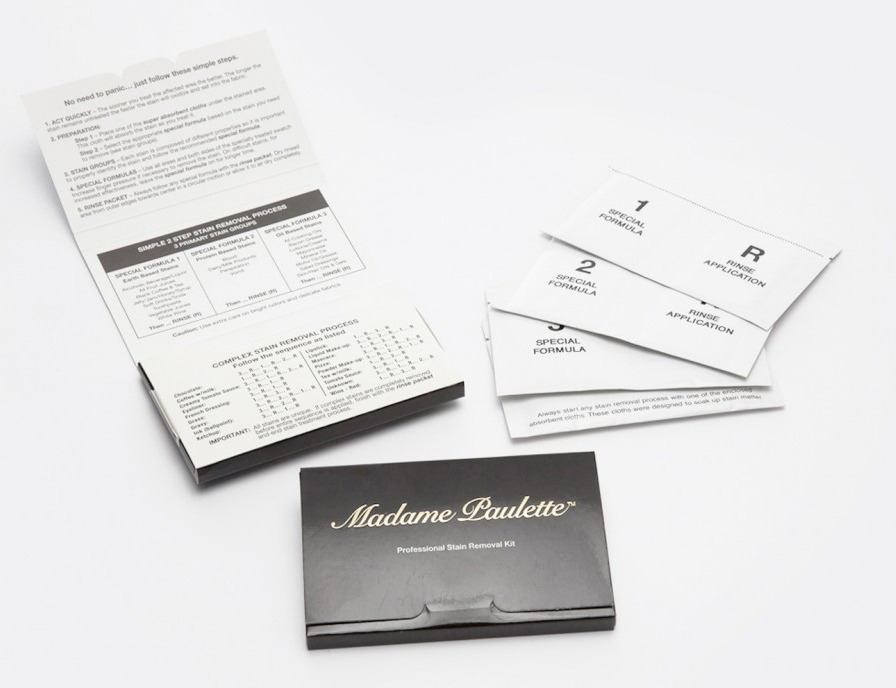 We like to check in with our sponsors twice a month to thank them for their support and see what's going on with them. This month, we have four companies to appreciate. 
Our first sponsor, The Hanger Project, specializes in high-end wooden hangers, but they also sell much more. They have a range of garment care products, for example, including the two items pictured above. Men are typically advised to not dry clean their tailored clothes too often – and for good reason. Dry cleaners can be harsh on clothes. The brush you see above, then, is for brushing your clothes down after every wear, which will knock the dirt out of the fibers. The packet is for stain removal, with a special cleaning solution for each type of stain. Dry cleaners are supposed to treat your different stains differently, but not all do, which is why some can actually set in stains instead of remove them.
Our second sponsor Gustin crowdsources the production of their products and sells them direct to customers online, which allows them to undercut most of their competitors. Raw, selvedge denim jeans, for example, start at $89. They're made in San Francisco from Cone Mills denim, just like the jeans you see retail for $150 and up. Yesterday, Gustin launched a new project – a denim where the warp is a natural plant dyed indigo, and the weft is kakishibu dyed (a traditional process of dyeing using fermented persimmon). The result is a fabric with a deep, dark indigo shade with a slight orange-brown cast. Being different from the blue/ white yarns that everyone else uses, these will fade more uniquely with time.
Our third sponsor is Chipp Neckwear – an American clothier with a ton of history. They used to be tailors for John F. Kennedy, and were one of the more famous institutions during the heyday of Ivy Style. Paul, the company's proprietor, tells me that he's working on some matka cloth ties. Matka is a handwoven silk from India. It's sort of like raw silk in that it has a lot of texture, but it's slightly airier and lighter, and woven in something that looks more like a sack weave. Paul hasn't decided on a price yet, but – much like everything he sells – they'll be lower any of his competitors. His grenadines, for example, are handmade in NYC from the same Italian cloth that everyone else uses, but run for $49.50 instead of ~$100-150.
Finally, we want to thank Proper Cloth for their support. They're an online operation for custom made shirts, and they just got in some new Thomas Mason fabrics. 
 If you want to advertise on Put This On, just email us at contact@putthison.com.
---