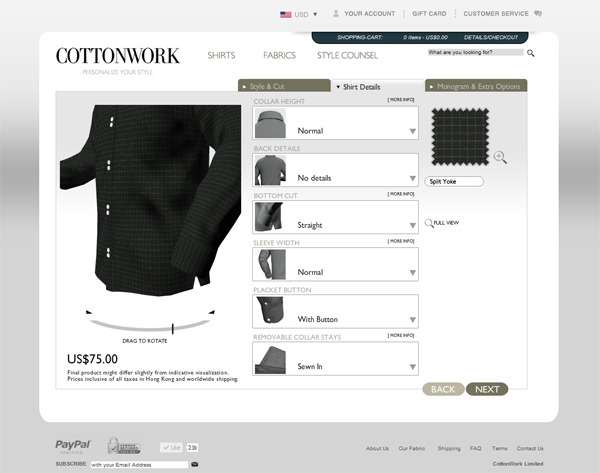 We feel quite fortunate to have companies support our independent men's style blog, so twice a month we like to give them a special "thank you." Our sponsors this month include Cottonwork, The Hanger Project, Frank Clegg Leatherworks, and Compass Rose Design.
Cottonwork is an online company offering custom dress shirts for men. They have a free "starter kit" that you can request off of their website, and an online interface that allows you to see what your shirt will look like as you select the different options. To order, just submit your body measurements online or send them your best fitting shirt to copy. The shirt they'll produce for you will be made with a high stitch-count and single-needle seams. Not only does this result in a more durable shirt, but it also ensures that the seams won't be as visible and rough looking. If you like the results, they have a referral program where a friend of yours can get $10 off their first order, and you'll earn $10 in credit in return.
Our second sponsor The Hanger Projects specializes in wooden hangers that help best support the garments they're made for. This can be especially important for suit jackets and sport coats, where a lot of shaping has been put into the piece – shaping that can be lost with improper care. Since introducing their hangers, The Hanger Project has also branched out into almost every kind of clothing care product you can think of. They have garment brushes, closet organization accessories, laundry care items, and shoe care products. They also have a full shoe care guide if you'd like to learn more about how to take care of your footwear.
Our third sponsor is Frank Clegg Leatherworks. The founder of the company, Frank Clegg, has been making leather goods for over forty years now. Today, he makes leather bags and accessories for both men and women, and everything is produced by him and his team out of their workshop in Fall Rivers, Massachusetts. Apparently, even President Obama uses his stuff (pictured here is the zip top briefcase in black). You can see Frank at work creating one of his bags in a recent video that CRAFT made about him.
And finally, last but not least, we have Compass Rose Design to thank. They make men and women's accessories out of vintage items such as trolley tokens and old railroad date nails.
If you want to advertise on Put This On, just email us at contact@putthison.com.
---