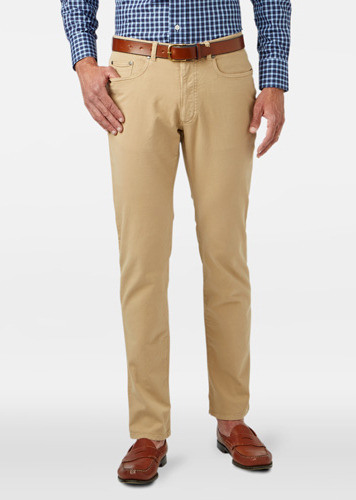 We couldn't do Put This On without the support of our sponsors, so twice a month, we like to give them a special "thank you" shoutout.
Our first sponsor, Ledbury, just released a new line of trousers. They have two styles – the Richmond is a flat front chino with a modern, tailored fit, while the Franklin is a slim, five-pocket canvas pant made with a touch of stretch for comfort. Both styles come in a wide variety of colors and feature details such as garment-dyed fabrics, keyhole buttonholes, and natural corozo nut buttons.
Next, The Hanger Project is having a sale. At the moment, all Inis Meain knitwear is available at 20% off and they'll be holding a special Father's Day promotion on June 11th and 12th. They also have some new shoelaces in, including some colored ones for more a more creative look.
Chipp Neckwear is probably best known for their affordable grenadines, which are made from the same Italian silks as all of the top-end makers, but cost about a third of the price. For summer, however, they also offer patterned shantungs and solid-colored Matkas, both of which are textured silks that help add a little visual interest to a summer sport coat. 
Gustin is gearing up for the release of their new sneaker line, which will feature clean, minimalistic designs, stitched on soles, and full-grain leather uppers. Like other luxury-line sneakers, these are made in Italy, but they'll be offered at a fraction of the usual price.
Finally, we want to thank Proper Cloth and The Bernhardt Watch Company. Proper Cloth is going to do another limited run of their denim dress shirt project, where shirts will be garment washed for a faded, broken-in effect (something rarely offered made-to-measure). The Bernhardt Watch Company is a 20-year old, American watch company that aims to supply men with affordable, classically styled timepieces. They have diver watches, for example, with stainless steel bracelets for about $250. 
If you want to advertise on Put This On, just email us at contact@putthison.com.
---