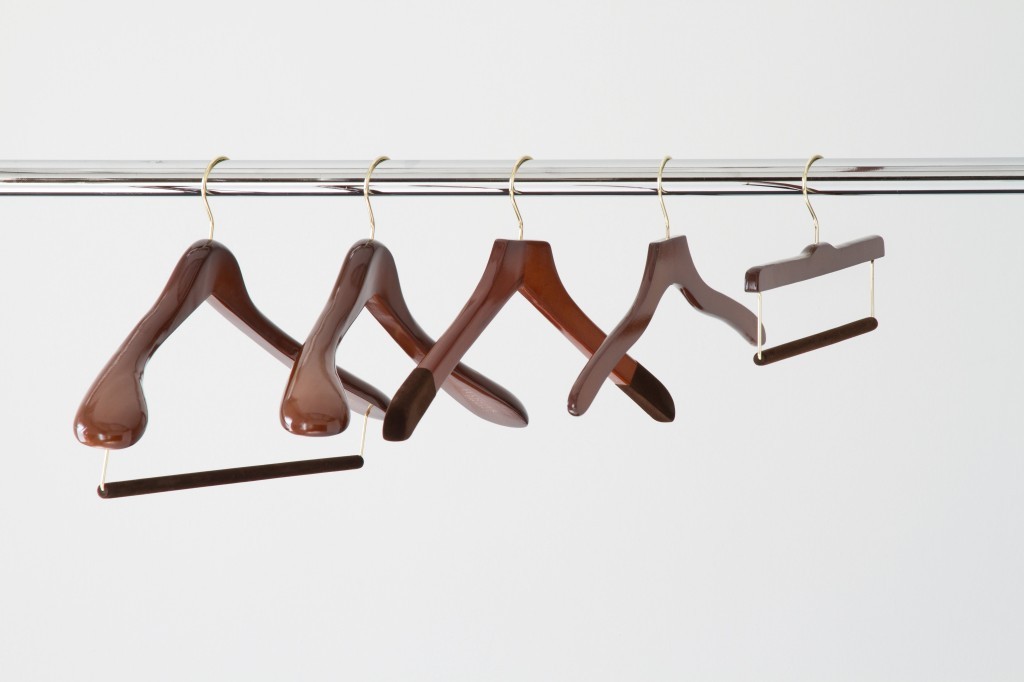 We at Put This On feel lucky to have sponsors support our independent menswear blog, so twice a month, we like to give them a little thank you. Our three sponsors this month include The Hanger Project, Frank Clegg Leatherworks, and Compass Rose Design.
The Hanger Project makes specialty hangers for people who want to preserve the shape and quality of their garments. On a high-quality tailored jacket, for example, the shape of the sleeves, shoulders, and chest is set by careful hand ironing, and you have to take care to preserve that three-dimensional shaping. Think of it like a woman's hairdo. It can be done up through a lot ironing and curling, but if the woman isn't careful to maintain it, all the shape will be lost. Similarly, having a quality hanger – with curved, wide shoulders that imitate a person's natural form – helps preserve the shape of your tailored jackets from the shoulders down. Recently, The Hanger Project introduced a new finish to their hangers. In addition to their dark wood traditional and natural Maplewood, they now have a dark matte offering called the Alfred.
Our second advertiser Frank Clegg Leatherworks is run by Frank Clegg (naturally), a man who's been making high-quality leather goods for over forty years. Everything Frank makes comes out of his workshop in Fall Rivers, Massachusetts, and over the years, he's built a handsome line of leather briefcases and bags for both men and women. In fact, in the photo above, you can see President Obama (yes, President Obama) with one gently set against his desk. That model is the Double Gusset Zip Top Briefcase in a black harness belting leather. Frank also has a range of smaller items, such as wallets, card cases, and iPhone sleeves.
Finally, our third sponsor Compass Rose Design handcrafts men and women's accessories out of vintage and antique items. That means turning things such as vintage buttons, railroad date nails, and antique trolley tokens into tie clips and cufflinks. Everything is handmade by the company's owners out of their studio in San Francisco. For Father's Day, they're running a special promotion. Readers can punch in the code VINTAGEDAD to get 15% off any order.
So, many thanks to all three of our sponsors for supporting our blog this month. We genuinely appreciate it.
If you want to advertise on Put This On, just email us at contact@putthison.com.
---